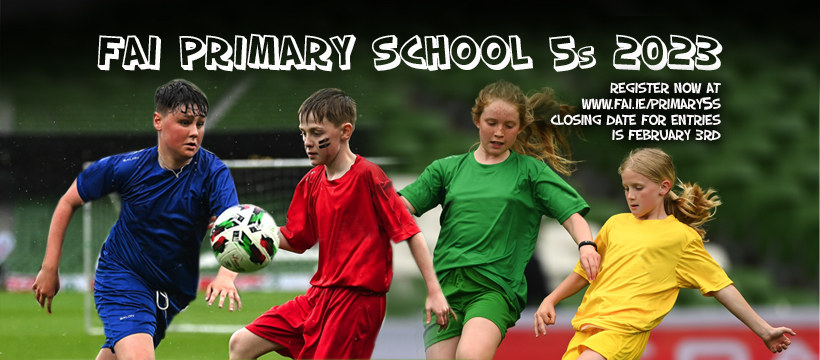 APPLICATIONS ARE NOW OPEN FOR 2023 
CLICKHERETO REGISTER NOW
Dear Teacher,
We're back!
I'm delighted to announce that the 2023 application process is now open for the FAI Primary School 5s programme.
In 2020, before the COVID-19 pandemic struck, the programme involved 38,656 students from 1,760 schools. The competition has been running since the mid-1990s and the programme promises to be bigger and better than ever this year. 
FAI Schools can confirm that the National Finalswill be hosted in the spectacular surrounds of the Aviva Stadium on Wednesday, May 31, so sign up now for your chance to go all the way and create a day to remember for your School and its students.
This magnificent competition is for children in 4th, 5th and 6th class and it all begins at your local county level. The events are a fantastic opportunity for girls and boys to participate in a fun filled one day blitz.
There are six sections (3 for boys and 3 for girls) to cater for all school sizes so whether your school falls into the small, medium or large category there is a competition to cater for you. Your 'section' will depend on your school enrolment numbers for boys/girls in 4th, 5th and 6th class as to whether you are in small, medium or large schools section. There is also a section for Special Schools this year.
SPECIAL SCHOOLS REGISTRATION
Please refer to the link below if schools would like to participate in the Football for All / Special Schools section
Click here to Enter the Football for All / Special Schools section
COMPETITION DETAILS
Please see attached the 2023 Primary5s brochure & schedule which will outline the competition format, rules and details on your specific County qualifiers. The contact details for your local co-ordinator is also included on the download on page 15 should you have any questions in relation to the competition. Please note the limitations per team permitted in your County qualifiers.
REGISTRATION PROCESS & PAYMENT
Please register your school now at www.fai.ie/primary5s
Entry fee is €50 per school (not per team), payment can be made by electronic fund transfer in the first instance. EFT payments should include the school roll number in reference field so the payment can be identified.
Alternatively, a school may pay by cheque. All cheques should be made payable to FAI Schools and forwarded to the relevant Provincial Co-ordinator. It's important to note that the school roll number should be included on the back of the cheque.
Provincial Co-ordinators
MUNSTER: Ger Duggan, Narabane, Kilmacow, Co. Kilkenny
Account Name: Munster Branch FAIS, IBAN: IE12AIBK93411950677028, BIC: AIBKIE2D
*Text or email Ger confirmation of EFT payment at 087-2750809 or email gduggan53@gmail.com
CONNACHT: Noel Dervan, Teacher, Lisaniskey NS, Ballydooley PO, Donamon, Co. Roscommon
Account Name FAIS Connacht Primary, IBAN: IE75BOFI90368082744619, BIC: BOFIIE2D
*Text or email Noel confirmation of EFT payment at 086-6082016 or email dervannoel1@gmail.com
ULSTER: Anita ní Gallachóir, Dooish NS, Dooish, Ballybofey, Co. Donegal
Account Name: FAIS Ulster Branch, IBAN: IE07BOFI90491532618446, BIC: BOFIE2D
E: ulsterprimaryfais@gmail.com
LEINSTER: (EFT Only) Fintan Sheridan E: fintan.sheridan@faischools.ie
Account Name: FAIS Leinster Branch IBAN:IE66IPBS99065370285419, BIC: IPBSIE2D
PLEASE NOTE | Schools will not be allowed to participate until the online application form and entry fee has been received.
CLOSING DATE
Please note that this year we have one single closing date for all counties, the closing date is strictly Friday, February 3 at 5pm and no late applications will be accepted.