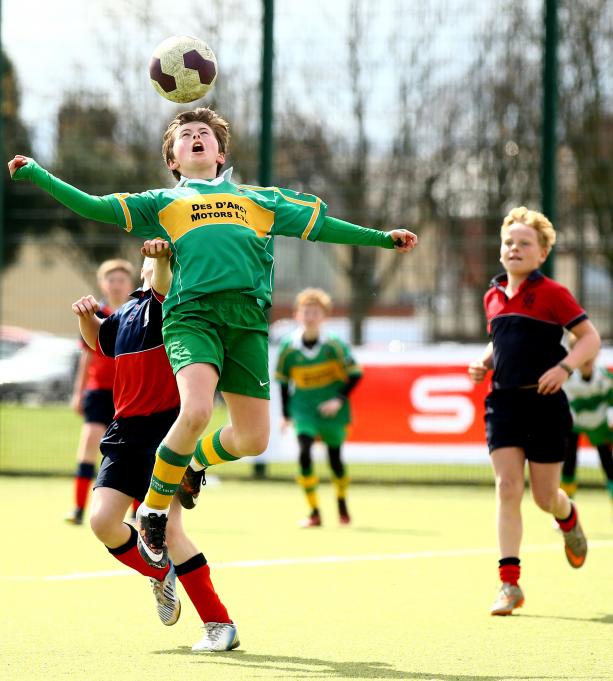 Countdown is on for the SPAR5s Connacht Finals
Saturday, April 23, 2016
 28 out of a possible 30 schools will contest the SPAR FAI Primary School 5s Connacht Finals for 2016 at the impressive Milebush Park, Castlebar on Wednesday next, April 27 with events commencing at 11am sharp. A total of 224 players will line out at the Mayo venue with high hopes for their teams.
All school sizes are catered for with small ('A' Section, Girls 'A' Section) medium ('B' Section, Girls 'B' Section) and large ('C' Section, Girls 'C' Section) schools all taking centre stage in this penultimate contest. There is a section provided for mixed/boys teams as well as a girl's only category which is sure to turn out some future starlets as previous years will attest to, most notably Méabh De Burca (St. James NS, Bushypark, Galway, Connacht & National Girls 'B' Cup winners in 2000), Sarah Rowe (St. Oliver Plunkett NS, Ballina Connacht & National Girls 'B' Cup winners in 2008) and Noa Baba (St. Patrick's BNS, Castlebar Connacht 'C' Cup winners in 2007 and 2008).
The Provincial stages are the culmination of three months of entertaining competition held at County level which sees schools progress to the respective Provincial decider.  The participants have enjoyed a series of blitz days and excitement will now be mounting as the teams try to build on their previous successes. There are some new faces in the mix which is always lovely to see as well as some familiar friends who all have eyes on the ultimate prize, the bragging rights for the season!
Sisters Rachel & Sarah Baynes starred for Holy Family NS in Newport in the Girls 'A' Cup back in 2011 with the school winning Connacht & National gold that season. This was the start of a purple patch for the school as the following year saw them capture another Connacht title as well as runners up spot on the National stage. It was their third consecutive appearance in 2014 at Provincial and National level and the girls captured bronze that time out. The Mayo side make a welcome return now in 2016.   
Ballymote's Scoil Mhuire gan Smál competed at the Connacht Finals that same year and picked up bronze in the Girls 'B' Cup at Nationals.
Scoil Chaitríona, Renmore travel to Milebush Park, Castlebar following a five year absence at this level. The Galway side won the Connacht title back in 2010 and were placed second at the Nationals that same year. Then 12 months later, they retained their Connacht title but only managed a fourth place podium finish at the Nationals in 2011.
There are some big hitters making a notable return to the competition.
Powerhouses St. Patrick's BNS have home advantage with this event on their doorstep. Harry Canning's side will be looking to keep their impressive record in this competition intact. Over the last 16 years, the school have captured 10 provincial titles. Their national records reads well with runners up spot in 2015 and 2008. Winners in 2000 and 2009. Third place finish in 2002, 2005, 2007 and 2013 and fourth place in 2001. Some achievement for the Mayo men.
Roscommon starlets Cloonakilla NS from Athlone are hoping to retain their 'B' Cup title in 2016. Last season saw them claim bronze in the Aviva Stadium back in May. Another Roscommon qualifier to make a reappearance is Bridewell NS who will be testing themselves in the Girls 'A' Cup for small schools. In 2001 the school captured gold at Connacht & National level. Can they repeat that marvelous achievement 15 years later?
We're delighted to see some new schools emerge into the mix as Newtown NS, Tuam, Creggs NS, St. Patrick's NS of Calry and Crossmolina NS all hope to do well. It's been three year's since Leitrim's Gaelscoil and Mayo's Kilmovee NS were involved so hopefully the teams will relish the opportunity at being back to challenge for some silverware.
 It promises to be a fantastic fun filled day with winners and runners up all receiving a SPAR commemorative medal. The lucky winners will also receive a complimentary SPAR Umbro kit and the prestigious Connacht trophy for their school.
Nearly 24,000 children have participated in 2016 with 1,268schools competing for their respective areas. It's a huge achievement for the schools to reach this stage and we're sure to have some laughs and amusement as proceedings get underway.
The ultimate prize for next week's lucky winners will be an appearance in the Aviva Stadium, Dublin for the National Finals on Wednesday, May 11 all courtesy of our sponsors SPAR.
This too will be a family fun day focused on providing participants and spectators alike with huge excitement and entertainment in order to make it a day to remember for all involved. We wish all participating schools the very best of luck.
Fergus McDaid, Secretary of FAI Schools stated, "This is our second year with title sponsors SPAR and the competition is expanding year on year. The support shown by SPAR ensured this grassroots initiative really supports the local talent in Connacht. The event encourages children to become involved in soccer at an early age and emphasizes the fun aspect of the sport. FAI Schools are delighted to be hosting the Finals on Wednesday, May 11 in Aviva Stadium, something which the children will relish I'm sure."
Anne Gallagher, SPAR Marketing Manager said, "This is a great opportunity for SPAR to support the local community and encourage children to be more active and participate in sport in a fun and competitive way. As a community based retailer, SPAR encourages a healthy and active lifestyle and is proud to be a supporter of primary schools' soccer in association with the FAI.No doubt the teachers will be putting in plenty of match practice before the next stage of qualifying as they keep an eye on the top prize... best of luck to all involved."
Follow the action on social media via #SPAR5s or at www.faischools.ie and www.spar.ie.
CONNACHT FINALISTS:
Galway Qualifiers
TEAMS
SPAR Cup 'A' Section:     Newtown NS, Abbeyknockmoy, Tuam
SPAR Cup 'B' Section:      Killeeneen, Craughwell
SPAR Cup 'C' Section:      St. Patrick's NS, Lombard Street & Scoil Iognaid, Bóithrín na Sliogan
SPAR Cup Girls 'A' Section:  St. Joseph's NS, Woodford, Loughrea
SPAR Cup Girls 'B' Section:  Claregalway NS
SPAR Cup Girls 'C' Section:  Scoil Chaitríona, Renmore
Mayo Qualifiers
TEAMS
SPAR Cup 'A' Section:    Errew NS
SPAR Cup 'B' Section:     Crossmolina NS
SPAR Cup 'C' Section:     St. John's NS, Breaffy & St. Patrick's NS, Castlebar
SPAR Cup Girls 'A' Section:  Kilmovee NS
SPAR Cup Girls 'B' Section:  Holy Family NS, Newport
SPAR Cup Girls 'C' Section: Scoil Naomh Aingeal, Castlebar
Sligo Qualifiers
TEAMS
SPAR Cup 'A' Section:    Carn NS, Gurteen
SPAR Cup 'B' Section:     Scoil Mhuire gan Smál, Ballymote
SPAR Cup 'C' Section:     Oranmore BNS
SPAR Cup Girls 'A' Section: Mullaghroe NS
SPAR Cup Girls 'B' Section: St. Patrick's NS, Calry
SPAR Cup Girls 'C' Section: No qualifier
Leitrim Qualifiers
TEAMS
SPAR Cup 'A' Section:    Diffreen NS
SPAR Cup 'B' Section:     Gaelscoil Liatroma
SPAR Cup 'C' Section:     No qualifier
SPAR Cup Girls 'A' Section:  Scoil Mhuire Naofa NS
SPAR Cup Girls 'B' Section:  St. Patrick's NS, Drumshambo
SPAR Cup Girls 'C' Section:  No qualifier
Roscommon Qualifiers
TEAMS
SPAR Cup 'A' Section:    Creggs NS
SPAR Cup 'B' Section:     Cloonakilla NS, Athlone
SPAR Cup 'C' Section:     No qualifier
SPAR Cup Girls 'A' Section:  Brideswell NS
SPAR Cup Girls 'B' Section:  Cornafulla NS
SPAR Cup Girls 'C' Section:  Scoil Mhuire NS
ENDS 
SPAR FAI Primary School 5s Competition 
Schedule of Events
PROVINCIAL
Munster Final:   April 20,               Waterford Institute of Technology Sports Centre, Waterford
Ulster Final:        April 21,                Lakeside, Aileach FC, Burnfoot, Inishowen, Donegal
Connacht Final: April 27,                Milebush Park, Castlebar, Mayo
Leinster Final:   April 28,                MDL Grounds, Trim Road, Navan, Meath
NATIONAL
National Final: May 11,                   Aviva Stadium, Dublin
For more information:
Jennifer Kelly, PSG Sponsorship – Jennifer.Kelly@psgsponsorship.ie / 085 1076806
Scott Graham, PSG Sponsorship – Scott.Graham@psgsponsorship.ie / 086 3687548
Diane Fay, FAI Schools - Diane.Fay@fai.ie / 086 0404 952