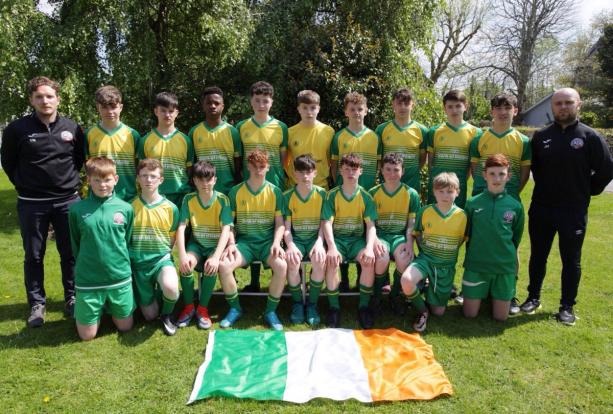 Allen McKinstry Cup
Schools Association Football International Board (SAFIB) Home Nations
First Year Boys Cup Champions (U14)
St. Brendan's College, Killarney fly flag for
Republic of Ireland
Thursday, May 18, 2017
ST. BRENDAN'S COLLEGE, KILLARNEY jet off to Swansea in the early hours of Friday morning (May 19) as they gear up for the start of the Allen McKinstry Cup which kicks off this weekend.
The three day event will see the FAI Schools representatives take on two qualifiers from England and Wales while they hope the results go their way for the positional play-offs on Sunday morning as Swansea University host the event for the first time in the competition's history.
As host nation, Wales can select two representatives to participate in the competition which sees Champions, Castell Alun High School, Flintshire and runners up Olchfa Comprehensive School, Swansea do battle. Other competitors include Our Lady & St. Patrick's College, Knock (Northern Ireland), Thomas Telford School, Shropshire (England), St. Ninian's High School, Glasgow (Scotland) as well as the Killarney outfit all in contention for title honours.
The Republic of Ireland have a phenomenal record in this contest as Oranmore's Calasanctius College were crowned Champions having captured top spot in Belfast two years ago.  St. Brendan's College, Killarney were runners up three years ago so their experience at this level will be invaluable as the competition marks its 10th anniversary.
FAI Schools hosted the tournament last season which saw St. Kieran's College, Kilkenny go all the way and claim glory with Douglas Community School coming runners up. Previous to that, when FAI Schools last hosted on home soil in 2012, it was the turn of Ulster crew St. Eunan's College, Letterkenny taking the title as the AUL Complex, Clonshaugh facilitated the tournament with St. Joseph's College, Galway coming a gallant fifth that year. Ironically, St. Joseph's College, Galway won the Bank of Ireland First Year Boys National Cup title this afternoon and will feature next season at this event under the stewardship of Robert Grealish and Barry McDermott.
Killarney have notably success in FAI Schools competitions of late. Teacher Trevor Nagle had a fantastic campaign this year with the boys making the step up to Minor level (U15) in 2017 and snatching the National title from Deele College, Raphoe to claim their third National title in four years for the Kerry side. They will be hoping to replicate such good fortunate in Swansea in the coming days. #AllenMcKinstryCup
2016 PANEL | ST. BRENDAN'S COLLEGE, KILLARNEY | Conor O'Leary, Tom Doyle, Owen Benson, Neil O'Shea, Ryan O'Grady, Conor Henderson, Cian O'Leary, Dylan Callaghan, Daniel Okwute, Emmett O'Shea, William Shine, Robert O'Shea Christian Casey, Lawrence O'Donoghue, Philip O'Leary, Matthew Fleming, Joe Rudden, Jack McCarthy, Jack McClain
TEACHER | Trevor Nagle COACH | Joe Hurley KIT MAN | Matas Starosas
LIST OF PARTICIPATING SCHOOLS
Our Lady and St Patrick's College, Knock (OLSPCK)                           Northern Ireland  
Thomas Telford School,                                                                                 England
Castell Alun High School, Flintshire                                                           Wales A
St Brendan's College, Killarney                                                                    Republic of Ireland
St Ninian's High School, Glasgow                                                               Scotland
Olchfa Comprehensive School, Swansea                                                Wales B
Fixtures | Swansea University
Friday, May 19, 2017, KO 5.30pm
Castell Alun HS vs OLSPCK
St. Brendan's College vs Thomas Telford School
St. Ninian's HS, Glasgow vs Olchfa Comprehensive
Saturday, May 20, KO 10.30am
Thomas Telford School vs Castell Alun HS
Olchfa Comprehensive vs OLSPCK
St. Ninian's HS, Glasgow vs St. Brendan's College, Killarney
Sunday, May 21, KO 10.30am
Positional Play-Offs
3 vs 4
5vs 6
Final
1 vs 2 (KO 10.45am)
Allen McKinstry Cup Roll of Honour
| | |
| --- | --- |
| YEAR | WINNER |
| 2016 |  St. Kieran's College, Kilkenny |
| 2015 | Calasanctius College, Oranmore, Galway |
| 2014 | Ysgol Cyfun Gymraeg, Plasmawr, Cymru |
| 2013 | Bannerman HS, Scotland |
| 2012 | St. Eunan's College, Letterkenny, Donegal |
| 2011 | St. Columb's College, Northern Ireland |
| 2010 | St. Ambrose HS, Scotland |
| 2009 | Forest School, Wokingham, England |
| 2008 | Dumfries Academy, Scotland |
Republic of Ireland Representatives
YEAR

SCHOOL

2016

St. Kieran's College, Kilkenny

Douglas Community School, Cork

2015

Calasanctius College, Oranmore, Galway

2014

St. Brendan's College, Killarney, Kerry

2013

Gorey Community School, Wexford

2012

St. Eunan's College, Letterkenny, Donegal

St. Joseph's College, Galway

2011

St. Joseph's SS, Rochfortbridge, Westmeath

2010

Limerick CBS, Sexton Street

2009

De La Salle College, Waterford

2008

Coláiste Spioraid Naoimh, Bishopstown, Cork