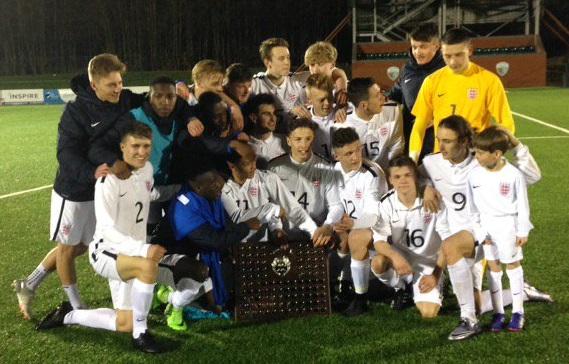 Centenary Shield
Press Release: Friday, April 8, 2016
England capture Centenary Shield in dramatic fashion
England 2-2 Republic of Ireland
Aaron Smith (56), Sam Grouse (88), Jamie Aherne (3), Dylan Grimes (41)
Sam Grouse was the hero for England as the youngster was only on the park two minutes when he scored the vital equaliser to see the hosts lift the INSPIRESPORT Centenary Shield for this season. England enjoyed three wins from three in their Shield endeavours and only required a point from this tie to see them victorious. And true to their recent form, it was another late comeback that secured the silverware for the Champions.
The Republic of Ireland got their dream start to the campaign at the New Saints FC with Confey College star Jamie Aherne converting on three minutes.  Again Aherne could have scored a brace 10 minutes later but the ball went wide of the upright.
England's Aaron Smith set up Zak Lilly nicely only for his effort to smash off the crossbar on 23 minutes.
Killian Brouder nearly had a hat-trick of goals for Paddy O'Reilly's men three minutes later as his glancing header from a corner went agonising over the bar.
However the Irish lead was doubled just before the interval when Dylan Grimes of Marino College made it 2-0 to the visitors.
The Republic of Ireland lost their composure in the second half and the English comeback was established just before the hour mark as Aaron Smith's screamer from outside the box made it past Colaiste Muire, Cobh netminder David Coffey.
Both Adrian Delap and Jamie Aherne tested goalkeeper Wycherley numerous times but the English skipper was razor sharp between the sticks.
Likewise Lilly and Smith were always a threat upfront but Hanney, O'Donoghue and McCarthy were alert to the danger.
The English equaliser came two minutes from time as Joseph Thomas made way for Sam Grouse. The youngster managed to net the ball following a scramble in the box to take the honours for the season.
The Republic of Ireland still have a home and away fixture left in the series which sees them host Scotland next Thursday, April 14 in Celtic Park, Killarney FC.
Meanwhile Northern Ireland will finish their season with a home game in Comber to their Welsh counterparts on April 15.
Following this, the Irish lads travel to Wales to see out their campaign as the Dragons entertain them on Thursday, April 28.
ENGLAND: Andrew Wycherley (Captain), Samuel Orisataka, Matthew Cook, Joshua Wisson, George O'Malley, Cianan Breen, B Bradshaw, Joseph Thomas, Aaron Smith, Joshua Shonibare, Zac Lilly,
SUBS: Ursene Mouanda, James O'Halloran for Orisataka (HT), Dan Lawrence, George Lamb for Breen (HT), Joe Hartshorne for Lilly (72), Sam Woodward, Adam Grange for Shonibare (75)
MANAGEMENT: Andy Blight & Ben Lavelle
REPUBLIC OF IRELAND: David COFFEY, Shane HANNEY, Ryan O'DONOGHUE, Conor McCARTHY, Liam SCALES, Killian BROUDER, Conor KANE, Eoghan MORGAN (Captain), Dylan GRIMES, Aaron DRINAN, Jamie AHERNE
SUBS: Darragh GIBBONS, Gareth DOHERTY for O'Donoghue (90), Jesse STAFFORD LACEY, Adrian DELAP for Grimes (64), Kyle DOHERTY, Eric DONNELLY (GK), Billy BANDA for Morgan (90)
REPUBLIC OF IRELAND: David COFFEY (Coláiste Muire, Cobh),Eric DONNELLY (Clonkeen College, Blackrock), Shane HANNEY (Clonkeen College, Blackrock), Ryan O'DONOGHUE (Our Lady's Secondary School, Belmullet), Darragh GIBBONS (St. Colmcille's Community School, Knocklyon), Conor McCARTHY (Scoil Mhuire gan Smál, Blarney), Liam SCALES (Gaelcholáiste na Mara, Arklow), Killian BROUDER (Desmond College, Newcastle West), Conor KANE (Coláiste Phádraig, Lucan CBS), Gareth DOHERTY (St. Columba's College, Stranorlar), Eoghan MORGAN (Mount Temple Comprehensive School, Clontarf), Jesse STAFFORD LACEY (Mercy SS, Mounthawk, Tralee), Dylan GRIMES (Marino College, Fairview), Adrian DELAP (Loreto Community School, Milford), Kyle DOHERTY (Comeragh College, Carrick on Suir), Aaron DRINAN (Carrigaline Community School), Jamie AHERNE (Confey College, Leixlip), Billy BANDA (Royal & Prior Comprehensive School, Raphoe)
MANAGEMENT: Paddy O'REILLY, Manager (Trinity Comprehensive School, Ballymun), William O'Connor, Assistant Manager (Scoil Mhuire SS, Buncrana), Ollie HORGAN, Coach (St. Eunan's College, Letterkenny), Conor FOLEY, GK Coach (Athlone Community College), Paul MASTERSON (Equipment Manager), John McSHANE, Coach/Video Analyst (Dublin Oak Academy, Bray), Mickey McGLYNN (Physiotherapist), Dr. Aidan O'COLMAIN (Team Doctor)
InspiresportCentenary Shield Table
| | | | | | | | |
| --- | --- | --- | --- | --- | --- | --- | --- |
| Teams | P | W | D | L | F | A | PTS |
| England | 4 | 3 | 1 | 0 | 8 | 5 | 10 |
| Wales | 2 | 1 | 0 | 1 | 2 | 2 | 3 |
| Northern Ireland | 3 | 0 | 2 | 1 | 2 | 3 | 2 |
| Republic of Ireland | 2 | 0 | 2 | 0 | 2 | 2 | 2 |
| Scotland | 3 | 0 | 2 | 1 | 2 | 4 | 1 |
April 8, 2016: Placing's are calculated on points only.
Inspiresport Centenary Shield RESULTS
Friday, February 26   Scotland 1-1 Northern Ireland in Lesser Hampden, Glasgow, KO 7pm
Friday, March 4          Northern Ireland 1-2 England in Comber, KO 4pm
Thursday, March 17   Republic of Ireland 0-0 Northern Ireland in Arklow Town FC, KO 1pm
Friday, March 18         Wales 1-2 England in The Book People Stadium, Bangor City FC, KO 7pm
Thursday, March 24  Scotland 0-1 Wales in Harlow Park, Inverurie Local Works FC, KO 7.30pm
Friday, April 1               England 2-1 Scotland in Highbury Stadium, Fleetwood Town FC, KO 7pm
Friday, April 8              England 2-2 Republic of Ireland in Park Hall Stadium, The New Saints FC, Oswestry, KO 7.30pm
Inspiresport Centenary Shield FIXTURES
Thursday, April 14      Republic of Ireland vs Scotland in Celtic Park, Killarney Celtic FC, KO 7pm
Friday, April 15            Northern Ireland vs Wales in Comber FC, KO 4.30pm
Thursday, April 28      Wales vs Republic of Ireland in Llandudno, KO 7pm
CENTENARY SHIELD ROLL OF HONOUR
| | |
| --- | --- |
| YEAR | WINNER |
| 1973 | England & Scotland |
| 1974 | England |
| 1975 | Wales |
| 1976 | Scotland & England |
| 1977 | Wales |
| 1978 | Scotland |
| 1979 | Scotland |
| 1980 | England |
| 1981 | Wales |
| 1982 | England |
| 1983 | Scotland |
| 1984 | England |
| 1985 | England |
| 1986 | England |
| 1987 | England |
| 1988 | England |
| 1989 | England |
| 1990 | Swiss FA |
| 1991 | Swiss FA |
| 1992 | Swiss FA & England |
| 1993 | England |
| 1994 | England |
| 1995 | Swiss FA |
| 1996 | Northern Ireland |
| 1997 | England |
| 1998 | Northern Ireland |
| 1999 | Northern Ireland |
| 2000 | Scotland |
| 2001 | England & Scotland |
| 2002 | England |
| 2003*** | Republic of Ireland |
| 2004 | Republic of Ireland |
| 2005 | Republic of Ireland & Northern Ireland |
| 2006 | England |
| 2007 | England |
| 2008 | Republic of Ireland |
| 2009 | England & Northern Ireland |
| 2010 | Republic of Ireland |
| 2011 | Scotland & Northern Ireland |
| 2012 | England |
| 2013 | Northern Ireland |
| 2014 | England |
| 2015 | Republic of Ireland |
| 2016 | England |
|   |   |
| *** | Republic of Ireland join Centenary Shield |
END