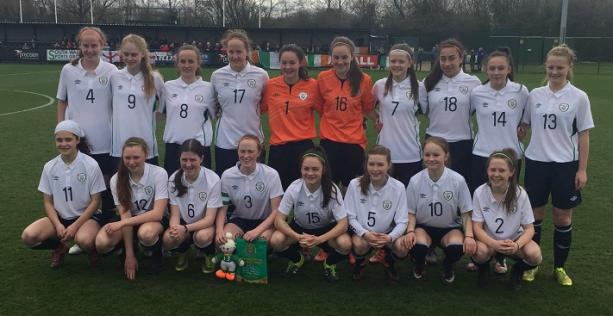 Inspiresport Bob Docherty Tournament: U15 Girls' International
England secure Bob Docherty title
Press Release: Monday, April 4, 2016
Republic of Ireland 0-1 England
Holly Manders (38)
INSPIRESPORT Bob Docherty Cup was settled by the narrowest of margins at Dragon Park this afternoon.
A well-rehearsed English move eight minutes into the second period saw Holly Manders come off the bench to smash an unstoppable volley crashing past Rachel Kelly in the Republic of Ireland goal. Manders finished off an excellent Sophie Quirk left wing cross which proved crucial in this crunch encounter.
England had settled comfortably into the game, putting Lorraine Counihan's crew on the back foot. Stout defensive work limited the scoring opportunities but it required a full length save from Raheny student Rachel Kelly to keep out a powerful Lucy Egan header.
Dominican College starlet Lucia Lobato had to be at her composed best as half time saw the sides troop off scoreless
The Irish ladies picked up their performance in the second half particularly following the English breakthrough goal, playing the game further up the field and threatening  to find an equalizer. However a competent English defence dealt with anything the Irish could muster, clearing their lines with efficiency.
Despite the numerical advantage, England's Lucy Johnson received a second yellow and subsequent red which marred the game a little for the Lionesses.  The English were well served by Captain Ellie Hack, Maya Le Tissier and Libby Smith.
The Republic of Ireland were unfortunate not to equalize at the death and had to settle for a third consecutive runners up spot in this competition.
Meghen Hengerer (Dominican College, Taylor's Hill) scooped our Player of the Match accolade following a stunning performance at centre half.
In the earlier positional play-offs, Northern Ireland defeated Wales ('01) 3-2 to finish their campaign with a victory. Scotland got the better of Wales ('02) with a hat-trick from the talented Naomi Welch and a fourth from Michaela McAlonie to finish at 4-0 to last year's Champions. 
REPUBLIC OF IRELAND: Rachel Kelly, Eabha O'Mahony, Aoife Lynagh, Meghen Hengerer, Lucia Lobato, Isibéal Carolan, Louise Masterson, Tyler Toland, Leah McHugh, Alannah McEvoy, Amy Boyle Carr
SUBS: Sinead Donovan for McHugh (HT), Aisling Spillane for Masterson (35)
SUBS NOT USED: Maria O'Sullivan (GK), Rachel O'Regan, Zara Foley, Doireann Fahey, Jessica Ziu
REPUBLIC OF IRELAND:  Amy BOYLE CARR (St. Columba's Comprehensive School, Glenties), Doireann FAHEY (Ardscoil Rathangan), Louise MASTERSON (Holy Family Community School, Rathcoole), Leah McHUGH (St. Joseph's Secondary School, Foxford), Eabha O'MAHONY (Mount Mercy College, Cork), Isibéal CAROLAN (St. Joseph's Secondary School, Rush), Aisling SPILLANE (The Kings Hospital, Palmerstown), Alannah McEVOY (Loreto Secondary School, Bray), Tyler TOLAND Vice Captain (Deele College, Raphoe), Meghen HENGERER, Lucia LOBATO, Aoife LYNAGH Captain (all Dominican College, Taylor's Hill, Salthill), Maria O'SULLIVAN, Zara FOLEY (both Ballincollig Community School), Jessica ZIU (Larkin Community College), Sinéad DONOVAN (Claregalway Community School), Rachael KELLY (Manor House School, Raheny), Rachel O'REGAN (Carrigaline Community School)
MANAGEMENT STAFF: Lorraine COUNIHAN, Manager (Coláiste Mhuire, Buttevant), Maureen O'DONNELL, Assistant Manager (Deele College, Raphoe), Richard BERKELEY, Coach (Sancta Maria College, Louisburgh), David ROONEY, GK Coach, Angela KENNEALLY, Physio
ENGLAND: Olivia Clark, Charlotte Fleming, Lucy Johnson, Ellie Hack (Captain), Asmita Ale, Lucy Egan, Maya Le Tissier, Katie Robinson, Jodie Hutton Sophie Quirk, Libby Smith
SUBS USED: Holly Manders for Robinson (32), Claudi Zahui for Smith (63)
SUBS NOT USED: Rose Kite (GK), Megan Hunt, Chloe Ryan, Sinead Samarczuk
Bob Docherty Cup (U15 Girls' International)
Newport Stadium & Dragon Park, Wales
Friday, April 1
Wales (02) 0-2 England, Newport Stadium, 4pm
Wales (01) 0-5 Republic of Ireland, Dragon Park, 6pm
Saturday, April 2
Republic of Ireland 3-1 Northern Ireland, Dragon Park, 2pm
Wales (02) 0-6 Scotland, Newport Stadium, 5pm
Sunday, April 3
Wales (01) 6-0 Northern Ireland, Dragon Park, 12 noon
Scotland 0-2 England, Dragon Park, 2pm
Monday, April 4
Wales ('02) 2-3 Northern Ireland, Newport Stadium, 11am
Wales ('01) 0-4 Scotland, Dragon Park, 11am
Republic of Ireland 0-1 England, Dragon Park, 11.30am
Bob Docherty Tournament – Roll of Honour
YEAR

WINNER

VENUE

2002

Republic of Ireland

Ballymena, Northern Ireland

2003

Scotland

Edinburgh, Scotland

2004

Scotland

Clare, Republic of Ireland

2005

Republic of Ireland

Ballymena, Northern Ireland

2006

Scotland

Dumfries, Scotland

2007***

Republic of Ireland

Wrexham, Wales

2008

Republic of Ireland

Salthill Devon, Galway

2009

Scotland

Belfast, Northern Ireland

2010

Republic of Ireland

Glasgow, Scotland

2011

Northern Ireland

Cardiff, Wales

2012

Northern Ireland

AUL, Dublin

2013

Scotland

Shaws Bridge, Belfast

2014

England

Repton School, Derbyshire

2015

Scotland

Toryglen, Glasgow

2016

England

Dragon Park & Newport Stadium, Wales

***

Renamed Bob Docherty Cup
Republic of Ireland runners up in 2016, 2015 and 2014