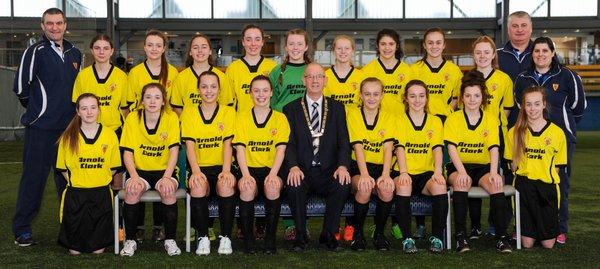 Bob Docherty Tournament: U15 Girls' International
Scotland reign supreme in title defence
Press Release: Saturday, April 2, 2016
Wales ('02) 0-6 Scotland
The Reigning Champions slotted six past the Welsh hosts in Newport Stadium this evening.
The Welsh ('02) had went down 2-0 yesterday to England with Katie Robinson netting in the first minute of the game and Sophie Quirk getting their second with the final kick of the game. This outing was to prove equally disheartening for the Welsh outfit as Scotland meant business early on.
The visitors got off to a perfect start with four minutes on the clock as Leah Eddie gave her side a slight advantage with a glorious free kick on the edge of the box.
Their lead was doubled soon after courtesy of Morgan who glided the ball to the net following an aerial attack into the box
The Scots hat-trick was delivered neatly by Elena Brown on her left boot was a peach of a shot.
The second period followed the same scoring prowess with Abby Callaghan getting the Scots fourth of the evening three minutes into the restart. An assist from fellow substitute Marriott ensured Callaghan converted with ease.
The fifth of the action came ten minutes in with super sub Marriott netting from the edge of the box.
Naomi Welch then headed home the sixth goal following a well-executed set piece with 15 minutes left to play.
A good day at the office for the Scotland side as they bid to defend their title for another season.
Tomorrow will see Wales ('01) against Northern Ireland at Dragon Park at noon while Scotland will play England in the same venue with a 2pm kick off scheduled.
Dependent on results, the positional play-offs will take place on Monday morning.
Bob Docherty Cup (U15 Girls' International)
Newport Stadium & Dragon Park, Wales
Friday, April 1
Wales (02) 0-2 England, Newport Stadium, 4pm
Wales (01) 0-5 Republic of Ireland, Dragon Park, 6pm
Saturday, April 2
Republic of Ireland 3-1 Northern Ireland, Dragon Park, 2pm
Wales (02) 0-6 Scotland, Newport Stadium, 5pm
Sunday, April 3
Wales (01) vs Northern Ireland, Dragon Park, 12 noon
Scotland vs England, Dragon Park, 2pm
Monday, April 4
5 vs 6, Dragon Park, 11am
3 vs 4, Newport Stadium, 11am
1 vs 2, Dragon Park, 11.30am