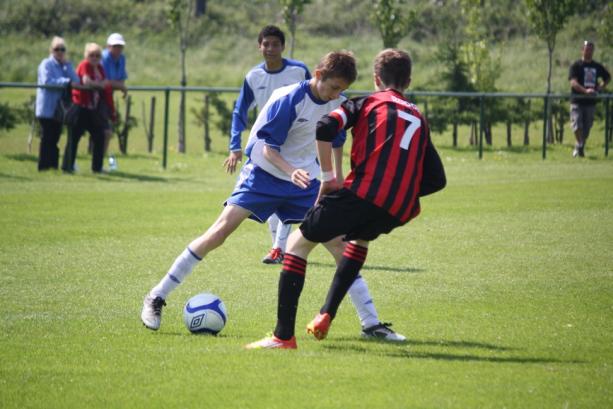 Allen McKinstry Cup
Schools Association Football International Board (SAFIB) Home Nations
Minor Cup Champions (U15)
Thursday, May 19, 2016
FAI Schools to host Allen McKinstry Cup
The SAFIB Allen McKinstry Cup in association with Inspiresport will see Minor Cup Champions St. Kieran's College, Kilkenny, runners up Douglas Community School, Cork and Dublin Oak Academy, Bray all represent the Republic of Ireland at this annual Home Nations event.
As host nation, the Association can select two representatives to participate in the competition. With the late withdrawal of the Scottish counterparts, Broughton High School in Edinburgh, it leaves Dublin Oak Academy in Bray taking up the late invitation. The Bray side are fresh from their First Year 'B' National Cup success having overcome Coola PPS to claim their first ever FAI Schools National title at Post Primary Schools level earlier this month. The Bray boys were made up of students from Mexico, Spain, Italy and Chile so it will be a unique occasion for those players involved.
St. Kieran's College overcame Douglas Community School by the narrowest of margins last month as their Cup tie finished all square after extra time (1-1). The spot kicks proved decisive with the Kilkenny side coming out on top 5-4. It will make for an interesting contest as Douglas will look to go one better this time out.
The Allen McKinstry Cup will also see Chepstow School (Wales), Belfast Boys' Model School (Northern Ireland) and Samuel Whitbread Academy (England) all in contention for title honours.
The three day tournament will take place this weekend, Friday May 20 to Sunday, May 22 in the AUL Complex, Dublin. When FAI Schools last hosted the tournament back in 2012, it was St. Eunan's College, Letterkenny who were victorious with St. Joseph's College, Galway coming a gallant fifth that year.
Oranmore's Calasanctius College are reigning Champions having capturing top spot in Belfast last season.  St. Brendan's College, Killarney were runners up two years ago so the Republic of Ireland have been quite successful at this level with the competition now in its ninth year.
Our counterparts in the Welsh Schools FA saw Chepstow School defeat Sir John Bright School 2-1 in Newtown last month to take the title. This is a magnificent feat for Chepstow as it's only the second team in Gwent/Monmoutshire to achieve this in the last 37 years. Ysgol Cyfun Gymraeg, Plasmawr, Cymru won the Cup in 2014 so the pedigree of the Welsh will be one to watch out for come match day.
The success of the Welsh team is made even more poignant as they are playing in memory of Harrison Marshall, who tragically died aged 11 in 2013. Harrison was due to start his second week in Year 7 and would have been a part of their current side. Teacher Jamie Goddard will be hoping his squad can lift the Cup in honour of Harrison on Sunday morning.
Northern Ireland's Belfast Boys' Model School overcame Clounagh 6-5 after extra time to lift the Inspiresport Intermediate U14 Cup. An epic battle to see them through. The Belfast crew will be hoping to replicate the previous successes of St. Columb's College as they captured the title in 2011.
Our English qualifiers Samuel Whitbread Academy will relish the opportunity to represent the three lions this weekend. The ESFA representative sides have been quite successful at this level over the years. England's Forest School in Wokingham snatched victory in 2009 while Cardinal Heenan College in Liverpool were runners up in 2012.
ST. KIERAN'S COLLEGE, KILKENNY: Stephen Barron, Conor Kelly, Cian Kenny, Killian Rudkins, Padraic Moylan, George Murphy, Jamie Young, Peter Connellan, Tim Cockery, Ciaran Brennan, James Ryan, Jamie Reid, Shay McEvoy, Kevin Fitzpatrick, Eoin Delahunty, Oisín Carroll, Conor Brett, Michael Lewis
TEACHERS: Carl Lynch, Larry Cotter, Eamon Heffernan KIT MEN: Alan Thompson, Kacper Mazurkiewicz, Eric Oyat
BELFAST BOYS' MODEL SCHOOL: Jamie Bunting, Dean Lewis, Curtis O'Boyle, Shane Mullan, Jonny Welsh, Spencer Beattie, Kyle Anderson, Carl Johnston, Josh McAteer, Reece Gillespie, Kyle Wilgaus, Jay Sheridan, Bailie Hoy, James Holland, Graham Kennedy
TEACHERS: Andy Walker, Brian McLaughlin
CHEPSTOW SCHOOL: Josh Goodwin-Williams, Ellis Kirton, Nathan Morgan, Ewan Dick, Matteo Goddard, Corey Ryan, Harry Pinchard, Olly Melling, Scott Williams, Lucas Fletcher, Ryan Scrivens, Keegan Evered-Hall, Max Luff, Ollie Herbert, William Jenkins
TEACHERS: Jamie Goddard, John Robson PHYSIO: Noel Hine
DOUGLAS COMMUNITY SCHOOL: Andrew Cotter, Brian O'Neill, Patrick McSweeney, Adam Dunphy, Seán Dunlea, Eoin Coughlan, Eamon Kiely, Adam O'Reilly (Captain), Ian Ahern, Ben Lucey, Andrew Greaney, James Adeniran, Luke O'Keeffe, Luke Healy, Dean Sonowo, Peter O'Brien, Destiny Okonkwo, Chris O'Reilly
TEACHERS: Seán Fahy, Kevin Ronayne KIT MAN: Diarmuid McCarthy
DUBLIN OAK ACADEMY, BRAY: Ivan Mourino, Donato Perez, Leonardo Davila, Jesus Lopez, Mauricio DelGado, Joaquin Margain, Vicente Lagunes, Ignacio Escudero, Jose Salmon, Diego Aldape, Jorge Bueno, Gerardo Mena, Patricio Cantu, Luis Enrique Buendía, Oscar Bastidas, Pablo Barreda
TEACHER: John McShane
SAMUEL WHITBREAD ACADEMY: Ryan Anderson, Lewis Pitcairn, Harry Buckley, Corbyn Giddings, Ryan Allen, Sam Beckwith, Josh Evans, James Hannan, Jamie Parker, Jake Loriot, Antonio Marra, James Bell, Josh Scoot, Ronnie Payton, Toby Shacklock, Connor Pashley
TEACHERS: Philip Johnson, James Hart PHYSIO: Richard Sinclair
FIXTURES
Allen McKinstry Cup in association with Inspiresport (Minor Boys)
AUL Complex, Dublin
Friday, May 20, 2016, KO 4.30pm
St. Kieran's College, Kilkenny vs Belfast Boys' Model School
Douglas Community School, Cork vs Chepstow School, Wales
Friday, May 20, 2016, KO 5.30pm
Samuel Whitbread Academy, Bedfordshire vs Dublin Oak Academy, Bray
Saturday, May 21, 2016, KO 3pm
St. Kieran's College, Kilkenny vs Samuel Whitbread Academy, Bedfordshire
Douglas Community School, Cork vs Dublin Oak Academy, Bray
Belfast Boys' Model School vs Chepstow School, Wales
Sunday, May 22, 2016, KO 9.30am (1 Game: Bray vs X) 10.30am (2 games)
Positional Play-Offs
1 vs 2
3 vs 4
5 vs 6
Allen McKinstry Cup Roll of Honour
| | |
| --- | --- |
| YEAR | WINNER |
| 2016 |   |
| 2015 | Calasanctius College, Oranmore, Galway |
| 2014 | Ysgol Cyfun Gymraeg, Plasmawr, Cymru |
| 2013 | Bannerman HS, Scotland |
| 2012 | St. Eunan's College, Letterkenny, Donegal |
| 2011 | St. Columb's College, Northern Ireland |
| 2010 | St. Ambrose HS, Scotland |
| 2009 | Forest School, Wokingham, England |
| 2008 | Dumfries Academy, Scotland |
Republic of Ireland Representatives
YEAR

SCHOOL

2016

St. Kieran's College, Kilkenny

Douglas Community School, Cork

2015

Calasanctius College, Oranmore, Galway

2014

St. Brendan's College, Killarney, Kerry

2013

Gorey Community School, Wexford

2012

St. Eunan's College, Letterkenny, Donegal

St. Joseph's College, Galway

2011

St. Joseph's SS, Rochfortbridge, Westmeath

2010

Limerick CBS, Sexton Street

2009

De La Salle College, Waterford

2008

Coláiste Spioraid Naoimh, Bishopstown, Cork