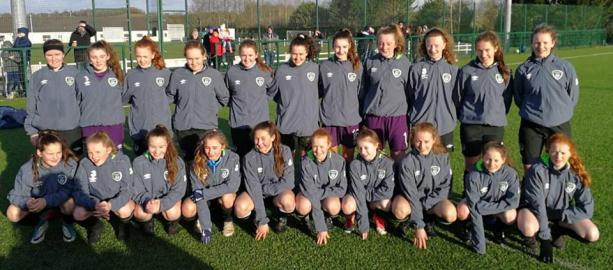 Tuesday, February 6, 2018
HEAD COACH Richard BERKELEY has named his final squad for this season's International series which will see the U15 Girls' face Northern Ireland and England in two friendly games before heading to Belfast to compete in the prestigious Bob Docherty Cup.
The final selection stems from months of assessment days and monitoring of players since the conclusion of the annual Interprovincial Tournament last November. The three day event saw 68 of the best player's line out for their Province. This was the first step in a comprehensive review period for the management team which saw in effect of over 40 players screened.
As well as the on the pitch activity, Berkeley has concentrated his efforts on performance analysis, team building, communications and team dynamic. The Republic of Ireland's extended panel featured in a friendly last weekend against the U17 Western Region Development squad and performed exceptionally well. A hat-trick of goals were created in this lively affair which will definitely instill a new found confidence when they take on their opposition in a fortnight's time | All three goals can be viewed on https://www.facebook.com/faischools/  |
Berkeley who teaches in Sancta Maria College, Louisburghhas a wealth of talent at his disposal this season with FOUR players returning to the fore in 2018.  The experienced St. Paul's Secondary School scholar Anna FAHEY of Oughterard will be an immeasurable addition to this squad and has the striking boots on all season for the Schools select. She has footballing credentials as she follows in her Aunt Niamh's footsteps. Fahey will be joined by Connacht colleague Muireann DEVANEY who hails from Manorhamilton. The youngster attends St. Clare's Comprehensive School in the town and will be another hot-shot going forward. The classy and modest Aoibheann CLANCY helped her School, Presentation Secondary School, Thurles into this year's Bank of Ireland FAI Schools Senior Girls National Cup Final and her ability on the ball is immense.  The quartet of returnees will also include Kate O'DOWD. The St. Nathy's College student was given the honour of leading her team out last week in Castlebar and the Ballaghaderreen native relished the occasion with a starring role. The quartet will play a pivotal role in the success of this venture having shown enormous resolve and composure last season for such youngster. The experienced gained over the past twelve months should stand them in good stead.
Although Carndonagh Community College pupil Erin McLAUGHLIN narrowly missed out on selection last year, her hard work has finally been rewarded with a place in the squad in 2018. The Ulster gem has been exceptional for her School this season with appearances in the Junior & Senior Ulster Cup campaign in recent times. However Moville Community College starlet Kerry BROWN has had the bragging rights with some of those local derbies. The Donegal duo are certain to impress with their recent run of form which was phenomenal last Saturday in Castlebar.
Indeed Brown who makes the cut, is a cousin of former Schools' International Roma McLaughlin so she should have a certain degree of pedigree in her armour. Interestingly, Kerry will come face to face with Aoibheann Clancy when the two schools meet in this year's Senior Cup decider in Home Farm later this month! Roma who also attended the Moville educational institute in her academic career has appeared in two such heavy weight contests. McLaughlin lost out to Christ the King Girls' SS, Cork in the 2012 Cup outing but secured the title the following year against the same opponents. Can Brown & Co. replicate such a success story on February 21 or will Thurles turn on the style and claim their second Senior title in three years? For now, both Brown and Clancy are content on concentrating on their International stardom.
Galway native's Theresa KINNEVEY also of St. Paul's SS, Oughterard will be joined by Claregalway College (Coláiste Bhaile Chláir) gruesome twosome Kate SLEVIN and Shauna BRENNAN. The Galway girls are named alongside Kiltimagh's Emer O'NEILL who is flying the flag for St. Louis Community School, Mayo. These four dynamos were instrumental in Connacht securing the Interprovincial title last November following a 25 year hiatus. 
Goalkeeper Rugile ASKAINTYE has had limited playing time since picking up a knock at Christmas but the St. Mary's Holy Faith, Glasnevin powerhouse will be returning from injury to get some much needed game time under her belt before the International clash in Belfast. Kilkenny's Ellen MOLLOY will be one to note for future. The Presentation Secondary School teenager is savouring her International experience at the moment as is Donnybrook's Abbie CLARKE who hails from Muckross Park College. Her Leinster sidekicks Jessica STAPLETON (Palmerstown Community School) and Della DOHERTY (Coláiste Íosagain, Portarlington) were cleaning up on the POTM accolades at the Interpro series last year. The pair will be hoping to continue this formidable partnership in the Bob Docherty Cup campaign.  
Munster's mighty trio will see Leah HAYES COEN in the mix. The netminder is at school in Scoil Mhuire agus Íde, Newcastle West while Aoife HORGAN resides in Ballybunion and attends St. Joseph's Secondary School. Emma O'DONOGHUE of Coláiste Muire, Ennis will be delighted with her efforts this season. All three had an exceptional display for their Province in the AUL over the three day contest and they'll delight in the opportunity of another big performance in the same venue when they host a Northern Ireland select.  In fact Horgan picked up a POTM accolade herself in the final day of Interpro proceedings.
MANAGEMENT STAFF
With the departure of long-serving Head Coach Lorraine Counihan (Coláiste Mhuire, Buttevant) and associate Maureen O'Donnell (Deele College, Raphoe), Berkeley has drafted in the services of the experienced trouper Karen DEANS of St. Ultan's Navan and Mulroy College stalwart Karen HENRY. Dave ROONEY will maintain his position as Goalkeeping Coach while Football Facilitator in IT Sligo Emma MULLIN will assume the role of Performance Analyst.
The Republic of Ireland will welcome Alfie Wylie's side to the AUL Complex, Clonshaugh on Saturday, February 17. The two teams met twelve months previous with the Republic coming through that test with slight ease.
Although Erin McLaughlin didn't make the cut last season, the young Carndonagh Community School scholar was in the extended squad that afternoon. The Donegal livewire didn't let the big stage faze her as she netted a superb goal on her debut. Also on the score-sheet that afternoon was Oughterard's Anna Fahey who secured a brace as well as Thurles tornado Aoibheann Clancy assisting Jessica Ziu to slot home. An obviously bigger test will await the Schools select in a fortnight's time and one that Berkeley will hope will be more beneficial as he studies the capabilities of his players.
Following this, the U15 Girls will be invited to take on Sharon Boyle's U16 contingency in a closed session in early March before departing a week later for Stafford as they take on England in the annual John Read Cup. Lorraine Counihan's charges defeated the English in a surprise tale in 2017 to claim the title for the first time in the competition's short history. In fact, Aoibheann Clancy picked up the POTM award that afternoon following a dazzling performance. Can the travelling Irish retain the title or will England avenge last year's surprise defeat. All to play for on March 10.
With the final preparations then complete, the focus will shift to the International stage as Berkeley's squad make the short trip to Belfast. The Welsh Dragons won the event in 2017 and were in remarkable form which has carried through to this season so they're still the hot favourities. The strength and depth of that panel can't be underestimated as the draw for the tournament has yet to be finalized. Berkeley will be hoping to avoid them in the group stages.   The three day tournament will commence on Saturday, March 24.
REPUBLIC OF IRELAND | Theresa Kinnevey & Anna Fahey (St. Paul's Secondary School, Ougherard), Kate Slevin & Shauna Brennan (Claregalway College/Coláiste Bhaile Chláir), Kate O'Dowd (St. Nathy's College, Ballaghaderreen), Emer O'Neill (St. Louis Community School, Kiltimagh), Muireann Devaney (St. Clare's Comprehensive School, Manorhamilton), Ellen Molloy (Presentation Secondary School, Kilkenny), Abbie Clarke (Muckross Park College, Donnybrook), Della Doherty (Coláiste Iosagain, Portarlington), Leah Hayes Coen (Scoil Mhuire agus Íde, Newcastlewest), Aoife Horgan (St. Joseph's Secondary School, Ballybunion), Emma O'Donoghue (Coláiste Muire, Ennis), Aoibheann Clancy (Presentation Secondary School, Thurles), Kerry Brown (Moville Community College), Erin McLaughlin (Carndonagh Community School), Jessie Stapleton (Palmerstown Community School), Rugile AskaInyte (St. Mary's Holy Faith Convent, Glasnevin)
MANAGEMENT | Head Coach Richard Berkeley (Sancta Maria College, Louisburgh)Coach Karen Byrne (St. Ultan's, Navan) GK Coach Dave Rooney, Performance Analyst Emma Mullin (IT Sligo),  Kit Person Karen Henry (Mulroy College, Milford), Physio Aoife Burke.
U15 Girls' International Schedule
U15 Girl's International Friendly
Republic of Ireland vs Northern Ireland
AUL Complex, Clonshaugh
Saturday, February 17, KO 12 noon
Training Camp
U15 Schools v U16 FAI (closed session)
Early March
John Read Cup | U15 Girls' International Friendly
England vs Republic of Ireland
Strafford Town FC
Saturday, March 10, KO 3pm
Bob Docherty Cup | U15 Girls' International Tournament
Belfast, Northern Ireland
Saturday, March 24, to Monday, March 26
END