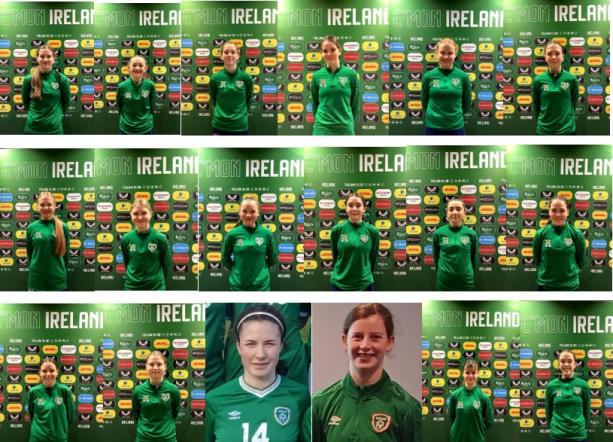 SAFIB hummel Bob Docherty Cup | Under 15 Girls' International Tournament
Tuesday, March 21, 2023
HEAD COACH Richard Berkeley (Sancta Maria College, Louisburgh) has named an eighteen strong squad for their title defence of the Bob Docherty Cup which kicks off in Glasgow in a fortnight's time.
Berkeley is pleased to welcome back two players from last season's squad with Leah McGRATH (St. Anne's Secondary School, Tipperary) and Chloe WALLACE (Coláiste Nano Nagle, Sexton Street, Limerick) making the cut. Their experience will be vital at this level and should instil some much-needed confidence amongst the ranks. Sarah McCAFFREY (Largy College, Clones) was on the fringes of the team last season, but injuries curtailed her progression to the final select. The Monaghan pupil will be delighted to cement her inclusion this year.
Limerick scholar Wallace Captained her side to a one-all draw with Northern Ireland over two weeks ago. Laura FALVEY (Mounthawk Community School, Tralee) netted in the 12th minute before Kayla Ann Clayton equalised for the visitors on 24 minutes. A good test for both teams as the management teams put the finishing touches to the final eighteen.
The Irish is a formidable force in this tournament with eight titles in 19 appearances: the first coming in their debut season back in 2002 in Ballymena. That year, it was Donal CONWAY (Our Lady of Mercy College, Beaumont), Margaret O'REILLY (Loreto SS, Letterkenny) and Joe STAFFORD (Skerries Community College) who lead the students to a top podium finish.
The tournament returned to Ballymena in 2005 where Margaret O'REILLY led her team to the honours.
There were back-to-back wins in 2007 and 2008 where Priya THAKARAR managed the side in Wrexham (2007) and Michael GALLAGHER (St. Joseph's College, Athlone) enjoyed a win on home soil in Salthill Devon a year later (2008).
The Republic of Ireland defeated the reigning Champions and host nation Scotland in Glasgow University to secure a second title for Michael GALLAGHER in 2010.
We then had to wait another 8 years before the Berkeley era netted the Schools select the hat-trick of titles.
2022 was Berkeley's crowning glory in Cochrane Park, Newcastle when the team managed the elusive three in-a-row. Unfortunately, the COVID-19 pandemic saw the tournament cancelled in 2021 and 2020. But the Irish had captured top spot in Jordanstown in 2018 and again in Salou in 2019 thus making it a hat-trick of successes for the Girls in Green. 
Berkeley will not be resting on his laurels as he completed a vigorous selection process again this season, the conclusion of which ended last Sunday in Abbotstown. 
Following the Schools Interprovincial Tournament last November, Berkeley and his staff have navigated eight assessment days which included some friendly games against Women's National League Under 17 opposition, ensuring a strong physical test for the young players involved.
In 2023, we will see only four Nations competing as Wales decided to withdraw from this tournament.
The Republic of Ireland know only too well that the other three Nations are more than capable of winning especially Scotland given they're hosting the competition and they've shown great promise in their friendly outings to date. The Republic of Ireland will take nothing for granted when they line out against their opponents in two weeks' time.
The Green Shoots will open their account against the host Nation on Sunday, April 2 in Parklea Playing Fields at 4pm while they enjoy a rest day on Monday. The penultimate test will see them pipped against England in Renfrew Juniors FC on Tuesday, April 4 with a 4pm kick-off pencilled in. Another rest day in scheduled for Wednesday. The Republic of Ireland will then wrap up proceedings against neighbouring Northern Ireland on Thursday, April 6 at 1pm.
It should be a close and intriguing title contender this year with all to play for in Glasgow.
UNDER-15 GIRLS' REPUBLIC OF IRELAND SCHOOLS  | Jenna WILLOUGHBY (Ratoath College),  Kate JONES (Coláiste Muire, Ennis), Aibhlinn COTTER (Kilrush Community School), Chloe WALLACE (Coláiste Nano Nagle, Sexton Street, Limerick), Heather LOOMES (Jesus & Mary Secondary, Salerno, Salthill), Lily-Anne O'MEARA (Coláiste Phobal Ros Cré), Ava MULLINS (Calasanctius College, Oranmore), Leah McGRATH (St. Anne's Secondary School, Tipperary), Ella KELLY (Tallaght Community School), Laura FALVEY (Mounthawk Community School, Tralee), Aoife FENNELL (Our Lady's School, Terenure), Abigail BRADSHAW (St. Colmcille's Community School, Knocklyon), Grace EHINGER (Borrisokane Community School), Aisling MEEHAN (Hold Child Secondary School, Killiney), Laura FANNING (St. Vincent's Secondary School, Dundalk), Sarah McCAFFREY (Largy College, Clones), Anna BUTLER (St. Andrew's College, Blackrock), Madison McGUANE (Ardscoil Mhuire, Corbally)
MANAGEMENT STAFF | Head Coach Richard Berkeley (Sancta Maria College, Louisburgh)Coach Katie McCarthy (Ballincollig Community School), Coach Kaneshia McKinney (Scoil Mhuire, Buncrana) GK Coach Emmet Peyton (St. Muredach's College, Ballina), Equipment Manager Tessa Mullins (Holy Rosary College, Mountbellew), Performance Analyst Aoife Gibbons (IT Tralee), Physio Hannah Steward
FIXTURES
Sunday, April 2 | Match Day 1 KO 4pm | Parklea Playing Fields
Republic of Ireland vs Scotland
England vs Northern Ireland
Monday, April 3
REST DAY
Tuesday, April 4 | Match Day 2 KO 1pm | Renfrew Juniors FC
Northern Ireland vs Scotland
Tuesday, April 4 | Match Day 2 KO 4pm | Renfrew Juniors FC
England vs Republic of Ireland
Wednesday, April 5
REST DAY
Thursday, April 6 | Match Day 3 KO 1pm | Parklea Playing Fields
England vs Scotland
Northern Ireland vs Republic of Ireland
SAFIB Bob Docherty Cup | Roll of Honour
WINNER

VENUE

2002

Republic of Ireland

Ballymena, Northern Ireland

2003

Scotland

Edinburgh, Scotland

2004

Scotland

Clare, Republic of Ireland

2005

Republic of Ireland

Ballymena, Northern Ireland

2006

Scotland

Dumfries, Scotland

2007***

Republic of Ireland

Wrexham, Wales

2008

Republic of Ireland

Salthill Devon, Galway

2009

Scotland

Belfast, Northern Ireland

2010

Republic of Ireland

Glasgow, Scotland

2011

Northern Ireland

Cardiff, Wales

2012

Northern Ireland

AUL Complex, Dublin

2013

Scotland

Shaws Bridge, Belfast

2014

England

Repton School, Derbyshire

2015

Scotland

Toryglen, Glasgow

2016

England

Dragon Park, Wales

2017

Wales

AUL Complex, Dublin

2018

Republic of Ireland

Ulster University, Jordanstown

2019

Republic of Ireland

Cambrils Park, Salou

2020

NA

COVID-19

2021

NA

COVID-19

2022

Republic of Ireland

Cochrane Park, Newcastle University

***

Renamed Bob Docherty Cup
END