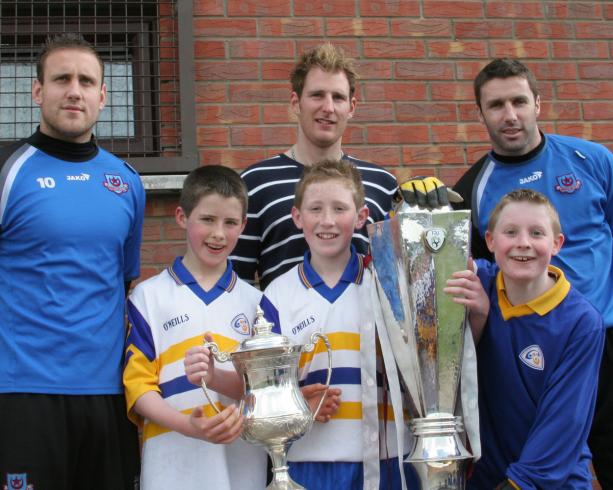 Now in its sixteenth year, the EA Sports FAI Schools 5 A Side was a resounding success at the MDL grounds, Navan last week with a massive 151 teams from 70 Meath schools participating in this fun filled event:
Schools battle it out in county qualifiers nationwide before advancing firstly to regional finals and then to provincial deciders: The winners from each of the five Meath sections (two for girls and three for boys) advance to the North Leinster Finals to be played at the JJB Soccerdome Dundalk on 14th May while the Leinster Finals take place at the MDL in Navan on 21st May with the All/Ireland Finals being hosted by Tullamore FC on 28th May:
Eircom League Champions Drogheda United made their third consecutive visit to the event with Guy Bates and Shaun Maher bringing along the magnificent Eircom Premier League Trophy and the Setanta Sports Cup, much to the delight of the hundreds of boys and girls competing on the day: Bates scored a memorable goal against Cork City to clinch the Eircom League title for the first time ever for Drogheda United: They were joined also by well/known local, Gary Rogers, who won an FAI Cup medal for the Drogs in 2005 and is currently playing with Galway United:
The tournament was held over five full days and apart from the competitive aspect there was also an undoubted sporting success with no yellow /red cards issued for the duration of the whole tournament:
Afterwards Meath Co/ordinator for FAI Schools, Paul Holland thanked all who ensured that this year's tournament was the biggest and best ever: Teachers do most of the refereeing with assistance this year from local referees, Pat and David Reilly along with John Hogan (Dunsany): Section Organisers this year were Michael Forry (Wilkinstown NS), Paul Brennan (St: Joseph's Mercy), Brendan Keogh (Dunboyne SNS), Tom Mohan, Mick Neville & Ian Carry (FAI) and Gerry Gorman (MDL) as always, had the MDL pitches in top class condition: The competition has certainly come a long way since 1992 when three Meath schools had to travel to compete in the West Dublin section of the National competition!
Competition overview 
Section "A" Boys:
Baile Ghib, Bellewstown, Boyerstown,  Carrickleck, Cortown, Curragha, Cushinstown,   Carnaross, Clonard, Clonalvy, Drumbaragh, Dunderry, Drumconrath, Heronstown, Kilbeg, Kilbride, Killyon, Kilskyre, Kiltale, Kilmessan, Knockcommon, Meath Hill, Mount  Hanover, Moynalty, Navan Educate Together, Newtown, Rathfeigh, Rathmore, Rathkenny, Robinstown, Scoil Naomh Eoin Navan, St: Patrick's Trim & Wilkinstown
FINAL
BOYERSTOWN 3 RATHKENNY 0
Boyerstown boys won their first ever Meath title when overcoming Rathkenny by 3/0 in the final of Section "A" Boys for Small Schools: Rathkenny were most impressive in the earlier group stages but ran out of steam after playing extra time in two consecutive games: They had beaten Rathfeigh, Navan Educate Together & Newtown in the group stages before beating Kilbeg 3/1 with a hat/trick from Stephen Crosbie in the quarters: Caolach Halligan's stunning golden goal sent the two/teacher school through in their semi/final win over a gallant Meath Hill side, much to the delight of Principal Miriam Coogan and Coach Derek Halligan:
Boyerstown had also won all their games, defeating Carnaross, Baile Ghib, Bellewstown, local rivals Cortown in the quarter/final and Kilmessan in the semi/final: A brace from Leon Rogers early in the second half  and a goal from Glen Kavanagh guaranteed Boyerstown their place in the North Leinster finals where they will play the County winners from Louth, Westmeath and Longford in the JJB Socccerdome Dundalk on 14th May: Hero of the day for Cathal O'Bric's charges was top scorer Johnjo Smyth who finished the day with a tally of eleven goals: In the final keeper Jamie Smith was outstanding throughout, pulling off some superb saves to keep a skilful Rathbenny at bay:
BOYERSTOWN:1:Glen Kavanagh, 2:Leon Rogers, 3:Jamie Smith, 4:David Hilliard, 5:Jonjo Smyth, 6:Gary Byrne, 7:Cillian Leonard, 8:Darren Kavanagh
RATHKENNY:1:Stephen Crosbie, 2:Ben Gore, 3:Lee Connolly, 4: Jack Gore, 5:Christopher Meade, 6:Tom Gore, 7:Caolach Halligan, 8:Simon O'Neill
 SECTION "B" BOYS:
Athboy A, Athboy B, Bohermeen, Cannistown A, Cannistown B, Carlanstown, Dangan A, Dangan B, Enfield A ,Enfield B, Gaelscoil na Bóinne A, Gaelscoil na Bóinne B, Gaelscoil na Ríthe A, Gaelscoil na Ríthe B, Julianstown A, Julianstown B, Kentstown A, Kentstown B, Kilcloon A, Kilcloon B, Kildalkey A, Kildalkey B, Oldcastle, Rathbeggan A, Rathbeggan B, Ráth Cairn, Rathmolyon, Scoil Mhuire Navan A, Scoil Mhuire B, Skryne A, Skryne B, Slane, Stamullen, St: Anne's Loreto Navan, St: Declan's Ashbourne, Yellow Furze A, Yellow Furze B:
SEMI/FINALS     
ATHBOY 'A'   5    RATHBEGGAN 1     
KILCLOON 'A'    3    GAELSCOIL NA RíTHE 1
FINAL                  
ATHBOY 'A' 3       KILCLOON 'A' 1
Athboy emerged as worthy winners of the 37 team section for medium/sized schools with Captain Sanjo Babatunde and goalkeeper Aaron Doherty particularly impressive: On route to their County title Athboy had beaten Bohermeen, Ráth Cairn, Slane and Yellow Furze in the group stages: In the quarter/final Athboy had their toughest encounter of the day when overcoming local rivals Rath Cairn by 2/1, before ousting Rathbeggan in the semi by 4/1:
In the final top scorer Jamie McGrath (with sixteen goals on the day) broke the deadlock, before goals from Glenn Darcy and Luke Swaine ensured their victory, much to the delight of joint managers, John Brennan and Barry McGann: Top scorer Thomas Lyons pulled one back for the South Meath school but Athboy's strength in depth was the main difference between the sides: Nevertheless a great achievement for Michael O'Carroll's charges with both teams qualifying for the quarters: For Kilcloon, Sean Walsh and Conor Meyler were outstanding while keeper Alan Ennis was reliable throughout, making some superb saves: Semi/finalists Gaelscoil na Ríthe had won all five matches before finally losing out to Kilcloon: The Dunshaughlin school had outstanding performers in Lorcan O Broin (keeper), Luke O Crualoich, Dan Ormsby & Sean Mac Giolla Phádraig: Rathbeggan, the 2005 All/Ireland Champions, had great displays from Craig Cullen, Niall Donnelly, Ellen O'Hare and Gavin Mac Gabhann:
ATHBOY:  1:Aaron Doherty, 2:Luke Swaine, 3:Sanjo Babatunde, 4:Glenn Darcy, 5:Calum Ennis, 6:Jamie McGrath, 7:Garreth Corrigan, 8:Ian Uzell:
KILCLOON:1:Sean Walsh, 2:Gary Biggs, 3:Conor Meyler, 4:Alan Ennis, 5:Alan O'Brien, 6:Connell Cunning, 7:Thomas Lyons, 8: Eoin Gilmartin:
Section "A" Girls:
Bellewstown, Bohermeen, Boyerstown , Carlanstown, Clonalvy, Clonard, Carrickleck, Cortown, Dangan, Drumbaragh , Dunderry, Enfield, Gaelscoil na Bóinne, Kentstown , Kilbeg, Kilcloon, Kildalkey, Kilmessan, Killyon, Kiltale, Meath Hill, Mount Hanover, Moynalty, Newtown, Rathbeggan, Ráth Cairn, Rathfeigh , Scoil Eoin, Scoil Mhuire, Skryne, Wilkinstown, Yellow Furze
Quarter Finals 
Dangan 0/3 Drumbaragh
Rathbeggan 1/3 Kildalkey 
Kilmessan 0/5 Newtown
Skryne 0/3 Carlanstown
FINAL:
Newtown 2 – 0 Kildalkey
Newtown Girls captured their first ever Meath title by overcoming a gallant Kildalkey side in the final of Section "A" for Small Schools: Two well/worked goals from Elisha Donoghue and Ciara O'Connell were enough to send the North Meath school through to the North Leinster Finals against their counterparts from Louth, Longford and Westmeath at the JJB Soccerdome in Dundalk: Best for Newtown were Lauren Duff, Hannah Beresford and Grace Malone: For Kildalkey, Aoife Grubb Flynn was outstanding throughout, with great displays also from Emily Kelly, Jennifer Keane Molloy and Sophie Kelly:
NEWTOWN:1:Elisha Donoghue 2:Ciara O' Connell 3:Lauren Duff 4: Grace Malone 5: Hannah Bashford 6: Rosie Dunnill 7:Sarah Clare 8:Aisling Weldon
KILDALKEY:1:Jennifer Keane Molloy 2:Aoiffe Grubb Flynn 3:Lauren McMahon 4: Rachel McNally 5:Emily Kelly 6:Sophie Kelly 7:Fintina Kealey 8:Chloe McMahon
Section "B" Girls:
Athboy A, Athboy B, Cannistown A, Cannistown B, Duleek A, Duleek B, Dunboyne A, Dunboyne B, Dunboyne C, Gaelscoil Na Ríthe Dunshaughlin A ,Gaelscoil Na Ríthe B, Julianstown A, Julianstown B, Laytown, Ratoath, St: Anne's Loreto Navan, St: Declan's, St: Joseph's Navan A, St: Josephs's B, St: Mary's Trim, St: Oliver's Navan A, St: Oliver's B, St: Oliver's C, St: Seachnall's  Dunshaughlin
QUARTER FINALS 
ST: JOSEPH'S A 1 JULIANSTOWN 2  
DULEEK B 1 GAELSCOIL NA RíTHE 2  
ST:SEACHNALL'S 2 DUNBOYNE B 1
DUNBOYNE A 0 ST:OLIVER'S 5
SEMI/FINALS
JULIANSTOWN 2 GAELSCOIL NA RíTHE 1
ST:OLIVER'S 2 ST:SEACHNALL'S 1
Gaelscoil na Ríthe's girls matched the progress of the boys in reaching the last four and were most impressive in the early stages of the competition accounting for both teams from Duleek:Top scorer was Caoimhe Ní Mhórdha who was voted Meath Athlete of the year and is a cousin of Sonia O'Sullivan! In defence Rebecca Nic Seoin was a tower of strength while midfielder Róisín Ní hOgáin & Clíodhna Ní Shúilleabháin excelled in midfield:
FINAL
ST:OLIVER'S NAVAN 3 JULIANSTOWN 0
A magnificent hat/trick from Kellie Marie Harris gave St: Oliver's a deserved victory over a skilful Julianstown side: Harris displayed a dazzling array of skills for such a young age and was for many observers the player of the whole week: After opening the scoring early in the first half Kellie Marie completed a memorable hat/trick with a brace in the second half to send Emer O'Neill's team through to the North Leinster Finals: St: Oliver's had another star performer in Kelsey Nesbit: Julianstown had great performances from Aoife Dunne, Jessica McManus and Melanie Cahill:
ST: OLIVER'S: 1:Ella Devine 2:Kelsey Nesbitt 3:Regina Hand 4: Kellie Marie Harris 5: Eleanor Lane 6: Naoise de Graff 7: Heather Smyth 8: Emma Naughton
JULIANSTOWN:1:Aoife Dunne, 2:Jessica McManus, 3:Katie Dowling, 4: Melanie Cahill, 5:Hannah Boylan, 6:Hannah Tobin Jones, 7:Anna Rothwell, 8:Eilise Everard:
Section "C" Boys:
Donacarney A, Donacarney B, Duleek A, Duleek B, Dunboyne A, Dunboyne B, Dunboyne C, Gaelscoil Eanna A, Gaelscoil Eanna B, Laytown A, Laytown B,, Nobber, Ratoath A, Ratoath B, St:Colmcille's A, St:Colmcille's B, St: Joseph's A, St: Joseph's B, St: Michael's Trim A, St: Michael's B, St: Michael's C, St: Oliver's Navan A, St: Oliver's B, St: Oliver's C, St: Seachnall's Dunshaughlin
FINAL 
St: Colmcille's Kells 2 Donacarney 1
St: Colmcille's Kells and Donacarney Boys contested a thrilling final of the SECTION C BOYS for large schools with Kells eventually edging out a powerful Donacarney side: There was little between the two sides in the first half with both keepers Aaron Browne and Mark Farrelly pulling off some breathtaking saves: Man of the match Fionn Reilly (Kells) opened the scoring with a superb strike with his cultured left foot before Tom Reilly equalised for John Joe Conneally's Donacarney side: The game seemed set for extra time until Fionn Reilly went on one of his mazy runs before unleashing a pile/driver which sailed into the bottom right/hand corner, sparking wild celebrations amongst the Kells supporters: Ryan Daly and Captain Siarhei Lipinski were outstanding for Donal Barrett's Kells School who had beaten St: Oliver's Navan by 3/1 in their semi/final:
Donacarney's Robert Cashman, Tom Reilly and Aaron Hanlon impressed most and had beaten an excellent St:Joseph's by 2/1 in a tightly contested semi/final: The East Meath School have been very prominent in the business end of this section over the years: They were unfortunate to come up against a particularly skilful Kells side who could well go a lot further in this nationwide competition
Referee for many of the games was ex/League of Ireland legend Mick Neville (FAI) who won no less than seven league championships and five FAI Cup medals in his career:  He also presented the prizes to both teams afterwards and remarked " The standard of football in this section was very high with many teams playing a good passing game: I was also very impressed with the sportsmanship between all the teams and the way the whole competition was organised for the full five days in Meath"
DONACARNEY: 1:Mark Farrelly, 2:Aaron Hanlon, 3:Conor Murphy, 4:Robert Cashman, 5:Jordan Donnelly, 6:Tom Reilly, 7:David O'Neill, 8:Sam Messayeh:
ST:COLMCILLE'S KELLS: 1: Aaron Browne, 2: Pierce Fleming, 3: Paddy Dillon, 4: Siarhei Lipenski, 5:Fionn Reilly, 6: Ryan Daly, 7:Mark Carrick, 8:Freddie Newman: