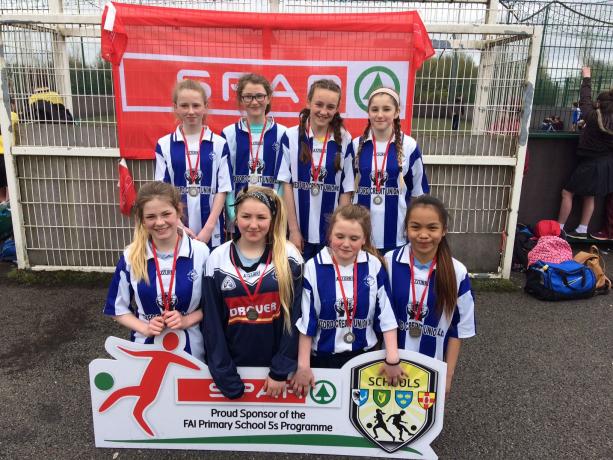 Wexford students show their class in SPAR FAI Primary School 5s County Finals Day
Ferrycarrig Park played host to the Wexford County Final of the SPAR FAI Primary School 5s programme on Wednesday last, April 5.
The SPAR FAI Primary School 5s programme has seen participation figures grow year on year to become the largest primary schools' competition in the country. 238 students, 30 teams from 23 schools participated in the Wexford County Final with 12 schools progressing to the regional finals.
The 'A' Cup, open to boys and/or mixed teams from small schools, had 6 passionate schools with the final between the talented Ballythomas NS and St. Fintan's NS. It was St. Fintan's who finallytriumphed in what was a thrilling contest after a 1-1 draw in normal time led to a penalty shoot-out that saw the Mayglass boys hold their nerve a little better to win on a 3-1 score line.
The 'B' Cup, for medium sized schools, again proved to be a compelling division with 5 teams involved. Poulfur NS proved the strongest team in this section, with Castlebridge NS finishing as runners up in a hotly contested final where a late goal secured victory on a 2-0 score line for Poulfur.
The 'C' Cup, for large schools, was another hard fought contest between 5 very talented schools. Scoil Mhuire, Coolcotts eventually came out on top of the large schools division after it took penalties to decide a winner between them and St. Joseph's PS, Gorey.
The winners will now progress to the South Leinster Finalson April 25 in Bunclody AFC.
Participation in the girls division of the SPAR FAI Primary School 5s programme reached an all-time high this year with 11,272 4th, 5th and 6th class girls registered nationwide.
The Girls 'A', 'B' and 'C' Cup finals were also held on the same day in the same venuewhere there was a fantastic atmosphere throughout the competition.
In the Girls 'A' Cup, for small schools, St. Fintan's NS, from Mayglass completed the County double defeating Ballyellis NS in a really exciting and hard fought match which ended with St. Fintan's scoring the solitary goal of the game.
In the Girls 'B' Cup final, for medium sized schools, Ballycanew NS sealed qualification to the next stage after they overcame a tough challenge from Our Lady of Lourdes NS, Bunclody on a 3-0 score line.
Bunscoil Loreto from Gorey put in a fine display to progress from the Girls 'C' Cup division for large schools and look in fine form heading into the South Leinster Finals. Scoil Mhuire from Coolcotts finished as close runners up in this division.
The SPAR FAI Primary School 5s Programme competition has been in existence since the mid 1990's and has 28,256 participants from 1,483 schools involved this year, a 19% surge from last year.
The competition is run across six divisions, ensuring that schools of all sizes are catered for. Boys and girls are encouraged to play together but there is a separate competition for boys and girls dependent on school enrolment numbers.
Fergus McDaid, Secretary of FAI Schools stated, "This is our third year with title sponsors SPAR and the competition has grown yet again and now firmly holds the title of the largest primary schools' competition in the country. SPAR's ongoing support, both nationally and at a local level, has ensured the ongoing success of the programme and given Wexford children an opportunity to get involved in a professionally-run, fun and inclusive programme. The programme encourages children to become involved in soccer at an early age and emphasizes the fun aspect of the sport. FAI Schools look forward to welcoming schools to the National Finals on Wednesday, May 31 in the Aviva Stadium, Dublin.  We would also like to extend our thanks to all schools who have participated in 2017".
Colin Donnelly, SPAR Sales Director said, "As a community based retailer, SPAR encourages a healthy and active lifestyle and is proud to be a supporter of primary schools' soccer in association with the FAI. SPAR local retailers around the county have been getting behind the SPAR FAI Primary School 5s programme, which encourages children to get involved in soccer in a fun, safe and inclusive environment."
Follow the action on social media via #SPAR5s or at www.faischools.ie and www.spar.ie
                                                                Winner                                                 Runner Up
'A' Cup | Small Schools |                 St. Fintan's NS, Mayglass               Ballythomas NS
'B' Cup | Medium Schools |           Poulfur NS                                           Castlebridge NS
'C' Cup | Large Schools |                Scoil Mhuire, Coolcotts                  St. Joseph's PS, Gorey
Girls 'A' Cup                                        St. Fintan's NS, Mayglass               Ballyellis NS
Girls 'B' Cup                                        Ballycanew NS                                   Our Lady of Lourdes NS, Bunclody
Girls 'C' Cup                                        Bunscoil Loreto, Gorey                  Scoil Mhuire, Coolcotts
IMAGES | https://www.facebook.com/pg/faischools/photos/?tab=album&album_id=1512002565497969
ENDS  
SPAR FAI Primary School 5s Programme
SCHEDULE OF EVENTS:
REGIONAL
South Leinster: April 25,                Bunclody AFC, Wexford (Wexford, Wicklow, Carlow)
Mid Leinster:     April 26,                Portlaoise Leisure Centre, Laois (Offaly, Laois, Kildare, Kilkenny)
North Leinster: April 27,                 MDL Grounds, Trim Road, Navan, Meath (Louth, Meath, Westmeath, Longford)
PROVINCIAL
Ulster Final:        May 03,                Monaghan United FC, Gortakeegan, Monaghan
Connacht Final: May 04,               Solar 21 Park, Milebush, Castlebar, Mayo
Munster Final:   May 10,                 TBC
Leinster Final:   May 11,                  MDL Grounds, Trim Road, Navan, Meath
NATIONAL
National Final: May 31,                    Aviva Stadium, Dublin
For more information:
Diane Fay, FAI Schools - Diane.Fay@fai.ie / 086 0404 952
Jennifer Kelly, PSG Sponsorship – Jennifer.Kelly@psgsponsorship.ie / 085 1076806
Scott Graham, PSG Sponsorship – Scott.Graham@psgsponsorship.ie / 086 3687548