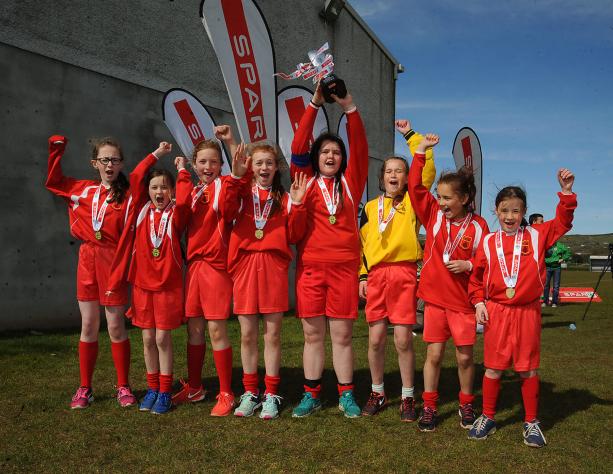 SPAR FAI Primary School 5s Finalists Announced
Friday, May 6, 2016
AVIVA STADIUM, DUBLIN will be the place to be on Wednesday, May 11 as it plays host to the SPAR FAI Primary School 5s National Finals.
Nearly 24,000 children from 1,268 schools participated in this, the biggest and best competition in the 2016 Primary Schools Soccer Calendar. 
The cream of the crop were whittled down as schools came through county, regional and provincial finals before securing their place at the National stage.
There are six sections to cater for the boys and girls from 4th, 5th and 6th class as the 24 schools take to the field in their respective categories.
Anticipation is mounting among the local communities as 192 players have the unique opportunity to showcase their skills in the home of Irish football. All eyes will be on these future starlets as they bid to take the title of SPAR FAI 5s National Cup Champions for 2016.
11 counties will be represented at the Nationals. Galway have an extraordinary record this season which sees 5 schools qualified. This is a fantastic achievement for any County. The Galwaigen army hail from Renmore, Craughwell, Woodford, Claregalway and Lombard Street in the City. The other counties represented are Cavan (2), *Inishowen (2), Donegal (2), Meath (2), Westmeath (2), Tipperary (2), Limerick (2), Cork (2), Sligo (1), Offaly (1) and Carlow (1).
We welcome back some familiar faces to the Aviva, namely; Scoil Íosagáín, Buncrana. The boys were represented last season finishing fourth in the 'C' Cup but now it's the turn of the girls to entertain us. The Buncrana ladies will line out in the new 'C' Girls category for the first time ever in the competition. This new addition ensures that the small, medium and large schools cater for boys/mixed and girls' teams with three sections each represented.  St. Patrick's BNS, Lombard Street in Galway will be familiar territory too. Art Naughton and Tom O'Neill will lead the lads out in the Aviva following a two year absence. The Galway contingency captured gold that day in the 'C' Cup so they'll be one's to watch out for.
The SPAR 'A' Cup hasCroom NS, Limerick (Munster), Scoil An Choimín, Lifford, Donegal (Ulster), Carn NS, Gurteen, Sligo (Connacht) and Scoil Choilmcille, Mount Hanover, Duleek, Meath (Leinster) all in contention for the crown. All four schools are newcomers to this stage of proceedings so I'm sure the players will relish the opportunity to impress in the Aviva.
The SPAR 'A' Girls Cup will have Thomastown NS, Tipperary (Munster), Scoil Mhuire, Lacken, Cavan (Ulster), St. Joseph's NS, Woodford, Galway (Connacht) and Ardnagrath NS, Athlone, Westmeath (Leinster) in the mix for the small girls schools section. Likewise, this foursome will be fresh faced to these events but excitement will be at an optimum for all 32 contenders.
Gaelscoil Dúrlas Éile, Tipperary (Munster), St. Michael's NS, Cootehill, Cavan (Ulster), Killeeneen NS, Craughwell, Galway (Connacht) and Dean Kelly NS, Athlone, Westmeath (Leinster) will try their luck in the medium category namely the SPAR 'B' Cup section but who can make the final cut on Wednesday afternoon to claim a top of the table finish? An equal playing field should make for some exciting games in this progressive category.
All four corners of Ireland are represented in this next section as Dromtrasna NS, Abbeyfeale, Limerick (Munster), St. Oran's NS, Cockhill, Inishowen (Ulster), Claregalway NS, Galway (Connacht) and St. Colman's NS, Mucklagh, Offaly (Leinster) will take to the field in the SPAR 'B' Girls Cup. We have a special outing for the Slevin family as twins Emma and Kate line out together for the Claregalway crew. Can this duo make an impact in this section for teachers Padraic Gallagher and Linda O'Connell? There will also be double trouble for the St. Colman's outfit as twins Ellie and Emma Glavin are also in action. Sensationally yet another set of twin girls will make an appearance for St. Oran's with Louise and Aoife Gallanagh playing for gold.
The large schools category is always a tough grouping with plenty of talent to choose from. This year is no different as Scoil Naomh Iosaf, Riverstown, Cork (Munster), St. Patrick's NS, Lurgybrack, Donegal (Ulster) St. Patrick's BNS, Lombard Street, Galway (Connacht) and Dunboyne SPS, Meath (Leinster) are all in contention for glory in the SPAR 'C' Cup. Can the Galway men take another National title to build on their successes of 2014?
Our new section for 2016 is the SPAR 'C' Girls Cup which caters for the large schools throughout the country. Scoil Niocláis, Frankfield, Cork (Munster), Scoil Íosagáin, Buncrana, Inishowen (Ulster), Scoil Chaitríona, Renmore, Galway (Connacht) and St. Fiacc's NS, Graingecullen, Carlow (Leinster) will be vowing for success. The Ulster Champions were represented back in 2006 when the girls snatched third place. Conor Delap's team will be looking to improve on that 10 year record this time out. The Renmore side saw the boys compete in 2010 when they took silver in the 'C' Cup. They also returned a year later to capture fourth spot. Now it's the turn of the Renmore girls to notch up some success at National level.
Wednesday, May 11 will see the future stars of the game entertain the crowds in the Aviva as the conclusion of the SPAR FAI Primary Schools 5s comes to a superb end. The event will be a family fun day focused on providing participants and spectators alike with huge excitement and entertainment, making it a day to remember for all involved.
LIST OF PARTICIPATING SCHOOLS
SPAR Cup 'A'
Munster               Croom NS, Limerick
Ulster                    Scoil An Choimín, Lifford, Donegal
Connacht             Carn NS, Gurteen, Sligo
Leinster                Scoil Choilmcille, Mount Hanover, Duleek, Meath
SPAR Cup 'A' Girls
Munster               Thomastown NS, Tipperary
Ulster                    Scoil Mhuire, Lacken, Cavan
Connacht             St. Joseph's NS, Woodford, Galway
Leinster                Ardnagrath NS, Athlone, Westmeath
SPAR Cup 'B'
Munster               Gaelscoil Dúrlas Éile, Tipperary
Ulster                    St. Michael's NS, Cootehill, Cavan
Connacht             Killeeneen NS, Craughwell, Galway
Leinster                Dean Kelly NS, Athlone, Westmeath
SPAR Cup 'B' Girls
Munster               Dromtrasna NS, Abbeyfeale, Limerick
Ulster                    St. Oran's NS, Cockhill, Inishowen
Connacht             Claregalway NS, Galway
Leinster                St. Colman's NS, Mucklagh, Offaly
SPAR Cup 'C'
Munster               Scoil Naomh Iosaf, Riverstown, Cork
Ulster                    St. Patrick's BNS, Lurgybrack, Donegal
Connacht             St. Patrick's BNS, Lombard Street, Galway
Leinster                Dunboyne SPS, Meath
SPAR Cup 'C' Girls
Munster               Scoil Niocláis, Frankfield, Cork
Ulster                    Scoil Íosagáin, Buncrana, Inishowen
Connacht             Scoil Chaitríona, Renmore, Galway
Leinster                St. Fiacc's NS, Graingecullen, Carlow
SQUAD LISTS
SPAR Cup 'A' (Small schools, mixed/boys)
Scoil an Choimín, Lifford, Donegal: Luke Mag Fhloinn, Josh O'Brollacháin, Niall O'Dochartaigh, Daniel O'Meanthaile, James O'Cnaimshí, Ross O'Brollacháin, James Mag Fhloinn, Cormac O'Cnaimhsí
Muniteoir: Laura Ní Ghallachóir & Jackie O'Meara
Carn NS, Gurteen, Sligo: Matthew Tansey, Dylan Walsh, Marcus Flynn, Josh O'Reardon, Padraig Taheny, Jamie McCoy, Conor Walsh, Billy Flynn
Teachers: Orlaith Reynolds & Stephen McCoy
Scoil Choilmcille, Mount Hanover, Duleek, Meath: Seán McQuail, Conor McQuail Leech, Lucas McKeen, Adam Kelly (Captain), Alan Bowden, Tom Bowden, Dylan Collins, Taigue Donagh
Teachers: Enda Ruddy & Mary Kennedy
Croom NS, Limerick: Kyle Hayes, Cian Fitzgerald, Deimentas Grismanauskas, Jake O'Connell, Leon Kirrane, Jake O'Connor, Shane O'Carroll, Aidan Maloney
Teachers: Liam Quirke & Eamonn Sheehy
SPAR Cup Girls 'A' (Small schools, girls only)
Scoil Mhuire, Lacken, Cavan: Bonnie McKiernan,  Lucy Crowe, Shauna Cronin, Emma Owen Brady, Shauna Macklin, Roisin Galligan, Niamh Cosgrove, Kira Smith
Teachers:  Kevin Foley & Brian McKiernan
St. Joseph's NS, Woodford, Galway: Katie Anna Porter, Ciara Hickey, Caoimhe Hickey, Catherine Hanley, Lucy Tierney, Ruth Hanbury, Jade McNamara, Emily Power
Teachers: Alan Dervan & Liam Tierney
Ardnagrath NS, Athlone, Westmeath: Beatrice Drummond, Holly Keenan, Maria Farrell, Roisín McNamara, Sinead Seery, Chloe Moran, Orlaith Craven, Ellie Temple
Teachers: John Keane & Emmet Keane
Thomastown NS, Tipperary: Sarah O'Donnell, Lucy Fogarty, Kate Flannery, Molly Hogan, Emer McCarthy, Fiona Tuohy, Kate Grogan, Ciara Quirke
Teachers: Siobhán Condon, Emma Rafferty
SPAR Cup 'B' (Medium schools, mixed/boys)
St. Michael's NS, Cootehill, Cavan: Owen Comiskey, Christian Hennessey, Callum O'Reilly, Senan Mullan, Kian Cooper,  Rian Delaney, Evan Maguire, Eli Argue
Teachers: Emily Busby & Des O'Connor
Killeeneen NS, Craughwell, Galway: Peter Monaghan, Dara Sheeran, Adam White, Alex Haugh, Ben Lalor, Luke Martyn, Sam O'Neill, Luke Forde
Teachers: Éadaoin O'Callaghan & Heather Cooney
Dean Kelly NS, Athlone, Westmeath: Jake Hourigan, Olabiyi Odekunle, Brooklyn Lowsbridge, Sandro Da Costa, Mark Greene, Jack Kearney, Paul Oliyide, Samuel Osho
Teachers: Shane O'Gorman & Maureen Ryan
Gaelscoil Bhríde, Durlas Éile, Tipperary: Lorcan Ó'Coimín, Eoin Ó'Coscair, Tommy Ó'Meachair, Danny Ó'Treasaigh, Eoin Ó' Cradóg, Jock Ó'Fógartaigh, Killian Ó' Reachtaire, Darragh Stáicliúm
Teacher: Labhaoise Ní Chuinneagáin TY Student: Eoin Ryan
SPAR Cup Girls 'B' (Medium schools, girls only)
St. Oran's NS, Cockhill, Inishowen: Molly Boyd, Rebecca Rodgers, Louise Gallanagh, Kelly Fullerton,  Leah McDaid, Cora McColgan, Rachel McCallion, Aoife Gallanagh
Teachers: Kathryn Doherty & Shauna McLaughlin
Claregalway NS, Galway: Alanah Griffith, Annagh Moran, Ruby Duggan, Shauna Brennan, Kate Slevin, Caoilthionn O'Dwyer, Emma Slevin, Eatha Brennan
Teachers: Padraic Gallagher & Linda O'Connell
St. Colman's NS, Mucklagh, Offaly: Ciara Glackin, Lauren Martin, Jessica McDonagh, Ellie Glavin, Emma Glavin, Leah Dunne, Ava Dolan, Angel Daly
Teachers: Lisa Flaherty & Julianne Dullea
Dromtrasna NS, Abbeyfeale, Limerick: Caoimhe Scannell, Ava Horgan, Chloe Brosnahan, Michelle Quirke, Caoimhe Riordan, Leah Donovan, Rachel Murphy, Kara Scannell
Teachers: Mike 'Foxeen' Harnett & Kathleen Broderick
SPAR Cup 'C' (Large schools, mixed/boys)
St. Patrick's NS, Lurgybrack, Donegal: Nathan Plumb, Adam Murphy, Josh McCullagh, Jay Maguire, James Gallagher, Harry Winfield, David Boyle, James Donahey
Teacher: Aiden Friel
St. Patrick's BNS, Lombard Street, Galway: James Egan, Luke O'Gorman, Gary Higgins, Rory O'Brien, Lee Ward, Joshua Keeya, Edric Opoku, Seán Faherty
Teachers: Art Naughton & Tom O'Neill
Dunboyne SPS, Meath: Eoghan McCormack, Simon Cunningham, Dylan Vaughan, Roland Banga, Tommy Lonergan, Daniel Flanagan, Davan Ryan, Jack Brown
Teachers: Brendan Keogh & Willie Lyons
Scoil Naomh Iosaf, Riverstown, Cork: Rory Teahan, James Crowley, Conor Healy, Owen Shanahan, Luke Walsh, Ben Nodwell, Alex Healy Byrne
Teacher: Rory O'Sullivan
SPAR Cup Girls 'C' (Large schools, girls only)
Scoil Íosagáin, Buncrana, Inishowen: Katelyn Doherty, Aoife McDaid, Amalie Webster, Keri Loughrey, Jodie Loughrey, Connie Doherty, Ciara McGee, Ellen Cleary
Teacher: Conor Delap & Mary Loughrey
Scoil Chaitríona, Renmore, Galway: Kayleigh Mulhall, Katie Ashton, Naomi Sheridan, Ella Gilmore, Emilia Koziel, Aaliyah Clohessy, Jennifer Oji, Katelyn Nolan,
Teachers: Richard Delaney & Louise Byrne
St. Fiacc's NS, Graingecullen, Carlow: Georgina McManus, Grace Cullen, Teskira Jimoh, Kate McDonald, Emma Walker, Jasmine Kinsella, Kelly O'Neill, Ellen Redmond
Teachers: Aisling Nolan & Kevin Bohanna
Scoil Niocláis, Frankfield, Cork: Allie Mullins O'Keeffe, Meadhbh Twohig, Katie McCarthy, Caoimhe McCarthy, Hazel Walsh, Ellie O'Mahony, Abbie Murphy, Cerys Lewis
Teachers: Kevin O'Connell & Jonathan Owens
Images of all participating schools available upon request 
Images: https://www.facebook.com/media/set/?set=a.1173843442647218.1073741888.949310255100539&type=3