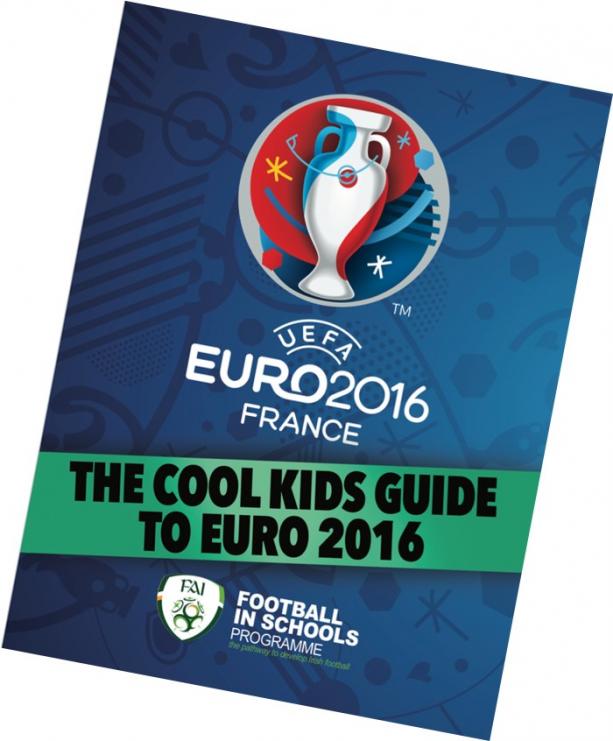 Dear Primary School Teacher,
As you may be aware, the Republic of Ireland have qualified for Euro 2016. France will host the event from June 10 to July 10. We want to help you and your school celebrate our Euro 2016 journey by providing you with a FREE Kids Guide publication so you can engage in the campaign with the Irish team#COYBIG
The 60 page A4 booklet we have designed contains both educational and football information to encourage children to learn about the 24 countries who have qualified for Euro 2016 through the medium of football.  We have two pages per country plus additional pages which include a quiz, wordsearch, crossword, geography, creative writing and art.We hope that this will be a useful resource for you to engage with the children in the classroom.  
We are encouraging schools to run a mini Euro 2016 competition within your school as part of your PE classes or school sports days. A full copy of the fixtures are published in the booklet and you can use these to split the children into teams and run the competition. The emphasis here is on fun and participation with all children getting a chance to play and get active.
Attached is a sample of the Republic of Ireland page for your consideration. If your school signs up now, you will be in with a chance to win sports equipment for the school as well as an exclusive FAI coaching day.
If you would like a copy of the full booklet please email diane.fay@fai.ie with the full name and address of your school and we would be delighted to post you out a copy.