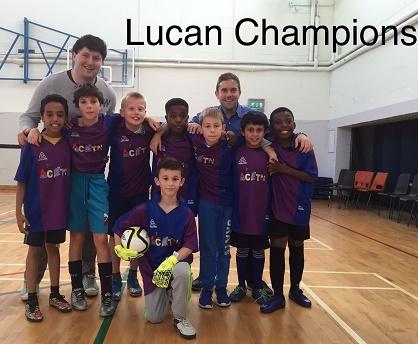 Friday, October 14, 2016
WHAT IS FUTSAL | Futsal is an indoor version of association football. It is played between two teams of five players, one of whom is the goalkeeper, and up to seven substitutes per team. Unlike some other forms of indoor football, the game is played on a hard court surface delimited by lines; walls or boards are not used.
Futsal is also played with a smaller ball with less bounce than a regulation football.  The rules create an emphasis on improvisation, creativity and technique as well as ball control and passing in small spaces.
PRIMARY SCHOOLS FUTSAL PROGRAMME |This is a participation initiative run to local level. Boys and girls in third and fourth class will participate in this fun filled one day blitz. There are separate competitions for boys and girls but girls are permitted to play in the boy's competition.
POST PRIMARY SCHOOLS FUTSAL PROGRAMME |It caters for First Year students, boys and girls. The programme will begin at county level and the winners will progress to Provincial and National qualifiers.
As part of the FAI Schools development programme, futsal is used as a way of introducing youngsters to the game of football and thus increasing grassroots participation within the sport.
The programme has quickly become one of the most popular sections of the schools soccer calendar, with talented students from all over the country aspiring to replicate the talents of Lionel Messi, Zico, Juninio, Kaka and Ronaldo. These legends of the football world have inspired youngsters to get involved and in doing so have increased the profile of futsal on an International scale.
Over 15,000 children will take part in this initiative inside a three month period in both our Primary and Post Primary Schools throughout Ireland.
This month will see competitions commence in the 26 counties as students take to the courts to showcase their skills.
To date, 468 primary schools have registered to play resulting in 780 teams, culminating in a total of 9,360 children taking part. The post primary schools have 251 schools registered with 483 teams participating, amounting to a total of 5,796 students in action.
Now in its ninth year, this exciting initiative has reached phenomenal participation rates. This is largely attributed to the hard work of the FAI's Development Officers promoting the programmes at grassroots level as well as our excellent relationship with local teachers who have participated in other schools activities over the last few years. Now a regular fixture in the schools' calendar, this is set to be one of the biggest year's yet for futsal. Watch out for the various primary and post primary schools competitions kicking off in your locality shortly. We wish all participating schools the very best of luck.
POST PRIMARY SCHOOLS FUTSAL DATES
Provincial Finals:
Ulster:                                    Tuesday, November 15                       AURA Leisure Centre, Letterkenny
Connacht:                              Wednesday, November 16                IT Sligo
Munster:                               Tuesday, November 22                      Waterford IT Sports Arena
Leinster:                                Wednesday, November 23                Gormanston College, Meath
National Final:                      Wednesday, December 7                  Waterford IT Sports Arena
LAST YEARS ROLL OF HONOUR:
Post Primary Schools – Girls
WINNERS:                            Scoil Mhuire SS, Buncrana, Donegal (ULSTER)
RUNNERS UP:                      Coláiste Dún Iascaigh, Cahir, Tipperary (MUNSTER)
THIRD:                                   Ursuline College, Sligo (CONNACHT)
FOURTH:                               Malahide Community School, Dublin (LEINSTER)
Post Primary Schools - Boys
WINNERS:                            St. Patrick's College, Cavan (ULSTER)
RUNNERS UP:                      Dublin Oak Academy, Bray, Wicklow (LEINSTER)
THIRD:                                   Ashton School, Cork (MUNSTER)
FOURTH:                               Coláiste Mhuire, Ballymote, Sligo (CONNACHT)