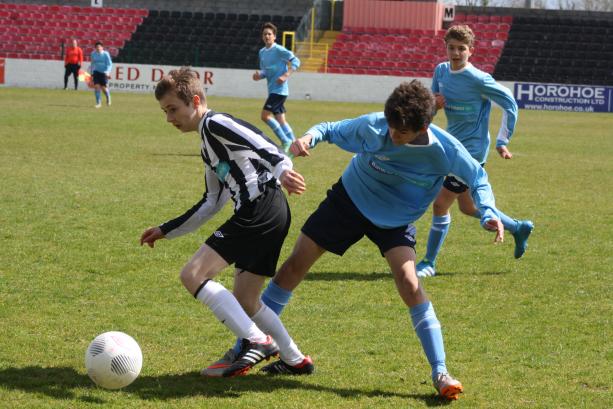 Dublin Oak Academy secure first National Cup title
Bank of Ireland FAI Schools First Year 'B' Boys Cup FINAL
('B' Cup caters for small schools)
Friday, April 29, 2016
Dublin Oak Academy, Bray 2-0 Coola Post Primary School, Sligo
Jose Salmon (16, 24)
It was a historic day for Bray's Dublin Oak Academy as Joaquin Margain lifted the First Year 'B' Boys Cup following a solid performance against Connacht Champions Coola Post Primary School from Riverstown.
A brace of goals by Jose Salmon in the opening half was enough to see John McShane's side reach a momentous occasion for the School. The Bray boys were made up of students from Mexico, Spain, Italy and Chile and they certainly turned on the style at City Calling Stadium, Longford Town FC on Wednesday last (April 27).
The physical superiority of Dublin Oak was evident early on but the talented Johnny Kenny and Conor Healy worked tirelessly throughout the game to keep the Sligo side in contention.
Bray's Salmon sliced through Coola's back four on the quarter mark to slot past Kearns from close range for the opening goal of the game.
Dublin Oak doubled their advantage eight minutes later as Jose Salmon was again on target.
Diego Aldape was denied a Bray hat-trick three minutes from halftime as his rocket smashed off the Coola crossbar.
The second half was far more even and the Coola lads battled hard to get back into this contest. Captain Ciaran McKeon was a busy man trying to get to grips with the Bray onslaught as Conor Kearns did well to keep the deficit to two.
Coola's Flynn, Kenny and Healy were magnificent for Kevin McCarthy's side but the Bray defense were adamant to keep a clean sheet for netminder Ivan Mourino.
Bray still have a League semi-final to fulfil so their Cup celebrations will be put on the backburner until their season is completed.
DUBLIN OAK ACADEMY, BRAY: Ivan Mourino, Leonardo Davila, Federico Madrigal,  Francisco Vega, Maurice Del Gado, Joaquin Margain (Captain), Daniel Madero, Ignacio Escudero, Jose Salmon, Diego Aldape, Alejandr0 Torreagrosa
SUBS: Fabian Munoz for Madero (55), Juan Pablo Garza for Salmon (28), Juan Carlos Villarreal for Madrigal (49), Pablo Barreda, Diego Vives for Escudero (59), Sebastian Murrillo for Torreagrosa (53), Carlos Hernandez for Aldape (53)
TEACHER: John McShane
COOLA POST PRIMARY SCHOOL, SLIGO: Conor Kearns,Brian O'Connor, Aaron McKenna, Paul Mahon, Ciaran McKeon (Captain), Jason McGoldrick, Luke Kennedy, Lee Deignan, Johnny Kenny, Conor Healy, Thomas Flynn.
SUBS: James Keegan, Gareth Keville, Diarmuid Gilmartin for O'Boyle (59), Daniel Murphy for Flynn (40), Conor O'Boyle for Kennedy (28), Oran McKenna, Niall Wheleman, James Keegan (GK)
EXTENDED SQUAD: Aaron Mulvey, Jamie Donovan, Seán Gilmartin, Seán Mullen, Alex Hamilton, Ryan Sheridan
TEACHER: Kevin McCarthy PRINCIPAL: Damien McGoldrick
REFEREE: George Burke (Midlands)