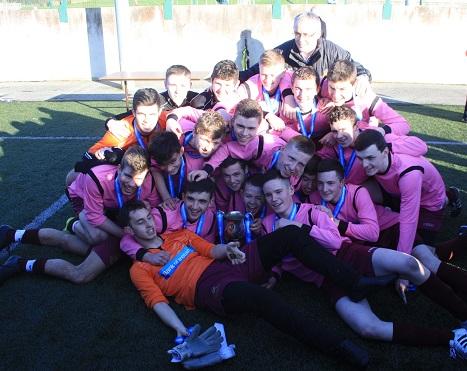 Bank of Ireland FAI Schools John Murphy National Cup Final  (Senior 'B' Cup caters for small schools)
Gaelcholáiste na Mara, Arklow 1-2 Our Lady's SS, Belmullet
 Jack Darcy (61)                                                                             Darrach O'Muirthe (38), Justin Healy (42)
BELMULLET'S OUR LADY'S SECONDARY SCHOOL made up for last season's All Ireland defeat with a powerful display yesterday afternoon, dispensing of a spirited Gaelcholáiste na Mara in what was one of the finals of the year in an enthralling encounter in Athlone IT. 
The game started off a very open affair with both sides counter attacking at either end however with no real end product. It was on 12 minutes the game had its first real chance as Callum Vickers was called upon to make a great save to keep the game scoreless, denying Justin Healy.
A minute later a stunning free kick from Colin Barret just outside the box beat Vickers however the ball came smashing back into play off the Wicklow schools crossbar, which was subsequently cleared by the Arklow defence.
On 16 minutes it was Vickers to the rescue again, the lively Justin Healy found himself in behind the Arklow defence one on one with Vickers but the latter refused to be beaten as he spread himself well and blocked from close range with his feet.
Chances were limited for the next 10 minute spell with a number of breaks in play which seen Arklow's Pól O'Riain cautioned for a strong challenge on Belmullet's Ryan O'Donoghue. On 28 minutes Vickers again pulled off a super stop from close range to keep Belmullet at bay.
The Mayo men were really starting to impose themselves on the game at this stage and their dominance showed as on 37 minutes Justin Healy played a smashing ball to Darrach O'Muirthe who made little mistake with a fine finish into the bottom left corner out of Vickers reach.
A minute later, Arklow had to reshuffle their back four as Paddy O'Donoghue was feeling the effects of a hamstring injury brought into the game, he was replaced by Jaques McCall in a straight swap at right back.
On 42 minutes it was that man Justin Healy, who was becoming a real handful for the Arklow lads, doubled Belmullet's advantage as he found some space in behind. Healy had cleverly dinked the ball over the onrushing Vickers to send the Mayo school well and truly into the driving seat just before half time.
On 58 minutes Belmullet had a chance to finish off the tie however Callum Vickers produced more heroics to keep Gaelcholáiste na Mara in the contest. From Vickers save Gearóid Ó'hÉalaithe's side went straight down the far end and it was the turn of Vickers opposite number Patrick McHale in the Belmullet goal who produced a fine save to keep his clean sheet intact.
The Arklow squad were given a lifeline on the hour mark. Jack Darcy produced one of the goals of the year with a sensational strike from 30 yards that flew past McHale, smashed the underside of the crossbar and made its way over the line. Game on with over a half hour left to play!
Straight from the tip off Belmullet went surging down to get their two goal lead back, Vickers pulled off another fine save from which Arklow went and countered straight at the Belmullet goal, this time they found Patrick McHale in their way. Immediately after Gaelcholáiste na Mara managed to get the ball into the box which led to an audacious bicycle kick from Liam Ó'Colemán, unfortunately for Arklow, Ó'Colemán saw his effort rebounding off the crossbar.
With quarter of an hour left to play, Justin Healy again found himself in behind the Arklow defence however the presence of the onrushing Vickers was enough to force Healy to drag his shot wide. A few minutes later Belmullet had two glorious chances to seal their victory however Vickers pulled a sensational double save to keep the deficit to just one!
Niall Walsh was then cautioned by referee Thomas Cunningham on 78 minutes for a challenge on the edge of the box which was well dealt with by the Arklow defence.
The last chance of the game came in the 91st minute and it came in the most unusual of circumstances, the ball was played back to Vickers whose first time clearance was charged down by Justin Healy who saw the ball sail agonisingly over the bar. 
There was no time for Vickers to launch another attack from the goal kick as referee Cunningham blew the final whistle which brought an end to a thrilling finale.
This was Our Lady's third All Ireland title in this competition having captured it previously in 1998 and 2005. A fitting tribute, having suffered a heart breaking defeat last season at the hands our St. Peter's CS, Passage West.
Huge credit to the talented Gaelcholáiste na Mara who played some magnificent football to captivate the spectators.
GAELCHOLÁISTE NA MARA, ARKLOW: Callum Vickers, Paddy O'DonOghue (38), Liam Ó'Scálaigh, Garrett Kenny (Captain), Tommy Rowan, Liam Ó'Colemán, Corey Mills (80), Pól Ó'Riain (54), Jack Darcy, Darragh MacGerailt, Cathal O'Ceilleachar
SUBS:  Cal O'Ceallach (54), Jacques McCall (38), Tom Maher, Criostoir O'Briain, Tom Ó'Scálaigh, Stephen Neville (80), Andrew Maher,
EXTENDED SQUAD: Tiernan O'Muirri, Micheal O'Sullivan, Ethan Sillery, Jonathan Devaraux, Adam Cullen, David Kealy, Adam Ó'Cuillean, Mark Cullen, Cameron Walker, Max Moriarty, Quentin O'Reilly, Gavin Bentley, Kyle O'Connor 
TEACHER: Gearóid Ó'hÉalaithe
OUR LADY'S SECONDARY SCHOOL, BELMULLET: Patrick McHale, Michael McManamon, Kieran Conway (52), James Deane, Joe Mason, Eoghan McGrath, Marty Boylan, Ryan O'Donoghue(captain), Colin Barett, Darrach O'Muirthe (75), Justin Healy  
SUBS:  Sean Heston, Adam Carrabane, Daithi O'Donoghue (75), Niall Walsh (52), Padraic Ruddy, Shea O'Donoghue, Matthew Doocey, Micheal Conway, David Healy
TEACHERS: Harry Reilly, Robin Turner
REFEREE: Thomas Cunningham (Offaly)