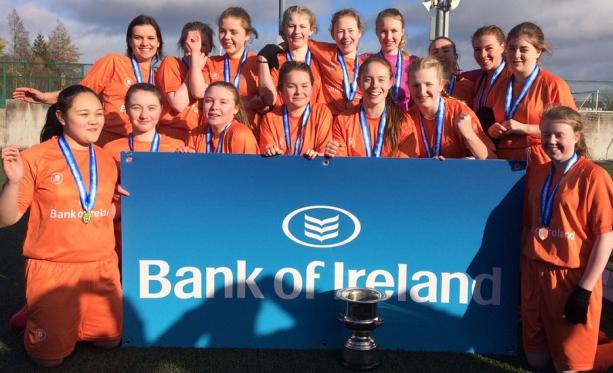 St. Laurence's secure first ever FAI Schools Cup title on penalties
Bank of Ireland FAI Schools Junior Girls National Cup Final (U17)
Wednesday, March 1, 2017
Dominican College, Taylor's Hill 1-1 St. Laurence College, Loughlinstown (AET) St. Laurence's won 6-5 on pens
Meghen Hengerer (47)                                                                                                                                                                                             Jessie Morrissey (37)
LOUGHLINSTOWN'S ST. LAURENCE COLLEGE secured their first ever Bank of Ireland FAI Schools National Cup title yesterday afternoon (Tuesday, February 28) following a pulsating penalty shoot-out against favourites Dominican College, Taylor's Hill after a stalemate in extra time in their Junior Cup decider.
It was very blustery conditions in Athlone IT as the Dublin girls entered into the unknown. John Rowe's side had a comfortable win in their National semi-final encounter with Abbey Community College of Waterford winning out 3-0 as well as a narrow 1-0 win over arch rivals Athlone Community College in their Provincial clash. For years the School were always the bridesmaid and never the bride as Presentation SS, Kilkenny, Athlone CC and Scoil Chriost Rí, Portlaoise always seemed to win their provincial ties.
Dominican College had an empathic 5-0 victory over St. Columba's Comprehensive School, Glenties in their National semi-final outing which also saw them defeat Convent of Mercy, Roscommon on spot kicks to see them through to yet another National Cup Final.
The Taylor's Hill outfit featured a few familiar faces as Aoife Lynagh, the Hengerer twins, Meghan and Lilly and Lucia Lobato were all capped for the U15 Schools select last season. Emilia Koziel is a trialist this season with Lorraine Counihan's side as well as St. Laurence goalkeeper Courtney Maguire. It would make for interesting viewing as the game got underway.
Emilia Koziel and the Hengerer twins were lively in the first period for Taylor's Hill but the versatile Courtney Maguire kept them at bay with the sides scoreless at the break.
The game came to life two minutes into the second period when Loughlinstown starlet Jessie Morrissey rifled the ball into the back of the net from 25 yards out which left Alex Williams no chance in the Galway goal.
However the Taylor's Hill equaliser came ten minutes later as an Aoife Lynagh free kick fell to the feet of Meghen Hengerer who toe poked the ball into the net from the far post in a packed goal mouth.
No further goals were forthcoming as full time came to a close.
Extra time saw Aoife Lynagh rattle the side netting from a corner kick just five minutes in. This was matched by two quick fire shots on goal by Clara Mulligan but they failed to reach the target in the second period of extra time.
As the penalties loomed, Taylor's Hill made the bold move of changing goalkeeper as Aoife Lynagh lined out between the posts for the Galway girls.
The first two spot kicks were saved brilliantly by Maguire and Lynagh as Laurance's hit the post on their second attempt.  Maguire levelled it again with a fine save of Lobato's effort. Both goalkeepers tested each other as both converted in fine fashion.
This left it to the eighth penalty which was angled wide from O'Connell much to her frustration so up stepped St. Laurence's Suranne Williams who sustained the pressure and converted nicely to see her School win their first ever major title.
The School are celebrating 50 years this year and it was apt that they should mark this occasion with their first Bank of Ireland FAI Schools title as the Junior Girls took home top prize in a stunning penalty shoot-out.
DOMINICAN COLLEGE, TAYLOR'S HILL | Alex Williams, Alanna McNeill, Anna Flaherty, Aoife Lynagh (Joint Captain), Claire Conry (Joint Captain), Emilia Koziel, Emer O'Connell, Lilly Hengerer, Lucia Lobato, Meghen Hengerer, Saoirse Burke
SUBS | Niamh McPeake for Burke (48), Aoibhin McDonnell, Stephanie Brady, Cleo McKeon Burke, Maeve Daly, Caitriona Carthy, Alison Treacy, Emma Heffernan, Ciara O'Sullivan, Emily Browne, Lisa Rekai
TEACHER | Geoff Drea COACH | John Power
ST. LAURENCE COLLEGE, LOUGHLINSTOWN | Courtney Maguire, Lana Doyle, Suranne Williams, Bobbi Downer, Katie Doyle (Captain), Jessie Morrissey, Clara Mulligan, Molly Murphy, Michaela Fox Walsh, Maya Stubbs, Zoe Kelly
SUBS | Michaela Platakis, Kim Pel, Aimee Forde for Stubbs (89), Lauren Dineen, Katie Steemson
TEACHER | John Rowe ASSISTANT | John Mulligan
REFEREE: Paul Tone (Midlands)