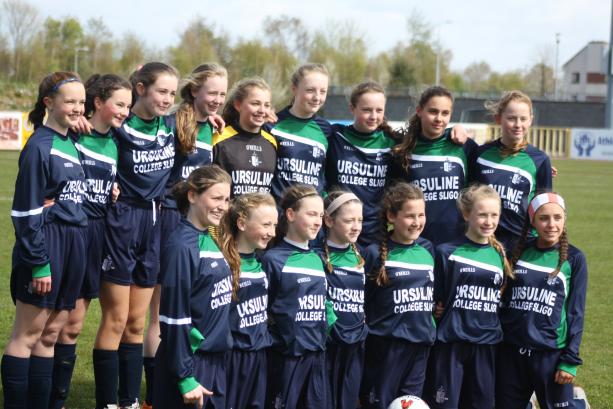 Tight battle for top honours
Bank of Ireland FAI Schools First Year Girls National Cup Final (U14)
Saturday, May 14, 2016
Ursuline College, Sligo vs Scoil Mhuire SS, Buncrana
MONAGHAN UNITED FC, Gortakeegan will be the venue for the Bank of Ireland FAI Schools First Year Girls National Cup Final on Wednesday next, May 18 with a 1pm kick off scheduled.
Ursuline College were in phenomenal form in their semi-final outing with St. Caimin's CS of Shannon. The talented Helen Monaghan hit a hat-trick in Athlone Town FC that afternoon while Laura Oates bagged a brace and Cathy Harrison finished off a splendid performance for the Sligo crew.
It was a completely different story in the other semi-final which went down to the wire in the Showgrounds, Sligo Rovers. Scoil Mhuire's Grace McColgan snatched the match winner five minutes from time to sink reigning Champions Athlone Community College and advance to the season's finale.
The Buncrana ladies have won a National title in most divisions, the last one was in 2008 in the First Year Cup. They're making a welcome return to the top flight after an eight year absence at this age group. Can they etch another title win on the Cup come Wednesday evening. Previously Scoil Mhuire have won three other National titles with FAI Schools. Back in 2004 they captured the Senior Cup, 2001 saw them lift the Minor title and 16 years ago, the school were crowned Junior Champions in 2000.
This will be a totally new experience for the Ursuline College as they hope the momentum from their semi-final performance will be replicated in Monaghan to see them make history for the school.  It will make for a top class outing as both sides looked impressive in this season's Cup run.
URSULINE COLLEGE, SLIGO: Megan Byrne, Emma Corcoran, Allanah Gallagher, Shona Dalton, Oda Carty, Sophie McDonagh (Capt), Helen McDonagh, Aoife McLaughlin, Laura Oates, Cathy Harrison, Sarah Gillen
SUBS: Sophie McGoldrick, Eden Rooney, Emma Shanley, Ingrid Sheils, Sandra Bladycz
TEACHER: Deirdre Cullinan ASSISTANTS: Darragh Healy & Laura McGinn
SCOIL MHUIRE SS, BUNCRANA: Niamh Doherty, Ava Rijkers, Saoirse McEleney, Emma McCallion, Georgia Rudden, Beth Doherty, Mariah McColgan, Grace McColgan, Brianna Doherty (Capt), Ewelina Smolen, Begona Pinero Quintana
SUBS: Clara Porter, Teigan Quinn, Donna Donaghey, Hollie Doherty, Paige Ferguson (GK), Lauren McDaid, Leah McColgan  
TEACHER: Davey Hone ASSISTANT: Andrea Kelly
REFEREE: Paul McGeown ASSISTANTS: Paul Oliphant & Frank McConnell