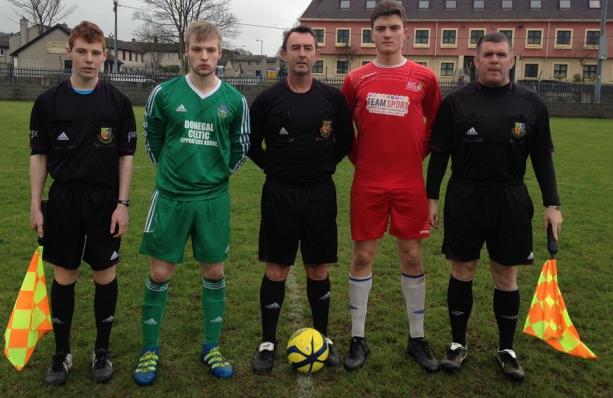 Bank of Ireland FAI Schools John Murphy Senior 'B' National Cup Semi Final
Tuesday, January 24, 2017
Pobalscoil Ghaoth Dobhair 2-0 Galway Community College
Steven McFadden (56), Micheál Roarty (75)
The Gweedore outfit snatched two second half goals to earn themselves a 2-0 victory over newcomers Galway Community College in the Bank of Ireland FAI Schools John Murphy Senior 'B' National Cup Semi Final in Ray MacSharry Park, Sligo this afternoon (January 24)
Steven McFadden broke the deadlock just before the hour mark with a neat finish from close in.
Pobalscoil Ghaoth Dobhair doubled their advantage in this tight affair with Micheál Roarty converting after Steven McFadden turned supplier with 15 minutes remaining.
The Ulster Champions march on after their third attempt at this stage of competition. The boys lost 4-0 to Gaelchólaiste na Mara, Arklow last season and again in 2015 when they narrowly missed out to Our Lady's SS, Belmullet on spot kicks so it's sweet revenge that they have booked their place in the National Cup Final scheduled for Wednesday, February 8.  
Ethan Harkin was impressive throughout the ninety minutes. The youngster had a great chance to convert his header at the back post from a well worked corner but his attempt floated over the upright with 30 minutes gone. Steven McFadden had a rasping shot from distance sail over the bar eight minutes later as the Gweedore crew challenged for an opener.  It remained scoreless at the break.
Ger Bane's side were dealt a body blow with the concession of the first goal 11 minutes into the restart.
Galway made some changes which seemed to play off only for Gavin Sweeney to be on top of his game. The Galway lads had a number of well executed set pieces saved by the Gweedore net minder. On another day, some of these attempts may have proved fruitful.
Aaron Molloy was unlucky not be awarded a penalty with 20 minutes remaining as goalkeeper Gavin Sweeney challenged for the ball in the box. Their claims were waved away by match official John Barry who was well placed to review the situation. 
Gweedore's luck was sealed when Roarty managed to scramble the ball to the back of Gary Martyn's net after a brilliantly implemented manoeuvre by Ciaran McFadden's charges. Again Steven McFadden was instrumental in the build-up.
The other semi-final fixture will be scheduled for next Thursday, February 2 as St. Peter's Community School, Passage West await the Leinster qualifiers.
Pobalscoil Ghaoth Dobhair: Gavin Sweeney, Jamie McGee, Padraig Hagney, Conor McCafferty (Capt), Ethan Harkin, Neasan McGiolla Bhride, Micheál Roarty, Liam McFadden, Steven McFadden, Liam Wiggins, Conor Duggan
Subs: Dan Gallagher, Michael Coll, Daniel McLaughlin, John McGarvey, Michael Dwyer
Teacher: Ciaran McFadden 

Galway Community College: Gary Martyn, Daniel Brennan, Simon Schutz, Owen Folan (Capt), Fabio Santos, James Gallagher, Daniel Corbett, Dara Leavy, Aaron Molloy, Conor McDonagh, Edo Ngirumpatse

Subs: Derek Ward for Brennan (85), Alex Schmidt for Leavy (61), Mark Schmidt for Ngirumpatse (93), James Oliver Dempsey for S Schultz (76)
Teachers: Ger Bane & Susie Cunningham  
REFEREE: John Barry (Sligo)