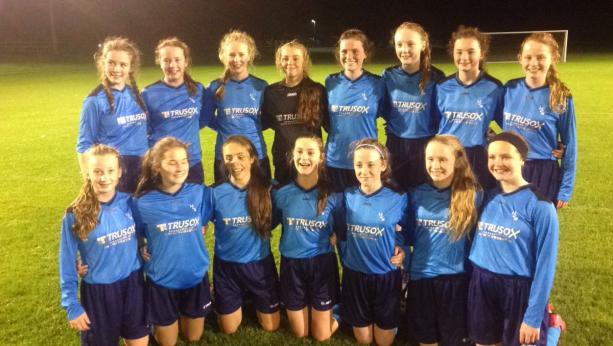 Rod Houston Cup
Schools Association Football International Board (SAFIB)
First Year Girls National Cup Champions (U14)
Ursuline College, Sligo win opener
Thursday, October 20, 2016
Ursuline College, Sligo 4-0 Thomas Telford School, Telford
URSULINE COLLEGE, SLIGO got their campaign off to the prefect start when they overcame English side Thomas Telford School with a brace of goals.
The Sligo ladies were one up at half time courtesy of an Aoife McLaughlin opener midway through the first half as Sophie McGoldrick turned supplier.
The second half was far more productive for the Irish Champs as Sophie McGoldrick netted soon after the restart to double their advantage.
Aoife McLaughlin got her second of the evening and Sligo's third when she followed up some good football with Sophie McDonagh ensuring her a safe passage to goal. McLaughlin netted with confidence to give her team a wonderful cushion in the closing stages.
Helen Monaghan who saw an earlier effort hit off the upright, converted late on to make it 4-0 as Ingrid Shiels supplied a well weighted ball into her path.
Next up for Ursuline College will be the English Champions St. Ivo School, Huntington. They had a comprehensive victory over their Welsh counterparts Ysgol Dyffryn Aman, Ammanford defeating them 8-0 in the earlier group game of the day. It will be a massive game for the Sligo starlets but a firm test and one that should prove fruitful.
The other group game scheduled to kick off at 10.30 in the morning will see Thomas Telford School up against Ysgol Dyffryn Aman, Ammanford. Both sides will be desperate to get points on the board on day two of competition.
Ursuline College will make a little history regardless of the results during the tournament. They are the first female representative side to ever compete for FAI Schools in a home nation's event following the inception of the competition this season by SAFIB.
Our U15 Boys National Cup Champions have been participating in the Allen McKinstry Cup since 2008 which has proved very successful. FAI Schools hosted the tournament last year in Dublin with St. Kieran's College, Kilkenny victorious. This season, St. Brendan's College, Killarney will participate as the tournament heads to Swansea University in May as the Kerry outfit represent the Republic of Ireland at this three day tournament. 
URSULINE COLLEGE, SLIGO: Megan Byrne, Emma Corcoran, Allanah Gallagher, Shona Dalton, Oda Carty, Sophie McDonagh (Captain), Helen Monaghan, Aoife McLaughlin, Laura Oates, Cathy Harrison, Sarah Gillen. Sophie McGoldrick, Eden Rooney, Emma Shanley, Ingrid Shiels
TEACHERS: Deirdre Cullinan, Carmel Donelon ASSISTANTS: Darragh Healy & Laura McGinn
RESULTS 
Thursday, October 20
St. Ivo School, Huntington 8-0 Ysgol Dyffryn Aman, Ammanford
Ursuline College, Sligo 4-0 Thomas Telford School, Telford
FIXTURES
Friday, October 21, KO 10.30am
St. Ivo School, Huntington vs Ursuline College, Sligo
Thomas Telford School, Telford vs Ysgol Dyffryn Aman, Ammanford
Saturday, October 22, KO 10.30am
Ursuline College, Sligo vs Ysgol Dyffryn Aman, Ammanford
St. Ivo School, Huntington vs Thomas Telford School, Telford  
END