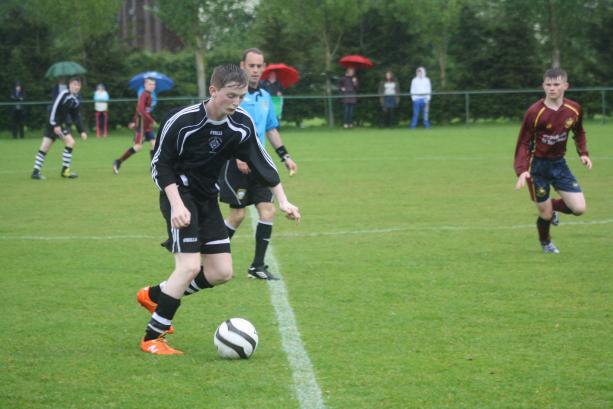 Allen McKinstry Cup
Minor Cup Champions (U15)
Tuesday, May 24, 2016
  St. Kieran's College capture Allen McKinstry Cup
ST. KIERAN'S COLLEGE, KILKENNY captured the SAFIB Allen McKinstry Cup on Sunday afternoon following a comprehensive win over old rivals Douglas Community School at the AUL Complex.
A brace from Ciaran Brennan and Tim Corkery was enough to see off the Cork men and capture the elusive title in their much anticipated play-off game. Seán Fahy's side had a number of key players absent due to trials and injury. Unfortunately it wasn't the showcase that replicated their Cup Final tie last month which saw the two sides battle it out in extra time for the Cats to win out on penalties. Carl Lynch's crew were well in control and deserved the victory following their performance over the three days.
It was a 1, 2, 3 for the Irish sides as Douglas came runners up while late replacements Dublin Oak Academy in Bray captured third following their 2-0 win against Belfast Boys' Model School earlier that morning. Chepstow School in Wales and Bedfordshire's Samuel Whitbread Academy played out a scoreless draw in their fifth vs sixth place play-off game for sudden death penalties to rule in favour of the Welsh team.
FRIDAY
Douglas Community School 1-1 Chepstow School
A highly entertaining contest between Douglas Community School and Chepstow School finished all square with the Douglas boys edging out their Welsh opponents in the penalty shoot-out 3-2 .The early exchanges saw the impressive Adam O'Reilly prompt Douglas into attempting to breach the Chepstow rear guard particularly on the flanks where Andrew Greaney and Destiny Okonkwo were a constant threat. The solid composed Matteo Goddard ensured that the Welsh goal stayed intact, limiting Douglas to long range shots which were dealt with comfortably by Welsh goalkeeper Josh Goodwin Williams.  Indeed the Welsh Champions had a goal disallowed for offside after 14 minutes signalling a growing threat which saw them take a deserved lead in the 20th minute. A long range effort by Keegan Evered Hall was deflected by a Douglas defender, wrong-footing Andrew Cotter to give Chepstow a lead which they maintained until half time.  The second half saw Chepstow attempt to build on their growing confidence. A mazy run by Harry Pinchard resulted in a rash challenge in the penalty area, end result a penalty. A poorly struck effort by Pinchard was easily saved by Cotter. This sparked a renewed confidence in Douglas and a headed equaliser by Ben Lucey levelled proceedings. Both teams had opportunities to win the tie but time ran out and the ensuing penalty shoot-out saw Douglas emerge winners 3-2.

 St. Kieran's College, Kilkenny 1-1 Belfast Boys' Model School 
This was a very closely fought game in which both teams showed their complementary footballing skills.  St. Kieran's were playing with confidence and pushing the ball around well when a mistimed back pass left goalkeeper Stephen Barron exposed and his hasty clearance rebounded from the challenging Josh McAteer into the net in the 5th minute.  St. Kieran's continued to probe but their efforts, whilst causing a few scares in the Belfast goalmouth, went unrewarded.  The Belfast no nonsense defence ensured that they maintained the advantage as the referee blew for half time.  The second half saw the Kilkenny boys continue with their attacking style and the dangerous Ciaran Brennan was only kept at bay by some resolute defending by Shane Mullen and Jonny Welsh.  St. Kieran's were finally successful when George Murphy met a free kick from the left and headed home in the 54th minute.  Both teams gave their all in the remaining five minutes but the defences held on and the game went into penalties where St. Kieran's gained the extra point available 3-1.
Samuel Whitbread Academy, Bedfordshire 1-2 Dublin Oak Academy, Bray
This game started well with both teams trying to entertain the rain soaked spectators with some excellent flowing football.  Chances, however, were few and far between and it was not until the 35th minute that Sam Beckwith unlocked the Oak defence with a delicate chip which Jamie Parker was able to latch on to and volley home.  The lead was short lived as Oak took advantage of a break in the Whitbread concentration and Gerardo Mena was at hand to crack home a shot from 25 yards just two minutes later.  Both teams sensed they had a chance of victory and it was Oak who snatched the initiative when Mena was in the right place again to tap home a well-directed cross from Jorge Bueno.  Two wet and tired teams left the pitch on the final whistle but both could be proud of their efforts. 
 

SATURDAY

St. Kieran's College, Kilkenny 5-0 Samuel Whitbread Academy
Samuel Whitbread found themselves two goals down after 10 minutes after an uncharacteristic sluggish start.  St. Kieran's were in fine form and pressing high causing chaos in the opposition defence.  James Ryan opened the scoring on 7 minutes when he slotted home following a quick free kick and was followed two minutes later when Connor Kelly fired one in following a weak corner clearance.  Two substitutions seemed to fire up the English lads who were holding their own until Padraic Moylan tapped home following good approach play down the left flank.  At half time the referee, who had been causing some confusion amongst the Whitbread players, was persuaded to wear a different coloured shirt to the English lads!  The second half was keenly contested but a further goal from Ciaran Brennan was followed late on by a high bouncing ball dropping into the net following a goalmouth melee to give St. Kieran's a 5 goal winning margin.
Douglas Community College 5-1 Dublin Oak Academy, Bray
Bray's Jorge Bueno struck a wonderful opening goal from 20 yards out to give them an early advantage in this difficult encounter with only a minute gone. Ben Lucey found the equaliser with 15 minutes on the clock. He then recorded Douglas' second of the day four minutes later when he was fed through the centre by Dean Sonowo. Andrew Greaney converts Douglas third of the afternoon five minutes into the restart. Four minutes later, Lucey bagged a hat-trick, Douglas fourth following some great interlink play with Greaney and Kiely for the goal. Adam O'Reilly made it a fantastic five three minutes from time.
Belfast Boys' Model School 5-2 Chepstow School
Belfast opened the scoring in the sixth minute through Kyle Wilgaus who curled a stunner into the top right corner. The Irish lads went further ahead from the spot in the 16th minute through Spencer Beattie who narrowly squeezed the ball past 'keeper Josh Goodwin-Williams.  In the 27th minute Beattie added to his tally after being put through, he then went on to complete his hat-trick on the stroke of half time with a fine effort from 30 yards.  Chepstow rallied and pulled a goal back through Ollie Herbert who rifled one home from distance.  In the last five minutes Matteo Goddard reduced the arrears when he slotted home from outside of the box but on the final whistle Reece Gillespie finished the scoring with a fifth goal for Belfast.
 

SUNDAY POSITIONAL PLAY-OFFS

Chepstow School 0-0 Samuel Whitbread Academy
This decider was action packed with the dismissal of Payton midway through the first period. A penalty from the versatile Scrivens was saved well by Anderson as the deadlock remained. There was a few early chances for Chepstow as Melling forced a magnificent save from the keeper.  Morgan also spurned a glorious chance for the Welsh with nine minutes remaining. Pinchard could have been the hero of the hour but his fine effort was inches wide of the mark as penalties ensued. Jamie Goddard's side overcame the Bedfordshire lads 5-4 on sudden death penalties to take the fifth place podium finish. 

 Dublin Oak Academy 2-0 Belfast Boys' Model School
John McShane's men captured a third place finish in the competition as his team netted a goal in each half. Oscar Bastidas with a peach of a goal to break the deadlock five minutes from the interval. This was followed ten minutes into the restart as Lagunes fired home from close range.

Douglas Community School 0-4 St Kieran's College, Kilkenny 
Ciaran Brennan and Tim Corkery netted twice for the Kilkenny men to take the title in fine style. The Saints were tremendous throughout the campaign with St. Kieran's recording the Allen McKinstry Cup to their list of achievements. Carl Lynch will have his side out again on Thursday in Portlaoise as they do battle with Coláiste Choilm, Tullamore in the U15 Champions League Final.
LIST OF PARTICIPATING SCHOOLS & PLAYERS:
ST. KIERAN'S COLLEGE, KILKENNY: Stephen Barron, Conor Kelly, Cian Kenny, Killian Rudkins, Padraic Moylan, George Murphy, Jamie Young, Peter Connellan, Tim Corkery, Ciaran Brennan, James Ryan, Jamie Reid, Shay McEvoy, Kevin Fitzpatrick, Eoin Delahunty, Oisín Carroll, Conor Brett, Michael Lewis
TEACHERS: Carl Lynch, Larry Cotter, Eamon Heffernan KIT MEN: Alan Thompson, Kacper Mazurkiewicz, Eric Oyat
BELFAST BOYS' MODEL SCHOOL: Jamie Bunting, Dean Lewis, Curtis O'Boyle, Shane Mullan, Jonny Welsh, Spencer Beattie, Kyle Anderson, Carl Johnston, Josh McAteer, Reece Gillespie, Kyle Wilgaus, Jay Sheridan, Bailie Hoy, James Holland, Graham Kennedy 
TEACHERS: Andy Walker, Brian McLaughlin
CHEPSTOW SCHOOL: Josh Goodwin-Williams, Ellis Kirton, Nathan Morgan, Ewan Dick, Matteo Goddard, Corey Ryan, Harry Pinchard, Olly Melling, Scott Williams, Lucas Fletcher, Ryan Scrivens, Keegan Evered-Hall, Max Luff, Ollie Herbert, William Jenkins
TEACHERS: Jamie Goddard, John Robson PHYSIO: Noel Hine
DOUGLAS COMMUNITY SCHOOL, CORK: Andrew Cotter, Brian O'Neill, Patrick McSweeney, Adam Dunphy, Seán Dunlea, Eoin Coughlan, Eamon Kiely, Adam O'Reilly (Captain), Ian Ahern, Ben Lucey, Andrew Greaney, James Adeniran, Luke O'Keeffe, Luke Healy, Dean Sonowo, Peter O'Brien, Destiny Okonkwo, Chris O'Reilly
TEACHERS: Seán Fahy, Kevin Ronayne KIT MAN: Diarmuid McCarthy
DUBLIN OAK ACADEMY, BRAY: Ivan Mourino, Donato Perez, Leonardo Davila, Jesus Lopez, Mauricio DelGado, Joaquin Margain, Vicente Lagunes, Ignacio Escudero, Jose Salmon, Diego Aldape, Jorge Bueno, Gerardo Mena, Patricio Cantu, Luis Enrique Buendía, Oscar Bastidas, Pablo Barreda
TEACHER: John McShane
SAMUEL WHITBREAD ACADEMY: Ryan Anderson, Lewis Pitcairn, Harry Buckley, Corbyn Giddings, Ryan Allen, Sam Beckwith, Josh Evans, James Hannan, Jamie Parker, Jake Loriot, Antonio Marra, James Bell, Josh Scoot, Ronnie Payton, Toby Shacklock, Connor Pashley
TEACHERS: Philip Johnson, James Hart PHYSIO: Richard Sinclair
Allen McKinstry Cup in association with Inspiresport (Minor Boys)
AUL Complex, Dublin
Friday, May 20, 2016, KO 4.30pm
Douglas Community School, Cork 1-1 Chepstow School, Wales
Following the drawn game, Douglas won 3-2 on pens to claim bonus point
St. Kieran's College, Kilkenny 1-1 Belfast Boys' Model School
Following the drawn game, St. Kieran's won 3-1 on pens to claim bonus point
Friday, May 20, 2016, KO 5.30pm
Samuel Whitbread Academy, Bedfordshire 1-2 Dublin Oak Academy, Bray
Saturday, May 21, 2016, KO 3pm 
St. Kieran's College, Kilkenny 5-0 Samuel Whitbread Academy, Bedfordshire
Douglas Community School, Cork 5-1 Dublin Oak Academy, Bray
Belfast Boys' Model School 5-2 Chepstow School, Wales
Sunday, May 22, 2016, KO 9.30am (1 Game: Bray vs X) 10.30am (2 games) 
Positional Play-Offs
Third vs Fourth
Dublin Oak Academy, Bray 2-0 Belfast Boys' Model School
Fourth vs Fifth
Chepstow School 0-0 Samuel Whitbread Academy
First vs Second
Douglas Community School 0-4 St. Kieran's College, Kilkenny
Winner:                St. Kieran's College, Kilkenny
Runner Up:         Douglas Community School, Cork 
Third:                    Dublin Oak Academy, Bray
Fourth:                 Belfast Boys' Model School
Fifth:                     Chepstow School, Wales
Sixth:                     Samuel Whitbread Academy, Bedfordshire
Allen McKinstry Cup Roll of Honour
| | |
| --- | --- |
| YEAR | WINNER |
| 2016 | St. Kieran's College, Kilkenny |
| 2015 | Calasanctius College, Oranmore, Galway |
| 2014 | Ysgol Cyfun Gymraeg, Plasmawr, Cymru |
| 2013 | Bannerman HS, Scotland |
| 2012 | St. Eunan's College, Letterkenny, Donegal |
| 2011 | St. Columb's College, Northern Ireland |
| 2010 | St. Ambrose HS, Scotland |
| 2009 | Forest School, Wokingham, England |
| 2008 | Dumfries Academy, Scotland |