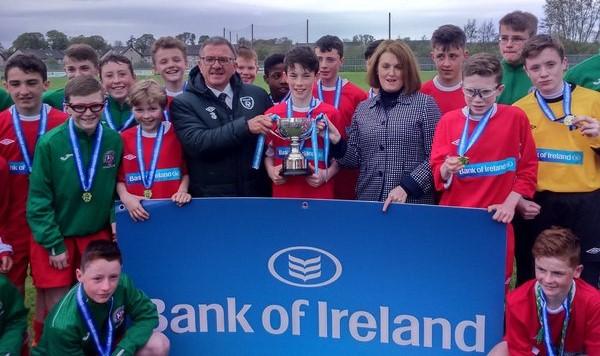 St. Brendan's capture First Year National Cup title
Bank of Ireland FAI Schools First Year Boys National Cup Final
Wednesday, May 4, 2016
St. Brendan's College, Killarney 2-1 Coláiste Choilm CBS, Swords
Cian O'Leary (30) Dylan Callaghan (32)                                                                               Shane O'Connor (41)
ST. BRENDAN'S COLLEGE, KILLARNEY secured a fourth National Cup title in their Schools history by defeating a spirited Coláiste Choilm CBS, Swords in the Bank of Ireland FAI Schools First Year Boys National Cup Final this afternoon in Nenagh AFC.
It was too quick fire goals either side of the interval that ensured Trevor Nagle the silverware for 2016. This adds to the previous roll of honour with St. Brendan's securing the Minor Boys title in 2014. Previous to that they captured the Junior Cup in 2003 and a First Year Cup title back in 2001.
This was the first National Cup appearance for the Swords lads who performed well throughout the game but the Killarney outfit just edged the battle in an entertaining encounter.
Talisman Cian O'Leary broke the deadlock in injury time in the first period as the initial shot on target courtesy of William Shine was saved brilliantly by Cathal Traynor. However the clearance was met by Cian O'Leary who made no mistake from the six yard box. 1-0 at the break.
It was only minutes into the second period when Killarney were awarded a penalty. Dylan Callaghan converted with ease to double the lead for the Munster men.  An excellent restart for St. Brendan's.
Swords to their credit battled for possession and enjoyed a purple patch midway through the half. With twenty minutes remaining, Shane O'Connor deceived the Killarney defence to slot past Conor O'Leary.
Nagle worked his bench effectively and ensured the Killarney school were comfortable in possession in the closing stages of the contest. St. Brendan's were well represented in all areas of the park and thoroughly deserved the title win.
ST. BRENDAN'S COLLEGE, KILLARNEY: Conor O'Leary, Tom Doyle, Owen Benson, Neil O'Shea (Captain), Ryan O'Grady, Conor Henderson, Cian O'Leary, Dylan Callaghan, Daniel Okwute, Emmett O'Shea, William Shine
SUBS: Robert O'Shea for Shine (47), Christian Casey, Lawrence O'Donoghue, Philip O'Leary for E O'Shea (40), Matthew Fleming, Joe Rudden, Jack McCarthy, Jack McClain
TEACHER: Trevor Nagle COACH: Kieran Murphy KIT MAN: Matas Starosas
COLÁISTE CHOILM CBS, SWORDS: Cathal Traynor, Michael Harris, Jack Cole, Jack Tynan (Captain), Jonathan Maseume, Jack Doyle, Cian Nolan, James Doyle, Valentino Odedokun, Shane O'Connor, Ryan Kinehan
SUBS: Callum Newman for Kolowole (42), Thomas Whelan, Michael Kolowole for J Doyle (25), Evan Gilroy for J Cole (25), Felix Santos, Patrick Mbanusi, Brandon Gavin, Adam Besirovic, Gary Broughall, Adam Elder, Dylan Foy, Josh Doyle
TEACHERS: Paul Lawlor & Marcus Dailly
REFEREE: Paul Hogan (Tipperary North)