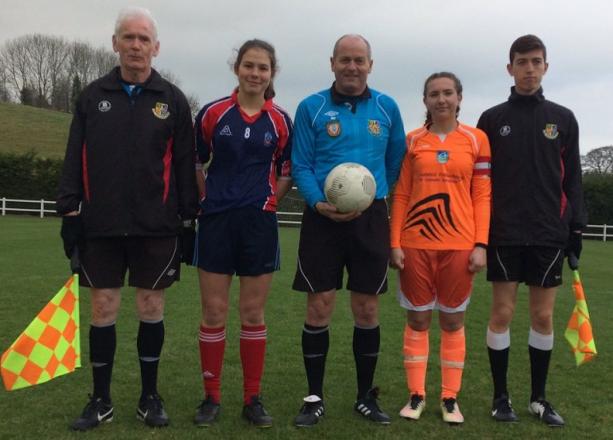 St. Laurence College, Loughlinstown 3-0 Abbey Community College
Clara Mulligan (34), Bobbi Downer (50), Molly Murphy (57)
A classy display from St. Laurence College in Loughlinstown was enough to see off Waterford's Abbey Community College in this Junior Girls Cup decider in Deen Celtic AFC this afternoon.
Clara Mulligan broke the deadlock just before the interval with a sensational strike that crept past Maeve Williams near post.
Their advantage was doubled 15 minutes into the restart as Bobbi Downer showed her skilful talents to deceive the Abbey defence and slot home from close range.
Williams was under sustained pressure between the posts for David Walsh's side as she pulled off some quick succession saves as Mulligan and Stubbs fired forward at every opportunity.
The decisive third goal came just before the hour mark as Molly Murphy produced a brilliant shot on target from just inside the edge of the box.
The Waterford girls were awarded a penalty with five minutes to go but Courtney Maguire kept her clean sheet intact as she saved brilliantly from Aoife Slattery's well placed effort.
Abbey Community College were hampered by injuries which forced Aoibhinn Kavanagh and Clodagh Sutton off which weakened their attempts to challenge in this game. The Munster Champions will no doubt be back again next season to contend for some silverware.
John Rowe's side have been knocking on the door for some time now as Scoil Chriost Rí, Portlaoise hampered their progression to the National stage for the past few years. They will relish the opportunity afforded to them now and march on to face Dominican College, Taylor's Hill in the Bank of Ireland FAI Schools Junior Girls Cup Final which is scheduled for Tuesday, February 28. The showdown promises to be a mouth-watering tie judging from their semi-final outings.
ST. LAURENCE COLLEGE, LOUGHLINSTOWN: Courtney Maguire, Lana Doyle, Suzanne Williams, Bobbi Downer, Katie Doyle, Jessie Morrissey, Molly Murphy, Michaela Fox Walsh, Clara Mulligan, Zoe Kelly, Maya Stubbs
SUBS: Aimee Forde for Mulligan (57), Laragh Geoghegan for Doyle (57), Katie Steemson for Williams (62), Lauren Dineen for Murphy (62), Michael Platakis for Stubbs (62),
TEACHER: John Rowe, ASSISTANT: John Mulligan  
ABBEY COMMUNITY COLLEGE, WATERFORD: Maeve Williams, Clodagh Sutton, Louise Morrissey, Lauren Ryan, Alanna Gallagher, Bethany Carroll, Sine Kavanagh, Aoife Slattery (Captain), Kacey O'Sullivan, Shauna Ritchie, Aoibhinn Kavanagh
SUBS: Laura Sinnott for Kavanagh (HT), Molly Murphy for Sutton (45), Tonya Morrissey, Julia Bryczek, Amber Cuddihy,
TEACHERS: David Walsh, Eoin McCormack
REFEREE: Jim Wynne (Carlow)