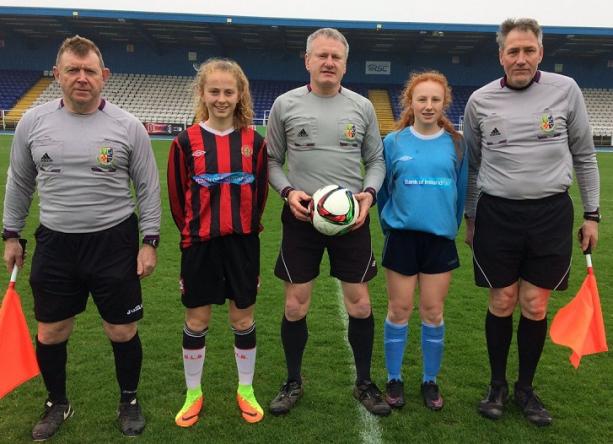 Presentation Kilkenny progress to Cup Final
Bank of Ireland FAI Schools Minor Girls National Cup Semi Final
Thursday, March 30, 2017
Presentation SS, Kilkenny 3-0 Presentation SS, Thurles
Niamh Phelan (10), Alicia Manogue (Pen 44, 57)
A hat-trick of goals from Leinster kingpins Presentation SS, Kilkenny saw them dispense of sporting rivals and namesake Thurles in the RSC, Waterford this afternoon (Thursday, March 30).
It was a lively start for Barry Ryan's crew as they put early pressure on the new look keeper Reece Delaney who was a late replacement for Ellie O'Neill between the posts.
The Thurles students had an excellent opportunity to take the lead with only two minutes played as Enya Maher was sent through on goal courtesy of some good link play with Emma O'Sullivan but Delaney got down well to save brilliantly, which would provide her with some confidence in her new starting position.
With 10 minutes on the clock, again Reece was called to make an excellent save as Caroline Shannahan fired a shot goal-bound.
Keara Ryan was finding space on the right wing to advance the attack for Kilkenny but the Thurles defence were providing ample cover to limit their chances on goal.
Equally Captain Aoibheann Clancy was showing why she is in Lorraine Counihan's final select for the U15 Schools' International squad as she controlled much of the Thurles play in the first quarter.
However it was Kilkenny that broke the deadlock with 16 minutes registered as Alicia Manogue's free kick fell to Niamh Phelan to slot home from close range, 1-0 to the Cats.
The Leinster Champs nearly got a second before the interval as a great corner was delivered into the box from Cliodhna Donnelly for Keara Ryan to head home but Saoirse Teer was well positioned to deny them their second of the afternoon. 
1-0 at the break.
Kilkenny's lead was doubled midway through the second period as Melissa Walsh was fouled in the box. The subsequent penalty was dispatched wonderfully by the impressive Alicia Manogue to ensure some breathing space in this hotly contested encounter.
Alicia Manogue slotted past Teer with three minutes to go to ensure a third for Kilkenny and her second of the day, not a bad outing for the youngster who will be one to watch in the Cup Final.
Bri O'Donoghue was unfortunate not to get on the scoresheet as again Saoirse Teer palmed the ball to safety to deny Kilkenny a fourth in the closing stages of the game.
The Cats will now face Ulster starlets Moville Community College who were beaten finalists last season. Presentation SS, Kilkenny will welcome back Ellen Molloy into the squad who was State side this week. Their first year squad captured the Girls National Futsal title last December and Molloy was an integral part of their success that afternoon as was Ellie O'Neill, Katie Ryan, Keara Ryan and Niamh Phelan.  It will make for a cracking contest.
The Bank of Ireland FAI Schools Minor Girls Cup Final is scheduled as a double header with the Minor 'B' contest which is pencilled in for Wednesday, April 26.
PRESENTATION SECONDARY SCHOOL, KILKENNY | Reece Delaney, Katie Ryan, Anna Purcell, Shauna Coady, Kirsten Hanney, Bri O'Donoghue, Cliodhna Donnelly, Keara Ryan, Alicia Manogue, Niamh Phelan, Melissa Walsh
SUBS | Ellie O'Neill, Roisin Dempsey, Eabha Murphy, Niamh Shaughnessy, Sinead Murphy
TEACHERS | Dervla Talbot, Dan Campion
PRESENTATION SECONDARY SCHOOLS, THURLES | Saoirse Teer, Chloe Cummins (Ellie Maher, HT), Chloe Gleeson, Megan Quigley (Chloe McAuliffe, 54), Ellen Moore, Caroline Shanahan (Lillian Murray, HT), Kate Cavanaugh (Emma O'Sullivan, 55), Aoibheann Clancy (Captain), Queva O'Meara, Emma O'Sullivan (Chloe Cummins, 46), Enya Maher (Maeve Brennan, 54)
SUBS | Rachel Moore
TEACHER | Barry Ryan
REFEREE | John Falconer (Waterford)