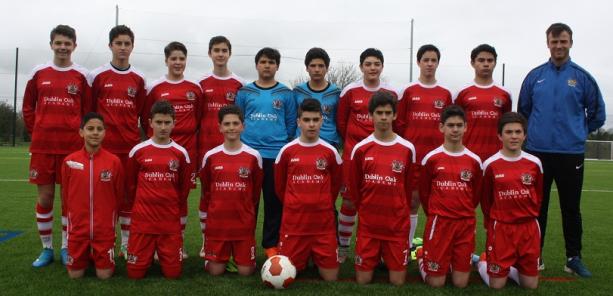 Dublin Oak Academy outclass Pobalscoil Ghaoth Dobhair
Bank of Ireland FAI Schools First Year 'B' Boys Cup Semi Final
('B' Cup caters for small schools)
Saturday, April 23, 2016
Pobalscoil Ghaoth Dobhair (Gweedore) 2-5 Dublin Oak Academy, Bray
Eoin De Burca (9, 18)                                                                                         Joaquin Margain (35), Juan Carlos Villereal (41), Diego Aldepe (56) Alejandor Torreagrossa (16), Ignacio Escudero (24)
It was a goal fest in the Peace Link Sports Centre, Clones last Friday, April 15 as a magnificent seven goals were netted in a pulsating sixty minutes of action.
Bray side Dublin Oak Academy came from behind to take the bragging rights with a wonderful second half performance from the students to ensure John McShane's first National Cup appearance at this level.
Gweedore started the better and a great passage of play from Coyle and Ferry ensured Eoin De Burca paved the way for the Ulster Champions when he finished off neatly in the six yard box.
However their lead was short lived as the equalizer came eight minutes later when Alejandor Torreagrossa crept in between the Donegal defense to slot past netminder Odhran Coyle.
The skilful De Burca again was on song for Pobalscoil when he converted his second of the afternoon with 18 minutes played.
Again, Bray worked hard to get back into the game and bagged the equalizer six minutes from the interval, 2-2 at the break.
Bray took the lead for the first time in this contest five minutes into the restart as Joaquin Margain struck a wonderful set piece to hammer the ball past Coyle.
John McShane's side were growing in confidence as the game progressed and aided by a strong breeze. Substitute Juan Carlos Virrearreal was only on the park four minutes when he got Dublin Oak's fourth of the afternoon with a screamer from distance with 15 minutes remaining.
The fifth came courtesy of the penalty spot as Diego Aldepe converted comfortably on 56 minutes. The Gweedore lads never gave up but the hat-trick of goals in the second period couldn't be beaten.
Dublin Oak Academy now meet Sligo outfit Coola Post Primary School in the National Cup Final scheduled for City Calling Stadium, Longford Town on Wednesday, April 27, KO 1pm
POBALSCOIL GHAOTH DOBHAIR, GWEEDORE: Odhran Coyle, Miceal Martin, Seán O'Dochartaigh, Daithí Mac Roiheaird, Shaun McFadden, Aidan Breathnach, Dean O'Donnell, Ciaran MacSuibhne, Patrick Ferry, Kyle Doonan, Fionnan Coyle
SUBS: Eoin De Búrca, Stephen MacFadden for Martin (56), Ronan O'hEifearnáin, Seán McGee, Cian Mc Bride, Ciaran Roarty, Aodhan Gillespie
TEACHER: Tomás O'Gallcháir
DUBLIN OAK ACADEMY, BRAY: Ivan Mourino, Francisco Veja, Federico Madregal, Leonardo Davila, Maurice Delgado, Joaquin Margain, Daniel Madero, Ignacio Escudero, Diego Aldepe, Jose Salmon, Alejandor Torreagrossa
SUBS: Fabian Munoz, Juan Pablo Garza, Juan Carlos Villerreal for Salmon (41), Pablo Barreds, Diego Vives
TEACHER: John McShane
REFEREE: Paul Rooney (Monaghan)