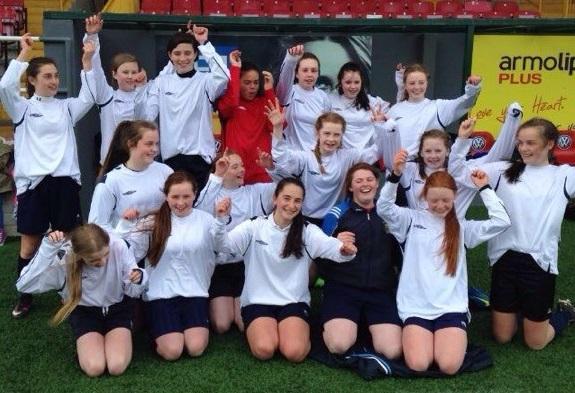 Scoil Mhuire dash Athlone's title defence
Bank of Ireland FAI Schools First Year Girls National Cup Semi Final
Tuesday, April 26, 2016
Scoil Mhuire SS, Buncrana 1-0 Athlone Community College
Grace McColgan (45)
BUNCRANA'S SCOIL MHUIRE took a massive scalp at the Showgrounds, Sligo Rovers FC this afternoon with a Grace McColgan match winner five minutes from time to sink Athlone Community College. 
The midlands school had captured the First Year Girls Cup last season following an impressive victory over Galway's Dominican College, Taylor's Hill but the girls couldn't replicate their current Cup success this time out. Their title defence dashed by the slenderest of margins
Captain Andrea Whyte came close to breaking the deadlock seconds before the interval but her expertly placed effort was saved well by the talented Niamh Doherty.
Aoife O'Neill, Blessing Alayande and Grace Hannon were all playing well for Ciara Kelly's side but the Donegal defence stood firm as Saoirse McEleney and Emma McCallion did well to avert any potential danger.
Grace McColgan saw her shot sail over Amy Shanahan's crossbar with forty minutes played. But she was on target five minutes later as her low pile driver slotted in perfectly to the bottom corner. Huge relief for the Buncrana girls who were chasing the game for certain periods of the match.
Athlone came agonisingly close to equalising two minutes from time as Kayleigh Shine's powerful set piece was again palmed away by the inform Doherty. 
David Hone will have plenty of time to prepare his team for the next stage as they eagerly await the winners of the other semi-final which sees St. Caimin's Community School, Shannon up against Ursuline College, Sligo in Athlone Town FC on Thursday afternoon, April 28, KO 1pm.
Ava Reijkers and the McColgan duo of Mariah and Grace will be one's to watch out for on Cup Final day which is scheduled for Wednesday, May 18 at 1pm with the venue to be confirmed.
SCOIL MHUIRE SS, BUNCRANA: Niamh Doherty, Saoirse McEleney, Emma McCallion, Georgia Rudden, Ciara Porter, Grace McColgan, Mariah McColgan, Brianna Doherty (Captain), Beth Doherty, Grace McColgan, Mariah McColgan, Ava Reijkers, Begona Pinero
SUBS: Donna Donaghey, Tegan Quinn, Hollie Doherty, Leah McColgan, Lauren McDaid, Paige Ferguson, Ewelina Smólen
TEACHER: David Hone ASSISTANT: Andrea Kelly
ATHLONE COMMUNITY COLLEGE: Amy Shanahan, Kate Nevin, Kirsten Greasley, Ellie Hewitt, Robyn Heatherington, Allie Heatherington, Blessing Alayande, Aoife O'Neill, Andrea Whyte (Captain), Kayleigh Shine, Grace Hannon
SUBS: Olivia Smialek, Asibhe Lennon, Asibhe Wykes, Zuzanna Turouska, Shauna Connell, Ivanda Kola, Gabrielle Ruksaite
TEACHER: Ciara Kelly
REFEREE:  Karen Clark-Elliott (Sligo)