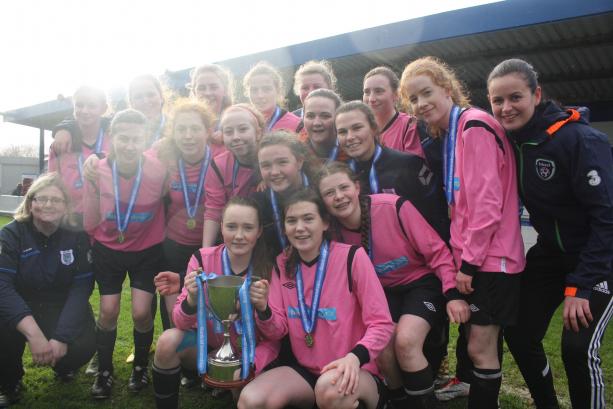 Mulroy College, Milford 2-1 St. Peter's Community School, Passage West (AET)
Caoimhe Walsh (72), (80+14)                                    Danielle Burke (45)
CAOIMHE WALSH ensured an empathic win in extra time to secure a fourth title for the Milford crew. The girls last won the Cup in 2014 defeating Ursuline College, Sligo in Ballyshannon that afternoon.
However it was St. Peter's Community School based in Passage West in Cork that were going for a magnificent three in-a-row as proceedings got underway in Home Farm FC, Whitehall yesterday (February 1).
The Cork ladies had defeated the same opposition two years running so were on form to complete a sensational season for Finbar Loftus' side.
Mulroy's linchpin Catherine Grier was ruled out of the crunch decider with injury and thus gave a wonderful opportunity for Leah Duggan to make her mark.
The opening exchanges were lively with a great battle in midfield. Danielle Hayes had the first real opportunity of the game only moments in but her powerful snap shot was off target much to the relief of goalkeeper Clare Friel.
It was end to end action as Kellyann Buchanan tested Katie Irwin in quick succession but unfortunately the Donegal student's efforts were wide of the mark.
Buchanan combined beautifully with Leah Duggan but her glancing header on target hit off the woodwork with a quarter played.
St. Peter's CS broke the deadlock five minutes into the restart with Danielle Burke's rocket ricocheting off a Mulroy defender and into the back of Friel's net.
The equaliser came twenty minutes from time when Caoimhe Walsh latched onto a great ball from Zoe Green to make no mistake.
Extra time loomed as both teams cancelled each other out in front of goal.
It was Mulroy who made the most of the possession as Kellyann Buchanan had a pacy run down the right wing seven minutes into the first period of extra time. Her stunningly weighted pass fell to the feet of superstar Walsh who again converted past Irwin. Could this be the match winner for the Ulster Champions!
St. Peter's had a great second half in extra time as they threw everything at the strong and resilient Mulroy defence. Histon, Burke and Finley were unlucky not to get more from the game as Clare Friel managed to keep them at bay and work down the clock.
The Mulroy victory was sweet revenge for two defeats on the trot against the same opposition. No doubt both teams will be heavy contenders to return again next season as they are only missing one student from Leaving Cert on each panel!
For now, the National Cup travels to Donegal where it will take pride of place with Maria Ryan Carr and Natalie McFadden enjoying the fruits of their labour.
MULROY COLLEGE, MILFORD, DONEGAL: Clare Friel, Siobhan Sweeney, Zoe Green (Captain), Eimear Sweeney, Michelle McDevitt, Rachel Roarty, Leah Duggan, Caoimhe Walsh, Kellyann Buchanan, Thea Duffy, Keri Sweeney
SUBS:  Catherine Griel, Claudia Ward for Duggan (58), Aisling McBride for Duffy (65), Megan McGee, Maria Dougherty, Nicola Irwin.
TEACHERS: Maria Ryan Carr, Natalie McFadden
ST. PETER'S COMMUNITY SCHOOL, PASSAGE WEST, CORK: Katie Irwin, Danielle Burke (Captain), Chloe McCarthy, Kate Atkinson, Kate Dorgan, Aoife O'Flynn, Courtney Histon, Danielle Hayes, Lucy Hayden, Winnie Parata, Laura Finlay
SUBS: Holly Tett for Hayden (65), Eimear Dorgan, Aisling Cockery, Favour Nduwuba, Rachael Irwin, Sinead O'Flynn, Kate Flurry, Anna Mulcathy
TEACHER: Finbar Loftus
REFEREE: Deirdre Nolan (Dublin)