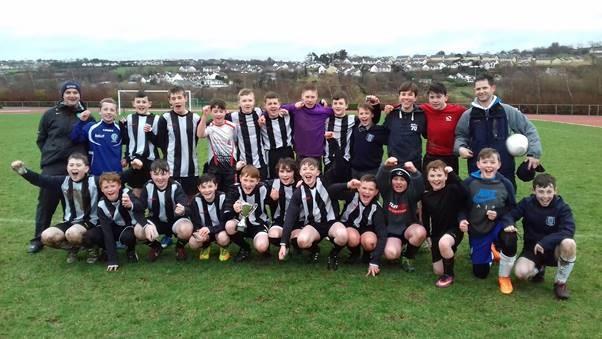 Mulroy College win 11 goal thriller
Bank of Ireland FAI Schools First Year 'B' Boys Ulster Cup Final
Monday, March 6, 2017
Mulroy College, Milford 7-4 St. Catherine's VS, Killybegs
MULROY COLLEGE are the Bank of Ireland FAI Schools First Year 'B' Boys Ulster Champions for 2017 following a superb victory over a talented St. Catherine's Vocational School of Killybegs on Friday last (March 3).
Despite being played in difficult weather conditions in the Aura Centre the game was a thoroughly enjoyable contest serving up some excellent football and no less than 11 goals!
While the final score-line of Mulroy 7 Killybegs 4 suggests a one-sided affair, it took extra time to separate the two sides with Killybegs leading for the majority of the game.
It was Mulroy who broke the deadlock after only 7 minutes when their creative left winger Oisin Heraghty struck what was to be the first of many goals in an exciting affair.
Heraghty's goal for Mulroy proved to be the catalyst for a Killybegs awakening, as they responded with two goals coming from the ever threatening Daniel McCalloig. The impressive midfielder was a key player for the Killybegs side throughout.
Mulroy responded with a goal from Matthew Lecky but their joy was short lived as Killybegs regained control with another efficient finish from their striker Luke Gallagher who took advantage of a defensive error. Daniel McColloig got in for another before half time completing his hat-trick and giving Killybegs a comfortable two goal lead at half-time.
Killybegs remained in control for over 20 minutes of the second half and while Mulroy threatened, the Killybegs centre back pairing of Christopher Mulligan and David McCloskey remained firm and were impressive throughout.
However Mulroy's prolific striker Matthew Lecky was due a breakthrough and his persistence paid off when he was judged to have been fouled in the box by referee Liam McLaughlin with the resultant penalty slotted away by midfielder Lee Callan leaving Killybegs with just a one goal advantage.
With the full time whistle fast approaching Mulroy pushed forward in search of an equaliser. This time it was Oisin Harkin who forced the issue and aided by Conor Heraghty, Alec McConigley and wingers Oisin Heraghty and Niall Mullan, it was Harkin who got the all-important equaliser much to the delight of the Mulroy support.
Mulroy breathed a sigh of relief when just at the end of normal time Killybegs could have secured victory but Ki Biers dragged his shot narrowly wide.
With the game going to extra time there was no let off as both sides attacked in droves in the hope of regaining control. The introduction of fresh legs in the form of Conor McGinley began to pay dividend for Mulroy adding further pace to their attack.
Oisin Harkin started to get the upper hand in midfield for Mulroy with the Killybegs playmaker Daniel McCalloig finding life more difficult as Mulroy's Lee Callan grew into the game. Killybegs had a couple of decent chances which were saved well by Mulroy keeper Alex McDermott.
Then Mulroy drove forward and the industrious Oisin Heraghty put them in front for the first time since the seventh minute. Then as Killybegs began to tire, Matthew Lecky stepped up to the plate to fire home two goals, the last of which was a clinical strike from distance which rattled off the crossbar and dropped into the back of the net completing his hat-trick in impressive fashion.
Killybegs will be disappointed to have given away a two goal lead but with the talent of Jamie Kelly, Christopher Mulligan, David McCloskey, Daniel McCalloig and Ki Biers at their disposal will look to the future with confidence.
While the Mulroy team put in a great team performance, special mention must go to Conor and Oisin Heraghty, Darragh McFadden, Oisin Harkin and hat-trick hero Matthew Lecky in ensuring victory.
The Cup was presented at the final whistle to a jubilant Mulroy Captain Darragh McDaid by competition coordinator Paddy McDaid.
Mulroy College advance now to the National Cup Semi Final where they will meet the Connacht Champions on May 2.
MULROY COLLEGE | Alex McDermott, Alec McConigley, Darragh McFadden, Darragh McDaid, Conor Heraghty, Oisin Heraghty, Oisin Harkin, Lee Callan, Niall Murray, Ross Doherty, Matthew Lecky.
SUBS | Matthew Price, Conor McGinley, Gavin Sweeney, Gerard Sweeney, Bryan Coyle, Niall McMullan, Oran Doherty, Conor McFadden, Keelan Orr, Isaac McIlwaine, Oisin Doherty, Lorcan Sweeney