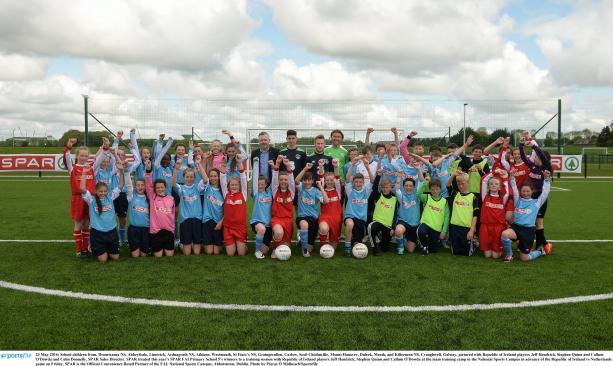 Exclusive Day Out for SPAR5s Winners
Monday, May 23, 2016
Title sponsors SPARtreated this year's SPAR FAI Primary School 5s winners to a training session with Republic of Ireland players Jeff Hendrick, Stephen Quinn and Callum O'Dowda at the team training camp in the National Sports Campus earlier today (Monday) in advance of the Republic of Ireland vs Netherlands game on Friday night.
Forty lucky children got the opportunity to mix with the three Republic of Ireland players for sixty minutes prior to the team's first training session earlier this morning. The kids enjoyed a question and answer session as well as practicing some skills and drills with the trio and posing for photographs and some autographs!
The five schools comprised of the winners from this season's FAI Primary School 5s programme which concluded on May 11 as the Aviva Stadium played host to the National Finals. Ardnagrath NS, Athlone, Westmeath (Girls 'A' Cup), Scoil Choilmcille, Mount Hanover, Duleek, Meath ('A' Cup), Dromtransa NS, Abbeyfeale, Limerick (Girls 'B' Cup), Killeeneen NS, Craughwell, Galway ('B' Cup) and St. Fiacc's NS, Graiguecullen, Carlow (Girls 'C' Cup) all took up the invite to attend the exclusive outing. The only team not to make the day was the 'C' Cup winners for large schools, Dunboyne SPS, Meath who had prior commitments to the events today.
This once in a lifetime opportunity was co-ordinated by SPAR who are the Official Convenience Retail Partner of the FAI.
LIST OF SCHOOLS & PLAYERS
SPAR Cup 'A' (Small schools, mixed/boys)
Scoil Choilmcille, Mount Hanover, Duleek, Meath: Seán McQuail, Conor McQuail Leech, Lucas McKeen, Adam Kelly (Captain), Alan Bowden, Tom Bowden, Dylan Collins, Taigue Donagh
Teachers: Enda Ruddy & Mary Kennedy
SPAR Cup Girls 'A' (Small schools, girls only)
Ardnagrath NS, Athlone, Westmeath: Beatrice Drummond, Holly Keenan, Maria Farrell, Roisín McNamara, Sinead Seery, Chloe Moran, Orlaith Craven, Ellie Temple
Teachers: John Keane & Emmet Keena
SPAR Cup 'B' (Medium schools, mixed/boys)
Killeeneen NS, Craughwell, Galway: Peter Monaghan, Dara Sheeran, Adam White, Alex Haugh, Ben Lalor, Luke Martyn, Sam O'Neill, Luke Forde
Teachers: Éadaoin O'Callaghan & Heather Cooney
SPAR Cup Girls 'B' (Medium schools, girls only)
Dromtrasna NS, Abbeyfeale, Limerick: Caoimhe Scannell, Ava Horgan, Chloe Brosnahan, Michelle Quirke, Caoimhe Riordan, Leah Donovan, Rachel Murphy, Kara Scannell
Coaches: Mike 'Foxeen' Harnett & Kathleen Broderick
SPAR Cup Girls 'C' (Large schools, girls only)
St. Fiacc's NS, Graiguecullen, Carlow: Georgina McManus, Grace Cullen, Teskira Jimoh, Kate McDonald, Emma Walker, Jasmine Kinsella, Kelly O'Neill, Ellen Redmond
Teachers: Aisling Nolan & Breda Walsh