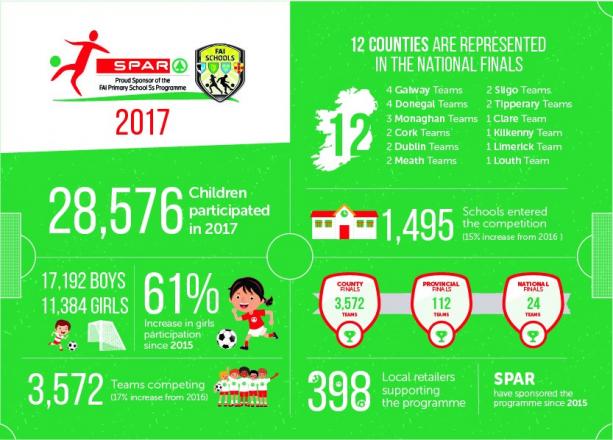 Thursday, November 2, 2017
It was announced last month that the SPAR FAI Primary School 5s Programme had been shortlisted for two major accolades at this year's Irish Sponsorship Awards.
This will be a first for the programme which is a major boost to all associated with its success.
The SPAR5s as its commonly known as, is a 5-a-side competition which is open to boys and girls from 4th, 5th and 6th class, and puts emphasis on fun and inclusivity. The blitz day format is co-ordinated at local level with the assistance of a network of FAI Development Officers and local primary school teachers. These personnel co-ordinate events at County level with qualifying schools progressing to Regional, Provincial and National Finals.
There are 6 divisions to suit all school sizes with small, medium and large schools all catered for. While the programme encourages boys and girls to play on the same team, there is also a separate competition for girls' schools. A number of teams can represent one school depending on the size of their student body, giving more children the chance to develop their skills in a safe, child centered and exciting environment.
The first of these awards is in the category for Best Grassroots Sponsorship.
SPAR have been the Official Convenience Retail Partner for the FAI since 2012. While there are many elements to their partnership agreement, the emphasis for the retailer was to support and promote grassroots football in the local community.
It's the perfect fit given that SPAR have 400 high quality, conveniently located outlets spread across the country who are equally as enthusiastic about the programme. This allows SPAR to give something back to their loyal customers and help support schools and communities nationwide.
The SPAR FAI Primary School 5s Programme attracted 1,495 schools last season which saw an increase of 15% from the previous year. 
The programme saw 3,572 teams line out for their respective schools which culminated in an upsurge of 17%
A total of 28,576 children participated in the programme in 2017 which encompassed 40% female participation which is quite outstanding. 
The programme truly emphasizes the importance of grassroots football. The initiative provides an opportunity for children throughout the country to participate in the sport at an early age and highlights the opportunities available to participants to benefit from sport in an enjoyable environment with their class-mates
These awards entice the biggest names in the industry and this is evidenced by the high calibre of competition that SPAR face. Also in the race for Best Grassroots Sponsorship are;
Aldi Play Rugby

Aviva Insurance for FAI Junior Cup

Con & Annie Kirby Memorial submitted by Irish Greyhound Board

Energia Get Ireland Growing submitted by the Brand Fans

SPAR FAI Primary School 5s Programme

Volkswagen Ireland for GAA All Ireland Sevens submitted by Legacy Consultants
Now in its sixth year the Sponsorship Awards have seen Aviva Insurance claim this category on three separate occasions most notably last year for their support of the FAI Junior Cup. They're sure to be hot favourites on the night.
The next notable category that the SPAR FAI Primary School 5s Programme has been shortlisted for is the Best Sporting Event Sponsorship.
The SPAR FAI Primary School 5s Programme will run from February through to May each year with the National Finals the blue ribbon event of the Schools Soccer calendar taking place in May. This day will conclude the series of events for the primary schools schedule with over five hours of enjoyment.  
Aviva Stadium, Dublin play host to this magnificent event which sees 192 children from 24 schools line out on the hallow turf to showcase their talents and dream of securing the coveted National title for their school.
The occasion is marked as a family fun day focusing on providing participants and spectators alike with huge excitement and entertainment, making it a day to remember for all involved. The array of extras include professional drummers, clowns, face-painters, a well-known DJ on the decks, big screen involvement and pitch-side interviews with the participants and proud family members and school colleagues.  
SPAR also provide a prize for the Best Supported Schools which always adds to the colour, cheer and vitality of those in attendance.  
All 192 players receive a medal, the six winning teams are crowned SPAR Champions as well as a SPAR Player of the Tournament accolade in each division that is distributed throughout the day.  Students are also given the opportunity to secure an epic prize in the Future Sports Journalist competition which is open to all participating schools.
Again there are some impressive events shortlisted in this category which include:
AIG Insurance for Irish Open Tennis Championships submitted by Teneo Sports

Aldi Community Games

Bord Gáis Energy for GAA #HurlingToTheCore

Littlewoods Ireland for GAA Hurling All Ireland Senior Championship submitted by Legacy Consultants

SPAR FAI Primary School 5s Programme

 
In 2016, SPAR were recognised for their work on the Team of Gary Breen's campaign which was a phenomenal success for the retailer in the lead up to the Euro 2016 tournament.  The campaign was implemented through digital and social media and achieved over 1.9 million impressions and a reach of 1.2 million people.
Perhaps 2017 can bring SPAR more silverware for the highly successive retail group.
The gala ceremony for the Irish Sponsorship Awards 2017 will take place in the Clayton Hotel, Burlington Road on Wednesday, November 22.