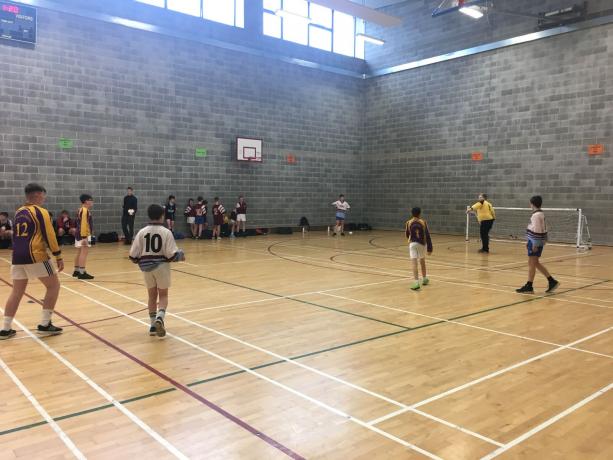 Coláiste Choilm and Sacred Heart School secure futsal success
Wednesday, November 8, 2017
Sacred Heart School, Tullamore captured the Girls and Coláiste Choilm, Tullamore, won the Boys Offaly Finals in this season's First Year futsal programme. The schools will now go to represent Offaly in the Leinster Finals to be held in the National Indoor Arena on November 21 (Girls) and 22 (Boys) reports Gary Seery
The girl's competition took place on Tuesday (November 7) in Mucklagh Community Centre.
SHS got off to a slow start losing the first and drawing the other two games of the day. With teacher Seán McFadden constantly using all of the bench during each game, the team remained fresh resulting in a strong finish to the competition.
The final results for Sacred Heart School was a 4-0 win. A winner takes all game against St. Brendan's Community School, Birr, saw Sacred Heart School came out 2-1 winners and will this represent Offaly in the Leinster Finals on Tuesday, November 21
The boy's competition took place this afternoon (November 8) in Coláiste Choilm, Tullamore, and it was the hosts that came out on top in what was to be an exciting day of futsal
Teams from all over Offaly came to see if they could get the opportunity to represent Offaly in the Leinster Finals, and there was real excitement after the group games
Coláiste Choilm, St. Brendan's Community School and Ardscoil Chiarain Naofa were all level on the same number of points and could not be divided on a head to head basis, so a round robin penalty shoot-out competition commenced. And it was the hosts that made the final, scoring 3 of their 3 penalties.
Coláiste Choilm didn't have it all their own way in the final going in at half time 3 goals down, but after some encouragement during the interval from teacher Richelle O'Neill, they turned it around eventually winning the final 9 - 7.
The futsal on show over the last two days was phenomenal. Seery praised the conduct of all the players and thanked the schools that participated in the competition.
The winners will now go on to represent Offaly at the Provincial stages in the National Indoor Arena, Abbotstown later this month. Best of luck to both sides as they aim to be crowned Leinster Futsal Champions for 2017.
To find out how to enter your School in future FAI programmes, please contact Offaly Football Development Officer Gary Seery on (083) 171 2755 or email gary.seery@fai.ie