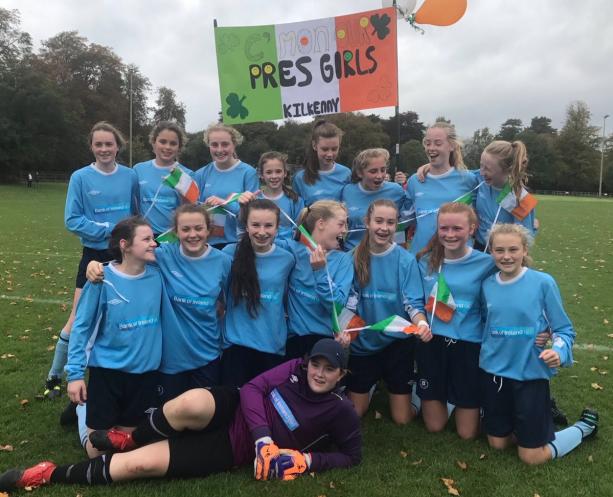 Rod Houston Cup
Schools Association Football International Board (SAFIB)
First Year Girls National Cup Champions (U14)
Presentation SS claim Rod Houston Cup in style
Saturday, October 14, 2017
PRESENTATION SECONDARY SCHOOL, KILKENNY clinched the prestigious Rod Houston Cup this morning in Lilleshall following an emphatic victory over their hardworking counterparts. The Kilkenny crew amassed a whopping 32 goals in the three day series, only conceding four goals against Champions from England and Wales in this annual Home Nations competition.
Day 3
Presentation SS, Kilkenny 11-0 Ysgol Gyfun Cwm Rhymni, Caerphilly
St. Ivo School, Huntingdon 9-0 Chesterfield HS, Liverpool
Cwm Rhymni from Wales commenced the unenviable task of trying to halt the free scoring juggernaut from Ireland who had chalked up 21 goals in their first two games. But the quality and style displayed over the last few days could not be curtailed with another 11 goals scored in their final outing.
The Caerphilly side defended as if their life depended on it with Megan McVey performing heroics to stop the brilliant Sarah Barcoe from scoring until the last minute of the first half.
In the intervening time the wonderful Ellen Molloy had again scored a hat-trick. Her third goal came from the penalty spot when the very effective Welsh centre half, Bo-Lilli Howells, was sin binned with ten minutes to go to the interval for a handball just under the crossbar.
In her absence Kate Furlong scored a good goal to leave the half time score 5-0 to Presentation SS, Kilkenny.
To their eternal credit the Cwm Rhymni girls never stopped trying and Millie Jones was twarted by some great goalkeeping from Ellie O'Neill in the Irish goal. 
But there was no stopping the Kilkenny goal machine as they tacked on six more goals through Sarah Ryan (2) Ellen Molloy (2) and one apiece for Niamh Phelan and Kate Furlong to secure The Rod Houston Cup for Ireland.
A first for the Kilkenny crew but this will be added to their FAI First Year Girls National Futsal title, FAI Schools Bank of Ireland First Year Girls National Cup and FAI Schools Bank of Ireland Minor Girls National Cup which they secured last season. A quartet of accolades for a stunning group of players which will no doubt be back in action in the coming months to defend those titles!
The Kilkenny girls will be sure to delight when they fly home from Lilleshall later this evening. The School will assist in the celebrations on Monday morning when the girls return to class. 
In the other all English affair, St. Ivo's School slotted nine past the Liverpool side Chesterfield High School to finish their campaign in second.
Day 1
Ysgol Gyfun Cwm Rhymni, Caerphilly 3-1 Chesterfield HS, Liverpool
Presentation SS, Kilkenny 9-2 St. Ivo School, Huntingdon
The opening day of the Rod Houston Cup kicked off on Thursday with Caerphilly's Ysgol Gyfun Cwm Rhymni overcoming Liverpool side Chesterfield High School 3-1. The Welsh goals came courtesy of Millie Jones (2) & Amelia Mills in the early proceedings while Irish representatives Presentation Secondary School, Kilkenny sailed to victory following a sensational 9-2 victory over defending Champions St. Ivo's School, Huntingdon.
The Kilkenny crew were quick off the blocks with a brace of goals to ensure the three points for the new comers to top the table with the Welsh starlets.
Keara Ryan opened their account with only three minutes on the clock as she powered home a header from a well-placed corner. Ruby Daly denied some brilliantly worked combination play as Ellen Molloy's attempt on goal was evaded after just 10 minutes.
Ella Hampton was called into action soon after to produce a superb save from Sarah Barcoe.
Maya Edwards and Lucy O'Brien combined well in the dying minutes of the half for the latter to ensure it was all square however Ellen Molloy converted late on to make it 2-1 at the interval.
Kate Furlong made it 3-1, two minutes into the restart, followed closed by Molloy as she converted from the penalty spot, 4-1.
A few moments later, St. Ivo's Lucy O'Brien worked her way through the Kilkenny defence only to shoot wide.
Furlong soon restored their commanding advantage when she finished neatly to make it 5-1. Molloy was again on song as she skipped her way through the centre backs to slot home, 6-1.
St. Ivo's netminder sent a long clearance straight into the danger zone from the re-kick and O'Brien latched onto it to put one past O'Neill making it 6-2 with 15 minutes remaining. Sarah Barcoe was on hand to make it 7-2 five minutes later.
Keara Ryan then decided to get back on the score-sheet with her second of the afternoon and Kilkenny's 8th with a magnificent finish.
An OG from an unfortunate St. Ivo's defender deflected past Hampton to make it 9-2 at the finish.
Day 2
Presentation SS, Kilkenny 12-2 Chesterfield HS, Liverpool
Ysgol Gyfun Cwm Rhymni, Caerphilly 4-5 St. Ivo School, Huntingdon
Kilkenny carried on their goal scoring momentum into their penultimate outing with on average a goal every 5 minutes to notch up a perfect 12 against English Champs Chesterfield High School
Sarah Barcoe set the scene with a bullet off the woodwork only minutes in.
Keara Ryan lashed her shot off the post but the follow up was directed goal bound to open the scoring
Then came a brace as Ellen Molloy (2), Sarah Barcoe, Kate Furlong netted in quick succession.
Sophie Waring and Sophie Evans converted in similar fashion as they both lobbed keeper O'Neill making it 5-2 at half time.
Ellen Molloy's twinkle toes saw her net two in quick succession making it two goals in each half! Some record for the youngster.
Teachers Roche and Kearn made some tactical substitutions at this stage of proceedings which saw Niamh Phelan marshal midfield with an onslaught of perfectly weighted passes. The talented Emma Shortall was in receipt of a brace of them and netted each time, making it 9-2.
Rachel Whelan scored a screamer from outside the box to make it 10-2 while Katie Ryan smashed one in from the spot, 11-2.
Keara Ryan had opened the scoring and it was epic that she were the one to finish the goal fest with a wonderful strike on the full time whistle, 12-2, a splendid overall performance from the Kilkenny squad. 
The other group game this morning saw yesterday's winners Caerphilly up against the English outfit St. Ivo's. This game proved equally as entertaining with a nine goal thriller. St. Ivo's came out on top 5-4 ensuring three points apiece for both teams after day two!
PRESENTATION SS, KILKENNY | Ellie O'Neill, Louise McInerney, Katie Ryan, Caroline Barron, Sarah O'Gorman, Niamh Phelan, Sarah Barcoe, Keara Ryan, Rachel Whelan, Ellen Molloy, Kate Furlong, Emma Shortall, Sarah Hudson, Alannah Cody, Sarah O'Donnell, Aoife Doyle
TEACHERS | Wendy Roche & Monica Kearns
CHESTERFIELD HS, LIVERPOOL | Emily Coleman, Sophie Waring, Sophia Patrou, Rachel Gray, Nicole Power, Emily Garrett, Sophie Evans, Emily Brough (Capt), Mia Henderson, Alex Woodward, Ellie Hayes, Sammy Von Bargen, Ellie May Musker, Fabiana Dias, Rebecca Dillon
TEACHERS | Amanda Parker, Sara Hardman, Rebecca Casey
YSGOL GYFUN CWM RHYMNI, CAERPHILLY | Maisie Jones, Lori Box, Megan Evans, Eleri Gibbons, Ffion Green, Bo Lilli Howells, Holly Hughes (Capt), Erin Jay, Alys Jones, Caitlin Jones, Millie Jones, Ruby Lewis, Megan McVey, Amelia Mills
TEACHERS | Tony Wilding, Tom Pritchard, Naomi Davies
ST. IVO SCHOOL, HUNTINGDON | Sophie Marjoram, Caitlin McGeown, Aimee Best, Ellie Brown, Ellen Bullin, Lauren Mellors, Ellie Jefferson, Abby Townsend, Tia Everdell, Lucy O'Brien, Zoe Barratt, Nell Webber, Alice Claridge, Sasha Brown
TEACHERS | Lisa Trigg, Lindsay McAdam, Darren Marjoram
RESULTS
Host | Lilleshall National Sports Centre
Thursday, October 12 at 16.30
Ysgol Gyfun Cwm Rhymni, Caerphilly 3-1 Chesterfield HS, Liverpool
Thursday, October 12 at 17.30
Presentation SS, Kilkenny 9-2 St. Ivo School, Huntingdon
Friday, October 13 at 10.00
Presentation SS, Kilkenny 12-2 Chesterfield HS, Liverpool
Friday, October 13 at 11.00
Ysgol Gyfun Cwm Rhymni, Caerphilly 4-5 St. Ivo School, Huntingdon
Saturday, October 14 at 10.30
Presentation SS, Kilkenny 11-0 Ysgol Gyfun Cwm Rhymni, Caerphilly
St. Ivo School, Huntingdon 9-0 Chesterfield HS, Liverpool
END