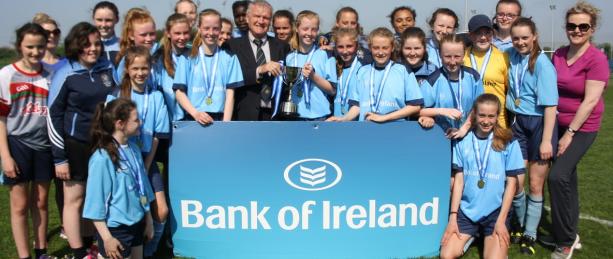 Rod Houston Cup
Schools Association Football International Board (SAFIB)
First Year Girls National Cup Champions (U14)
Presentation SS, Kilkenny compete in Home Nations Cup
Thursday, October 12, 2017
PRESENTATION SECONDARY SCHOOL, KILKENNY will represent FAI Schools this week in the Rod Houston Cup for the first time ever as Lilleshall National Sports Centre in Shropshire plays host.
As host nation, England will have two representative teams in the tournament, namely their Champions St. Ivo School, Huntingdon and gallant runners up Chesterfield High School, Liverpool. Also competing against the Kilkenny starlets will be Welsh Champions Ysgol Gyfun Cwm Rhymni, Caerphilly.
Presentation Secondary Schoolhad a wonderful season last year capturing three national titles namely the Minor Girls Cup (U15), First Year Girls Cup (U14) and the First Year Futsal titles making it a hat-trick for the Cats.
The Kilkenny side were crowned Bank of Ireland FAI Schools First Year Girls Cup Champions following a brilliant 2-1 victory over Buncrana's Scoil Mhuire last May. That was Scoil Mhuire's second consecutive defeat at this level. The Ulster ladies took the lead through Aoife Gallanagh but the talented Ellen Molloy netted from the restart to bring the tie back into contention. Kate Furlong scored three minutes into the second half and this goal proved decisive as they ran out slender winners.  
Their historic victory ensured them an invite to participate in this newly established level of competition, as three of the five home nation countries compete this afternoon. Unfortunately Scotland and Northern Ireland were not in a position to participate this season but may be competing in 2018.
The three day event will kick off at 4.30pm this afternoon (Thursday) with Caerphilly's Ysgol Gyfun Cwm Rhymni taking on Liverpool's Chesterfield High School while an hour later Presentation SS, Kilkenny take on last season's winners St. Ivo School, Huntingdon.
Friday morning's fixtures will see at 10.00am start for Kilkenny as they do battle with Chesterfield HS while an hour later the Welsh outfit Ysgol Gyfun Cwm Ryhmni face St. Ivo's.
The final series of matches on Saturday will see all teams kick off at 10.30am as Presentation SS field against the Welsh girls and the two English stars play off in the other outing.
At the end of the tournament the league table will hopefully provide a clear winner. However, if there is a situation where teams at the top of the table are tied on points then the trophy will be shared.
Our title sponsor, Mr. Rod Houston is a retired School teacher and was President of the Scottish Schools FA for many years. Rod also held the position of Treasurer and Secretary of the Schools Association Football International Board (SAFIB) and is honoured to be associated with this competition that promotes girls football to a larger audience. This competition will be run similar to the Allen McKinstry Cup that has been in existence since 2008 which caters for the Boys Home Nations Champions.
The Kilkenny side showed great form last season in the National Cup campaign and will relish the opportunity to showcase their talents on a bigger stage.  FAI Schools wish Presentation Secondary School every success in the tournament as they kick off proceedings this afternoon
PRESENTATION SS, KILKENNY | Ellie O'Neill, Sarah O'Gorman, Caroline Barron, Katie Ryan, Louise Minerney, Rachel Whelan, Sarah Barcoe, Niamh Phelan, Keara Ryan, Ellen Molloy, Kate Furlong, Emma Shortall, Sarah Hudson, Sarah O'Donnell, Alannah Cody, Aoife Doyle, Sarah Sida, Ava Shefflin, Tara Holohan, Jennifer Wallace, Aoibhin Malzard, Izzy Clancy, Sasha O'Hara, Grace Barcoe, Grainne Glynn, Amy Fennelly (Extended squad that faced Scoil Mhuire in Cup Final)
TEACHERS | Wendy Roche & Monica Kearns
FIXTURES
Thursday, October 12 at 16.30
Ysgol Gyfun Cwm Rhymni, Caerphilly vs Chesterfield HS, Liverpool
Thursday, October 12 at 17.30
Presentation SS, Kilkenny vs St. Ivo School, Huntingdon
Friday, October 13 at 10.00
Presentation SS, Kilkenny vs Chesterfield HS, Liverpool
Friday, October 13 at 11.00
Ysgol Gyfun Cwm Rhymni, Caerphilly vs St. Ivo School, Huntingdon
Saturday, October 14 at 10.30
Presentation SS, Kilkenny vs Ysgol Gyfun Cwm Rhymni, Caerphilly
St. Ivo School, Huntingdon vs Chesterfield HS, Liverpool
END