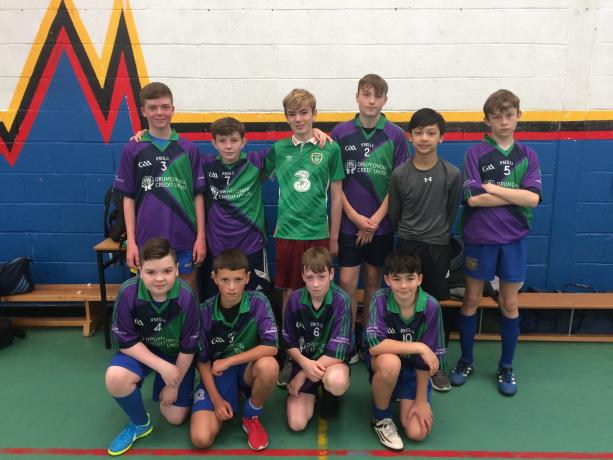 North Dublin City Futsal Qualifiers
Jamie Wilson (Ballymun) , Paul Whelan (Finglas) & Jimmy Mowlds (Darndale/Kilbarrack) ran the FAI Post Primary Schools First Year Girls event in Our Lady of Mercy School in Beaumont on Thursday last (October 19)
Seven teams lined out from St. Mary's Holy Faith School, Glasnevin, St. Michael's School, Finglas, Margaret Aylward Community College and hosts Our Lady of Mercy, Beaumont.
The tournament kicked off in great spirits with a little competitiveness thrown in for good measure. A place at the Dublin Finals on November 9 was up for grabs
Glasnevin outfit St. Mary's led the way from the start with both their teams ('A' and 'B') winning their opening games 7-0. The girls dominated the competition until they met each other in the Final.
St. Mary's Holy Faith 'B' defeated their 'A' counterparts 4-0 to progress onto the Dublin Finals.
Our Lady of Mercy, Beaumont were a splendid form also as they edged out St. Michael's and Margaret Alyward respectively.
Winners | St. Mary's HFS, Glasnevin "B"
The boy's event took place in Trinity Comprehensive School last Friday (October 20). The competition was originally planned for Tuesday, October 17 but due to Hurricane Ophelia and the school closures it was moved to the Friday. Unfortunately a number of schools had to pull out for various reasons. However the school that managed to participate included hosts Trinity Comprehensive School, Ballymun, New Cross College, Finglas and Clonturk College, Whitehall
New Cross College started the competition with a bang with a 5-1 win over Trinity, but as the competition went on Trinity grew and defeated New Cross in their second meeting.
Clonturk fought in every game valiantly but the force of the other two teams were too strong.
After all the games were played in the group rounds, it ended with New Cross and Trinity being all square on points and goal difference.
There was only one way to find a winner which was to hold a play-off final. New Cross upped their game and went out as win the battle 4-1 to progress to the Dublin Finals on November 8.
Winners | New Cross College, Finglas
Thanks to all the participating teams and best of luck to St. Mary's Holy Faith School, Glasnevin and New Cross College, Finglas in the Dublin Finals which will be held in the National Indoor Arena, Dublin