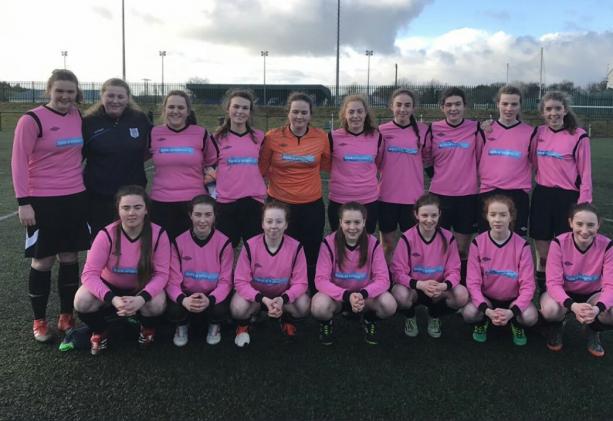 Mulroy College on track to retain National Cup title
Bank of Ireland FAI Schools Senior 'B' Girls National Cup Semi Final
Monday, January 29, 2018
Mulroy College, Milford 3-0 St. Kilian's DSD, Clonskeagh
Laura Dugera (5), Megan Ryan (20) (58)
MULROY COLLEGE, MILFORD are one step away from reclaiming their Bank of Ireland FAI Schools Senior 'B' Girls National Cup title following a hat-trick of goals against Dublin side St. Kilian's Deutsche Schule in Monaghan United FC on Thursday last (January 25)
The Donegal side were a formidable force that optimised their experience at this level with a goal inside five minutes to stun the Leinster starlets. Laura Dugera drilled her effort to the bottom corner to open Milford's account.
Their lead was doubled halfway through the first period courtesy of a Megan Ryan strike.
St. Kilian's duo Isabella Gomez and Anna Durrett were impressive in the middle of the park but had no response to the Milford attack.
Ryan was again on hand in the second half to wrap up proceedings for Maria Carr's side.
This will be Mulroy College's seventh appearance at this stage of competition having captured the National title four times since the competitions inception in 2008.
The defending Champions will face debutants Midleton College, Cork in this season's finale as they kick off proceedings in Home Farm FC, Whitehall on Wednesday, January 31 (KO 1pm).
MULROY COLLEGE, MILFORD | Clare Friel, Siobhan Sweeney, Colette McLaughlin, Eimear Sweeney, Rachel Roarty, Thea Duffy, Kellyann Buchanan, Caoimhe Walsh, Laura Dugera, Leah Duggan, Megan Ryan
SUBS | Aisling McBride, Megan McGee, Catherine Grier, Kerri Sweeney, Maria Dougherty
TEACHER | Maria Carr
ST. KILIAN'S DSD, CLONSKEAGH | Tess Purser, Ella Doherty, Sarah Barker, Anna Sheeran, Fiona O'Toole, Anna Durrett, Arinola Adigun, Anouk Taylor Schaeffer, Isabella Gomez, Clara Cunningham
SUBS | Casey Hardin, Maria Filipova, Cara Dobson, Alessia Cipparona
COACH | Eoin Clarkin
REFEREE: Robert Martin (Louth)